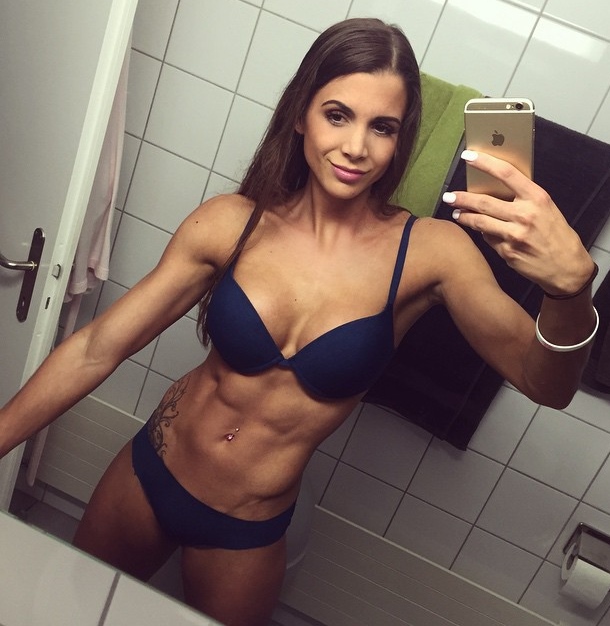 Quick Stats:
Age: 22
Height: 5'3" – 160 cm
Weight: 121 lbs – 55 kg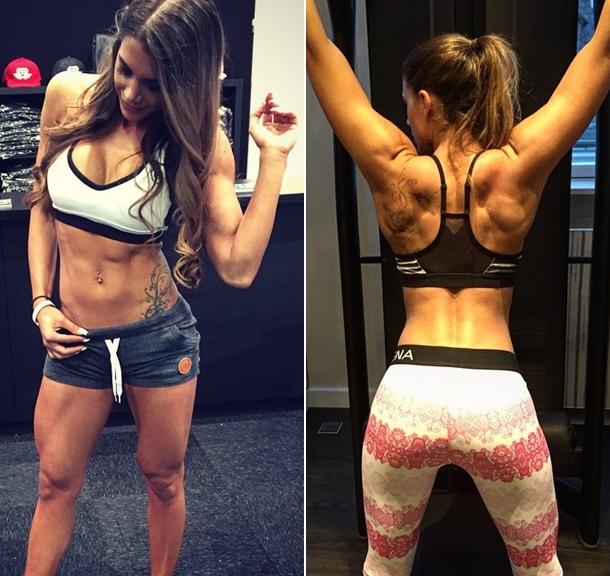 How did you get started?
When I was younger I participated in a variety of sports including ballet, jazz, hip hop, salsa and pole dancing. But, I was always skinny and flabby, and I wanted a fit body with sexy curves. About 2 ½ years ago I was diagnosed with a medical condition, and I started to take training more seriously. I was told I needed to start weightlifting in order to strengthen my neck and back. I started hitting the gym regularly and changed my nutrition completely.
After a while I started seeing results and got motivated, and I eventually became addicted to the fitness lifestyle. Now, I can't imagine a life without weightlifting and eating clean!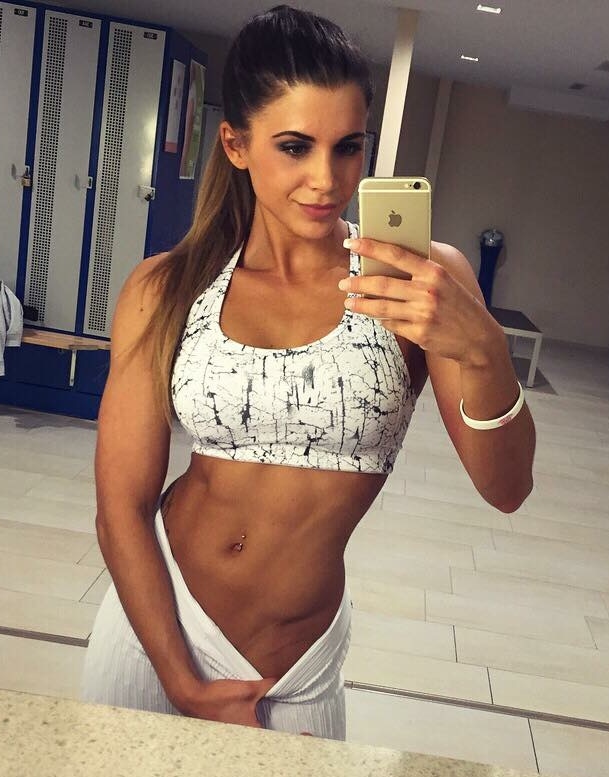 What motivates you to keep going and push harder?
The progress I see in the mirror keeps me motivated. I'm also very passionate about helping others.
I love to see that spark in someone's eyes when they achieve their own physique goals; it motivates me to push harder and show them that nothing is impossible.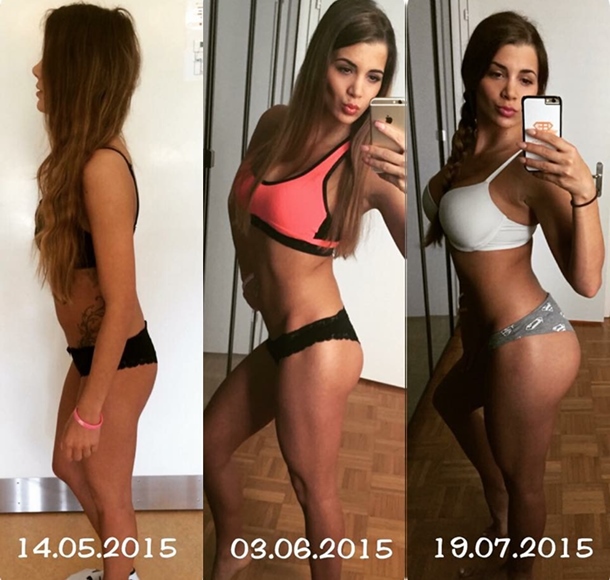 What is training routine like?
Full Routine:
Monday: Back
Lat Pulldown 3 × 12
Single-Arm High Pulley Row 3 x 12
Pull Ups 3 x 12
Rope Straight-Arm Pulldown 2 x 15
Reverse Grip Bent-Over Rows 3 x 10
Bent-Over Rear Delt Raise 3 x 12
Weighted Hyper Extensions 3 x 15-20
Tuesday: Quads/Glute/Calves
Leg Press 4 x 10
Barbell Squats 3 x 15
Sumo Squats 3 x 15-20
Leg Extensions 4 x 10
Walking Lunges 2 x 30
Adductor and Abductor 3 x 12-15
Seated or Standing Calf Raises 4 × 15
Wednesday: Rest
Thursday: Hamstrings/Glutes/Calves
Weighted Bulgarian Split Squats 3 × 12
Hip Thrusts 4 × 12
Stiff Leg Barbell Deadlifts 4 × 15-20
Lying Leg Curl 4 × 12
Standing Single Leg Curl 4 × 15-20
Seated or Standing Calf Raises 4 × 15
Friday: Chest/Shoulders
Dumbbell Overhead Press 3 × 8-10
Incline Front Raise 3 × 12
Lateral Raise 3 x 12
Standing Low-Pulley Deltoid Raise 3 x 12
Dumbbell Rear Delt Fly's 3 × 15
Incline Dumbbell Press 4 × 12
Decline Cable Fly 4×12
Saturday: Arms
Alternating Dumbbell Curls 3 x 24
Cable Hammer Curls 3 x 12
Preacher Curl 3 × 12
Overhead Cable Extension 3 x 12
Rope Tricep Pushdowns 3 x 12
Tricep Dumbbell Kickbacks 3 x 12
Sunday: Rest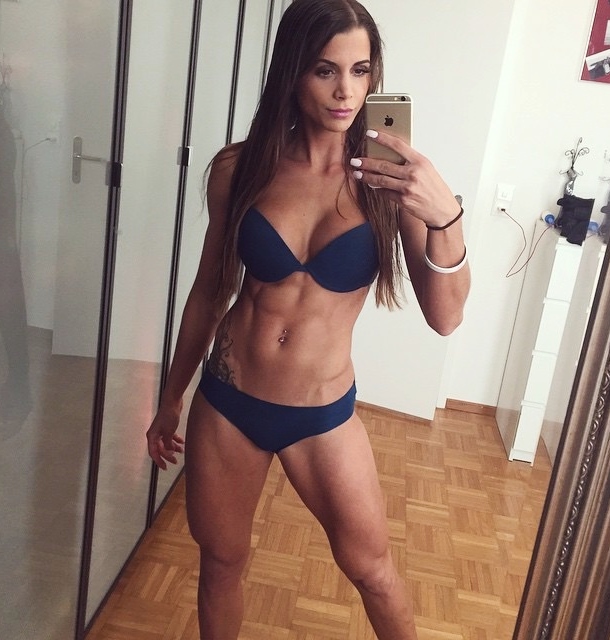 Favorite form of cardio?
I love HIIT cardio. When I'm dieting down, I do intervals. I do a minimum of five intervals after my regular training session.
What is your approach to nutrition?
I get very good results by alternating low carb, and high carb days. I feel this really helps me burn fat. My fridge is always stocked with chicken breast, lean beef, ground turkey, eggs, salad, fresh/frozen vegetables and berries.
I make sure I eat every three hours, and I never leave home without my Tupperware.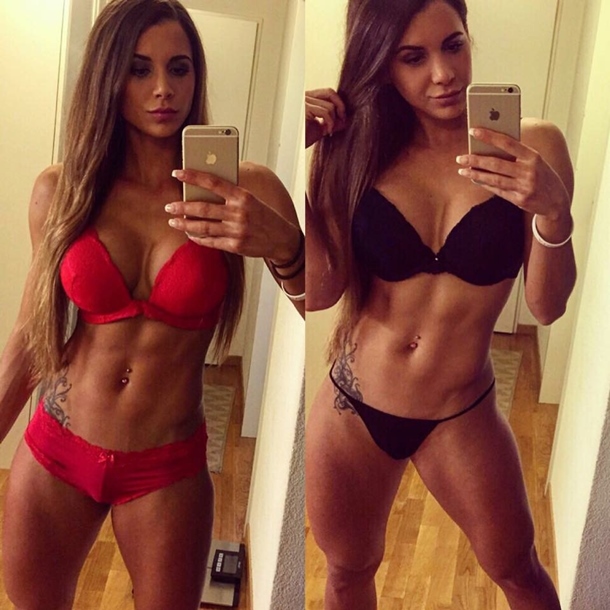 Do you bulk and cut or stay lean year round?
My goal is to stay lean year round, but at the moment I'm bulking. I am trying to gain back what I've lost after being terribly sick in April. On the way home from an event with my boyfriend, I had difficulty breathing. I ended up in the hospital for two weeks and was in a coma. I had severe pneumonia and a pericarditis. Over the course of two months I lost almost 22 lbs.
Daily Diet:
Meal 1: 1 scoop Whey Isolate and ¼ cup Oats
Meal 2: 4 ounces Chicken and ¼ cup Almonds
Meal 3: 6 ½ ounces White Fish, Salad and 1 tablespoon of Olive Oil
Meal 4: 1 scoop Whey Isolate
Meal 5: 6 Egg Whites, 2 Whole Eggs and 3 ½ ounces of Sweet Potatoes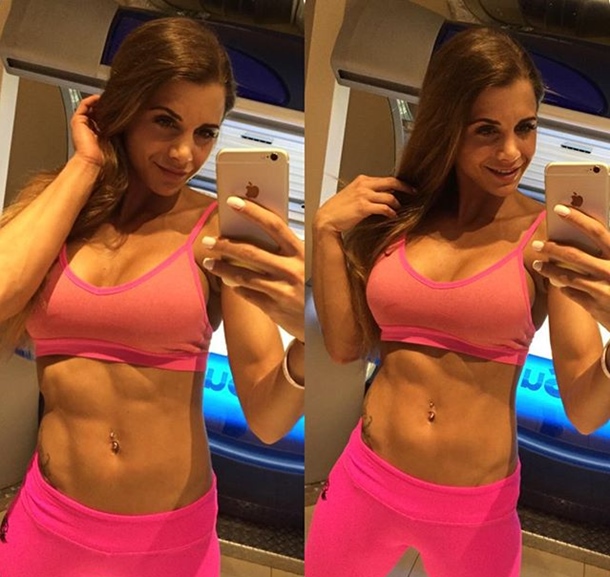 What are your best 3 tips for someone looking to reach their goal physique?
Lift heavy and do HITT.
Stay on schedule with your meals and eat clean.
Be patient, stay dedicated and motivated!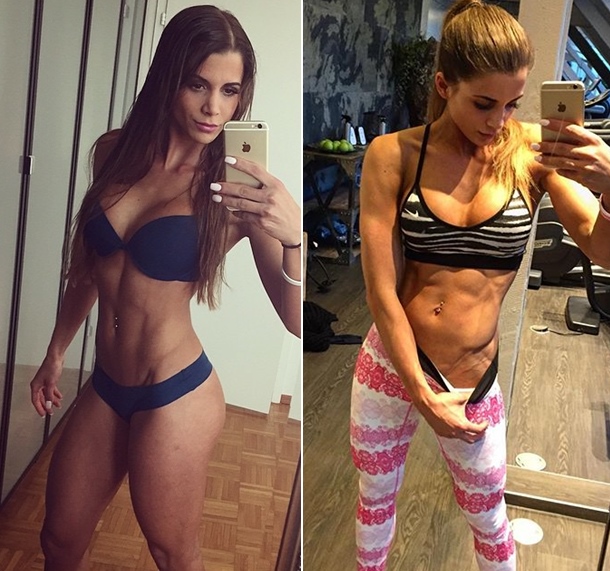 Favorite Quote:
"Be your own hero."
Instagram: @andrinafit
Facebook: www.facebook.com/andrinafit.santoro