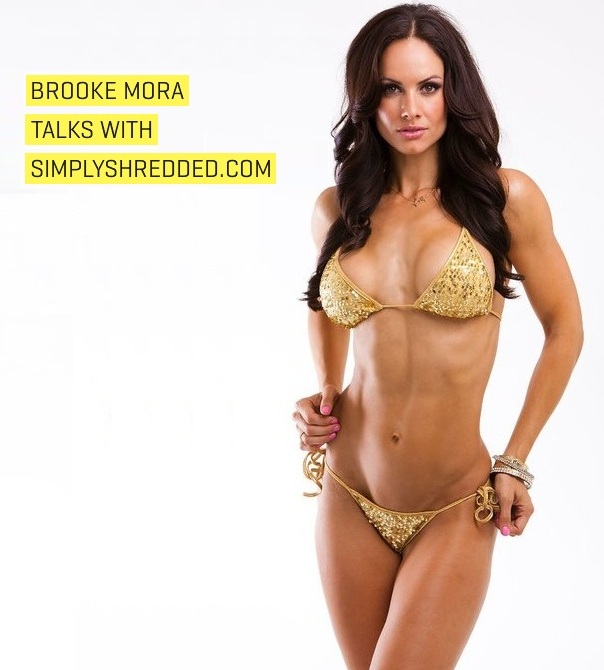 Quick Stats:
Age: 30
Height: 5'8″
Weight: 127 lbs. (Competition Weight)
How did you get started with bodybuilding?
I started building my body, when I decided to compete in a NPC Bikini Competition. My friend Beatrice Andrade (NPC Figure and Bikini Competitor) told me about this new "Bikini" division. I wanted to know all about it! I've always been active; I trained for a few triathlons, half marathon and 10k races, but I really never saw the change in my body that I really wanted. As I started training with IFBB Bikini Pro Michele D'Angona for my start show in December of 2009, I learned how important nutrition is to achieve the physique I wanted. I finished 5th in my first show and I was hooked! I took the Overall win in March of 2010 at the Muscle Contest show in Culver City. I was then off to Las Vegas for the USA's in July of 2010, where I finished 1st in class F and earned my IFBB Pro card.
Five weeks later I made my Pro debut at the Tournament of Champions IFBB Bikini Championships, in September and placed 2nd which qualified me for the inaugural Bikini Olympia two weeks later! What a ride that year was!!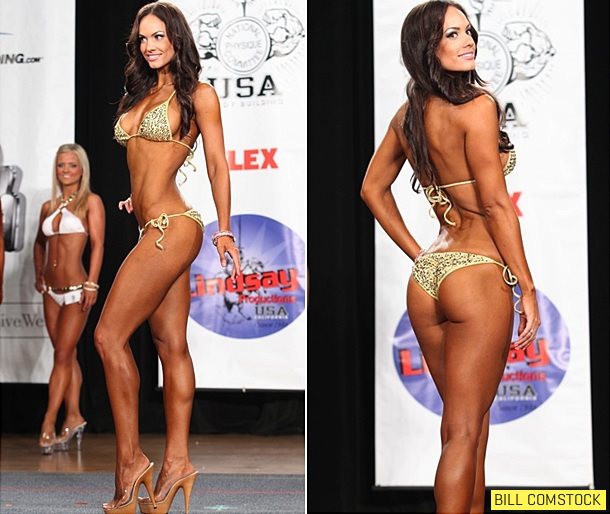 Where does your motivation come from?
I'm a firm believer that people can inspire others, but true motivation comes from within. No one can force you to make changes, you have to want them. I've always been someone that knows I can do better, be better and want better! Don't get me wrong, I have to dig really deep sometimes, to motivate myself in all areas of my life, not just in fitness. I like to think of the workout session I'm about to do or the hill I'm about to hike or the street I'm about to run, as metaphors to the limits I've put on my life. If I can push myself harder in the gym, hike up that hill faster and run further than I thought I could; then where are these "limits" really coming from? I'm continually pushing myself to be better in every area of my life, so I'm reminded there are truly no limits.
I believe life is full of endless possibilities, as long as you don't allow yourself to get in the way.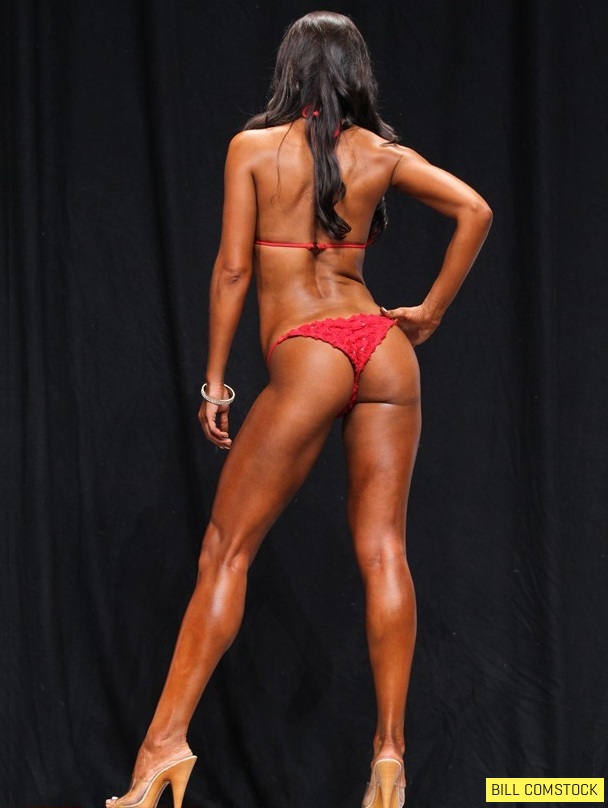 What workout routine has worked best for you?
The workout routine that has worked the best for me is fast paced supersets or circuit training for both upper and lower body.
Full Routine:
Monday: Legs/Cardio
Superset #1
Leg Extension 3 sets x 15 reps
Seated Leg Curl 3 sets 15 reps
Superset #2 –
Smith Machine Lunges 3 sets x 12-15 reps
Jumping Split Squats – 3 sets x 30 jumps (15 on each side)
Superset #3 –
Wide Stance Duck/Plie Squat – 3 x 12-15 reps
Reverse Lunge – 3 x 12-15 reps
Tuesday: HIIT/Abs
45mins HIIT Cardio and Abs
Wednesday: Shoulders/Back/Chest
Superset #1
Seated Shoulder Press 3 sets x 15 reps
Barbell Row 3 sets x 15 reps
Dumbbell Chest Press on stability ball 3 sets x15 reps
Superset #2
Lateral Raises (front/side) 3 sets x 15 reps
Single Arm Dumbbell Row 3 sets x 15 reps
Cable Crossovers 3 sets x 15 reps
Thursday: HIIT/Abs
45mins HIIT Cardio and Abs
Friday: Arms/Cardio
Superset #1
Seated Dumbbell Curl (7-10 lbs.): 4 sets x 12- 15 reps
Triceps Push Down (3 plates- 20lbs): 4 sets x 12- 15 reps
Superset #2
Standing EZ Curl Bar (20 lbs. bar): 4 sets x 12- 15 reps
Lying Down Triceps Skull Crushers (w 20 lbs. bar): 4 sets x 12 – 15 reps
Superset #3
Seated Hammer curl (12 lbs.) 12-15 reps
Triceps Bench Dips: 4 sets x 12 – 20 reps
Saturday: Glutes/Cardio
Superset #1
Glute Bridges: 4 sets x 25 reps (Add 25lbs Plate on set 2, 3, and 4)
Kick Back (Use Butt Blaster Machine): 4 sets x 25 reps
Superset #2
Stiff Leg Deadlift, step back into a Lunge – one fluid motion – (Deadlift & Lunge = 1 rep) 10 reps each leg
Wide Stance Squats on Smith Machine: 4 sets x 12 reps
Sunday: Day off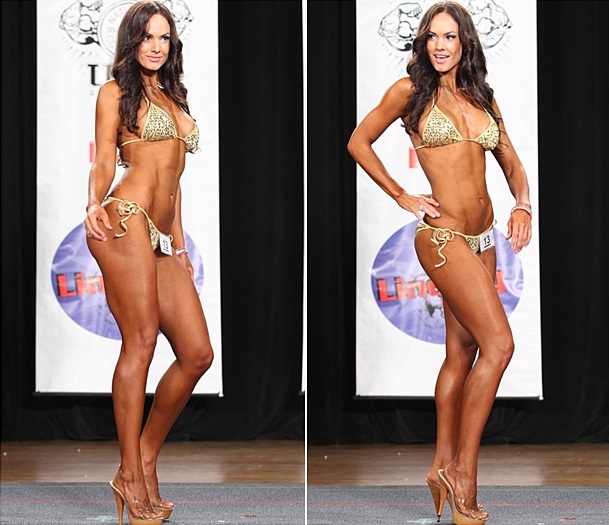 If you had to pick only 3 exercises, what would they be and why?
Walking lunges because they target quads, hamstrings and glutes all in one motion.
Push ups, you can target not only your chest, but shoulders and back as well with slight variations.
stiff leg dead lift. I'm obsessed with the hamstring glute tie-in, nothing looks better than tight glutes!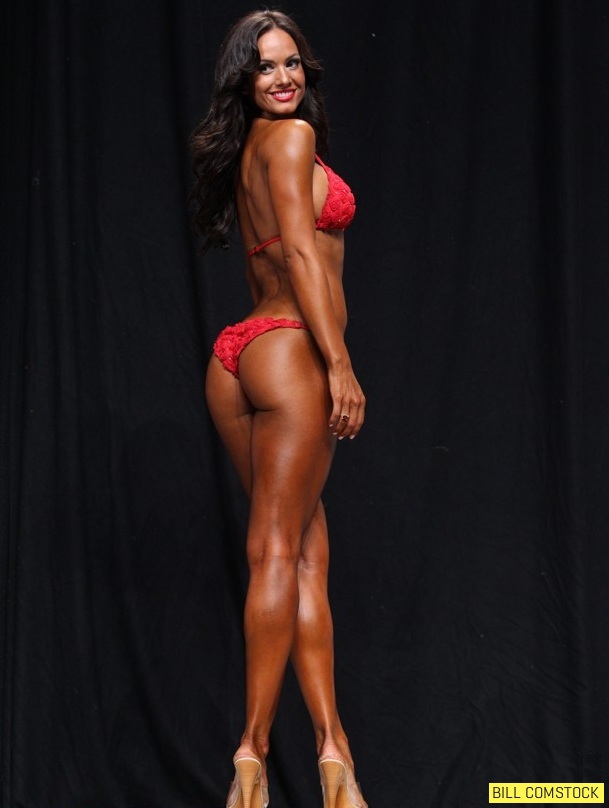 What is your diet like?
When I'm in the zone, I eat clean and nothing processed. Lean Meats, lots of Veggies and Fruit, Whole Grains, Root Vegetables. I stay away from most dairy products but will have Greek Yogurt and Non-Fat Cottage Cheese on occasion. When I splurge, I'll splurge on Pizza and Ice Cream or anything cheesy!
Diet:
Meal 1: 4 Egg Whites + 1/2 cup Oatmeal +1/2 cup Berries
Meal 2: Protein Shake
Meal 3: 4oz Chicken+ 1/2 Brown Rice or 5oz Yams + Green Veggies
Meal 4: Protein Shake + 1oz Nuts
Meal 5: 5oz Fish + Green Veggies or Salad + 1tbsp Olive Oil or 1/2 Avocado
Meal 6: Protein Shake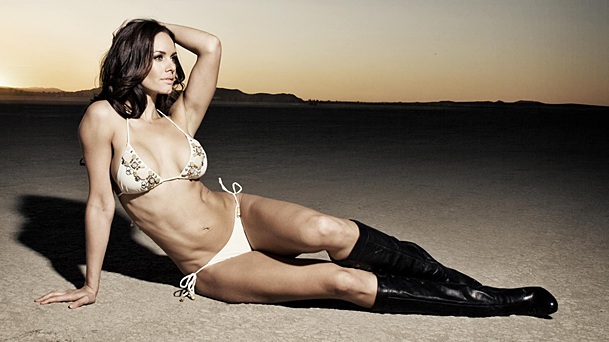 When trying to cut down do you prefer to use HIIT or just normal cardio?
HIIT is the way to go. HIIT burns more calories by elevating your heart rate for short periods of time.
Keeps your body moving and guessing and it's a great way to do cardio without getting bored.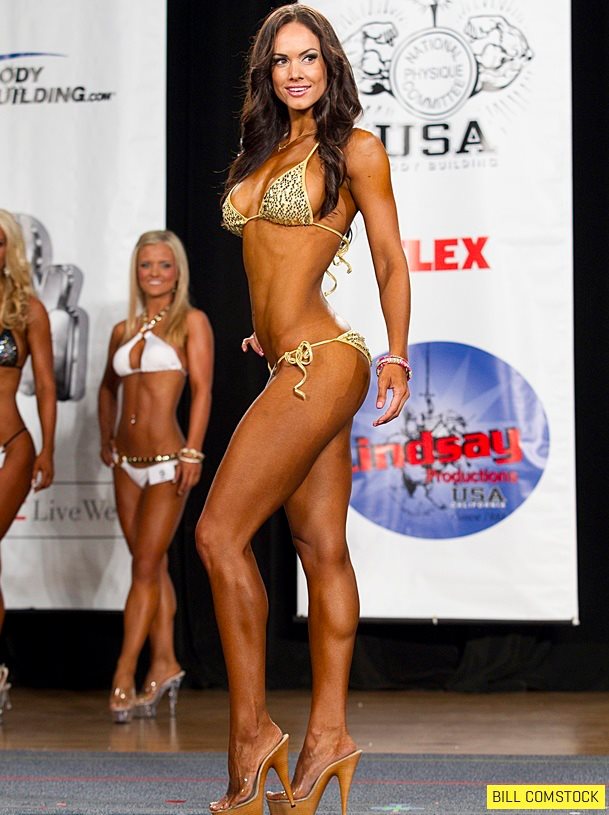 What is your supplementation like?
I keep it fairly simple, on a daily basis I take:
Multi-Vitamin (Garden of Life RAW Women's One a day), Vitamin C, MRM's Smart Blend (contains Omega's, CLA & GLA), Alpha Lipoic Acid (ALA), Vitamin B12.
Before Cardio: L-Carnitine 1000mg
Before Weight Training: 1 scoop BCAA's + 1 scoop Glutamine in water
After Weight Training: 1 scoop BCAA's + 1 scoop Glutamine + Protein Powder in water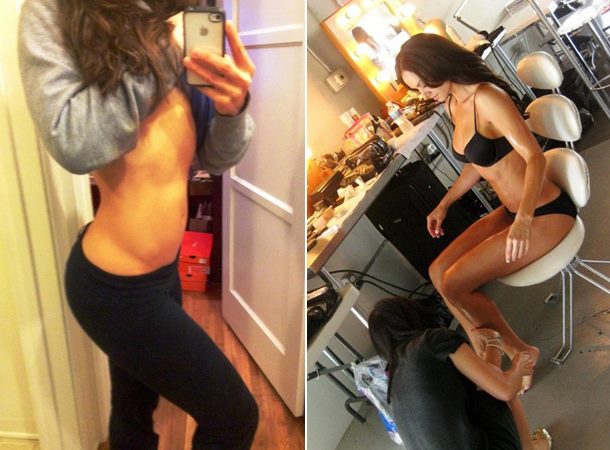 Favorite Quote?
You will either step forward into growth or you will step back into safety – A. Maslow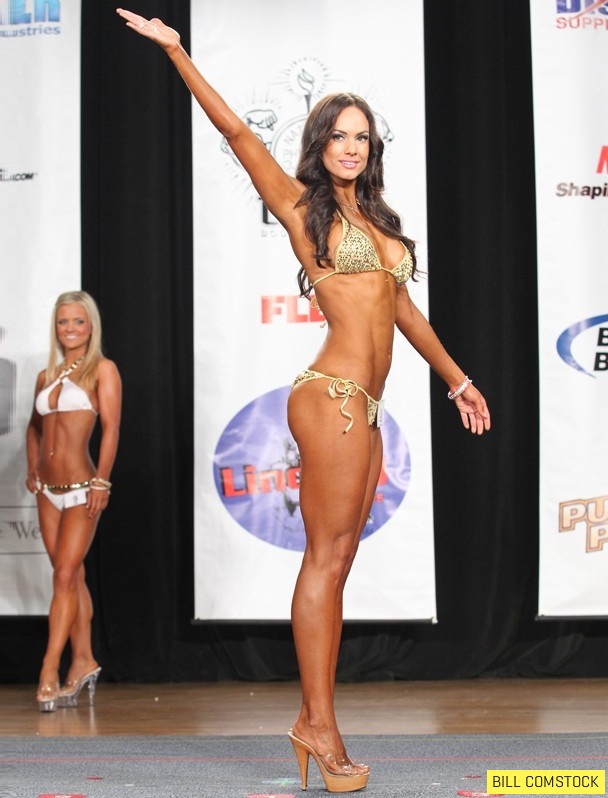 Website: www.gotobrooke.com (Coming soon)
Sponsors: www.jamcoretraining.com
Facebook: www.facebook.com/brookemora
Twitter: www.twitter.com/brookemora