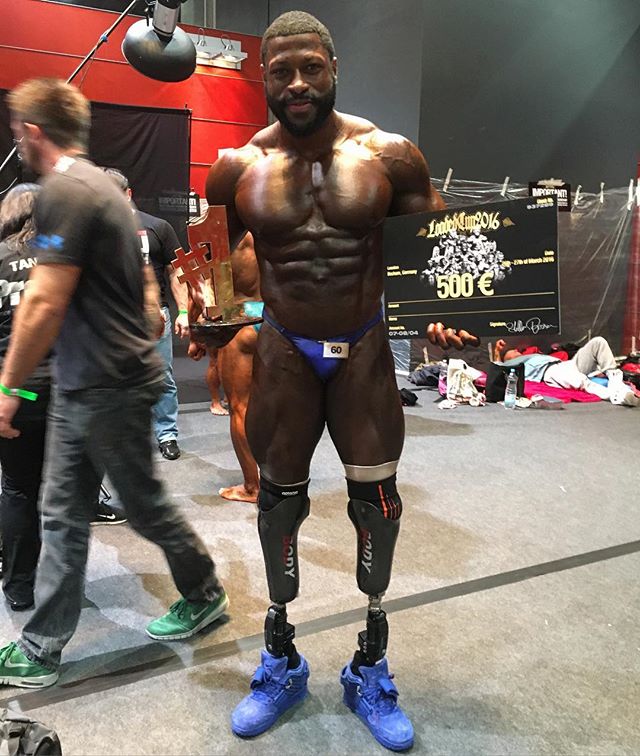 Edgard John Augustin lost both legs in an accident at age 4. Today, he is a champion bodybuilder.
One fateful evening, when Edgard John Augustin was 4 years old, his mother lost control of the car while driving on the highway. "I remember waking up to my mother's horrified screams," he recalls. "There was blood everywhere, and, from the knees down, both of my legs were gone. My older brother, who was sitting next to me in the backseat, was also missing one of his legs." The injuries were caused by a piece of railing boring through the rear window.
By the time they were taken to the hospital, both boys had lost a lot of blood. "We're really lucky to have made it out alive," continues Edgard, now 30. "And while our mother only suffered a few broken fingers, the accident has had the longest-lasting impact on her. To this day, she feels like it's her fault that both of her sons are handicapped. It weighs heavily on her soul."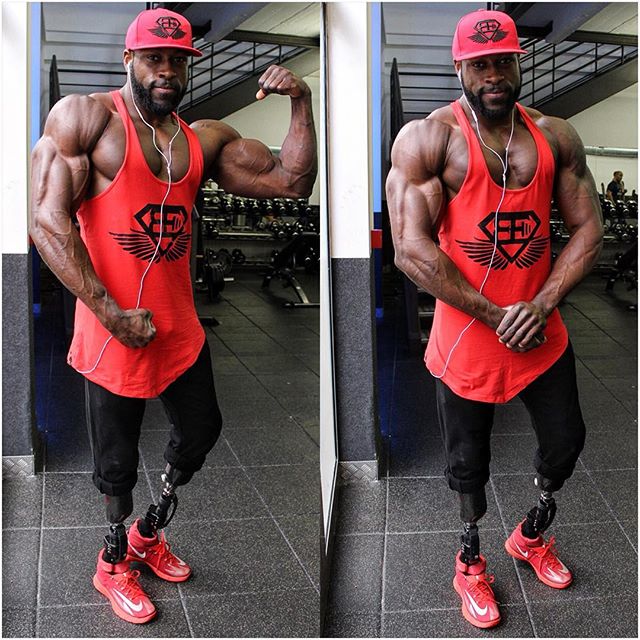 Edgard John Augustin
Quick Stats:
Age: 31
Height: 6'3″ – 191 cm
Weight: 223 lbs – 101 kg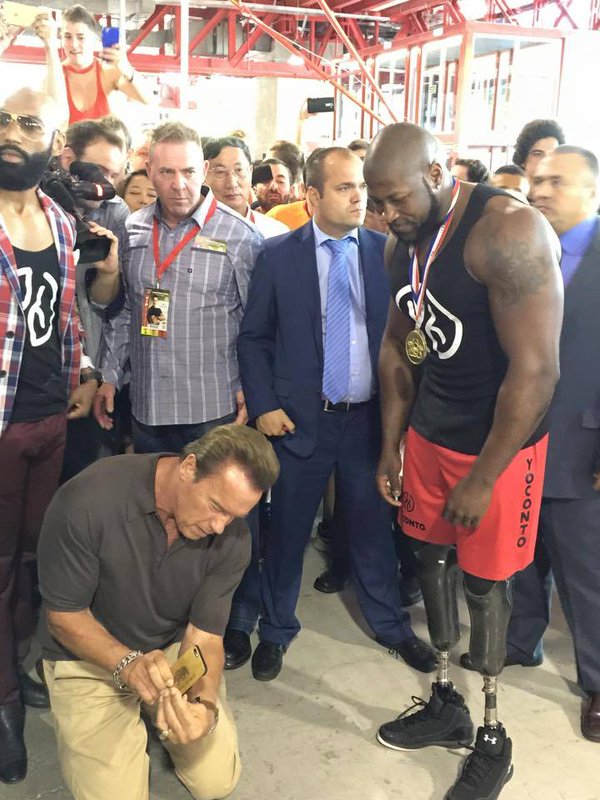 How did you get started with bodybuilding?
I started bodybuilding at the age of twenty to help relieve myself of pressure and stress. At that time, I had moved from French Guyana to continue my studies in the mainland of France.
Exams at the University and my new Parisian life were very stressful and bodybuilding helped to alleviate the stress.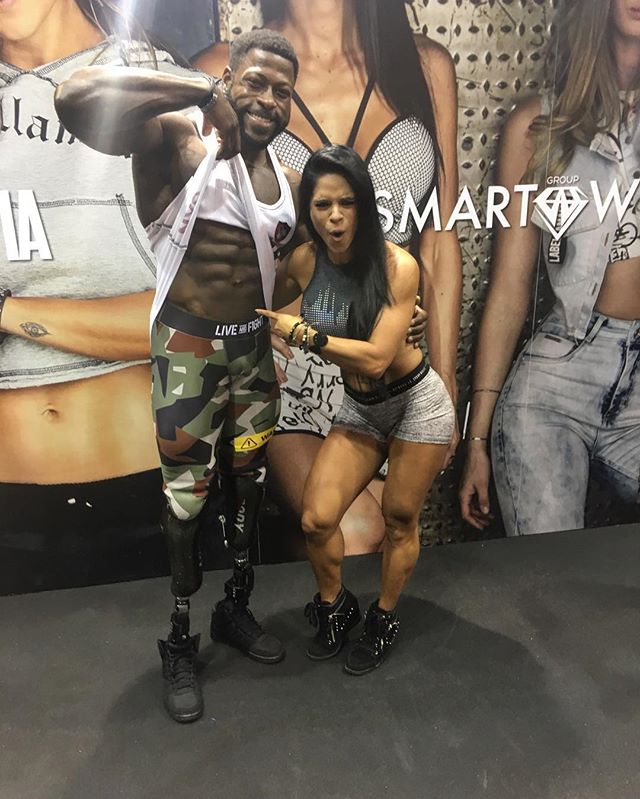 Where does your motivation come from?
My motivation is derived from several things. For me, my handicap has taught me that I am in charge of my own life, and I have made the decision as to who I want to be in life. I feel God has a plan for each of us, and it is our decision to submit our lives to his plan. Because of all of my surgeries, my childhood was a rather difficult one. All of my surgeries made it extremely financially complicated for my parents; not to mention that the kids in school would always give me looks and make fun of me.
Now, I want to make my son, my wife and all of my family very proud of me; this combination helps me to stay motivated every day and more focused than I was the day before!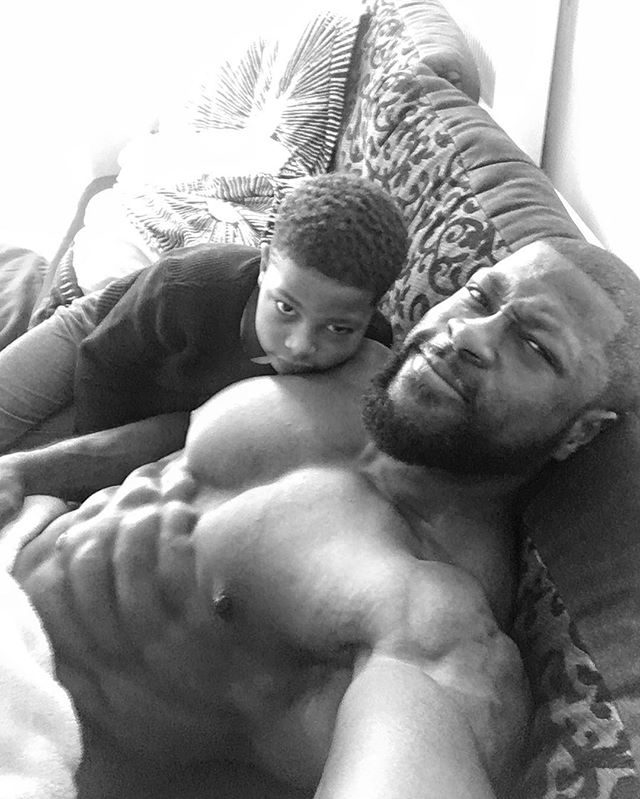 Why do you think you have succeeded when someone else would have given up?
Every individual is different, and I truly don't want to believe that I am stronger than anyone else. But I can tell you that my mental strength has no limits; I'm definitely an overcomer!
And when I feel exhausted because of pain or hunger, my family is always there to keep me highly motivated.
What workout routine has worked best for you?
I feel the best way to create new muscle fibers and get a very solid muscle foundation has been to surprise my muscles with a variety of training methods. For example, sometimes I do only heavy weights, using 6-8 reps with a longer rest period between sets. And sometimes, I'll do lighter weights with higher volume, or I'll mix it up and finish with drop sets. My chest and back workouts have also really helped develop my upper body.
Full Routine:
Monday: Quads/Hamstrings
Leg Extensions 4 x 12
Legs Press 4 x 15-20
Hack Squats 4 x 12-15
Lying Legs Curls 4 x 15-20
Stiff-Legged Barbell Deadlifts 4 x 20
Tuesday: Back/Biceps
V Bar Pulldowns 4 x 12
Lying T-Bar Rows 4 x 12
Barbell Rows 4 x 12
One-Arm Dumbbell Rows 4 x 15-20
Wide Grip Lat Pulldowns 4 x 12
Barbell Curls 4 x 12
Dumbbell Curls 4 x 12
Incline Dumbbell Curls 4 x 12
Standing Cable Curls 4 x 12
Concentration Curls 4 x 12
Wednesday: Chest/Triceps
Incline Dumbbell Press 4 x 12
Incline Dumbbell Fly's 4 x 20
Barbell Bench Press 4 x 12
Cable Crossovers 4 x 20
Dips 4 x 20
Pushdowns 4 x 12-15
Skull Crushers 4 x 12
Close Grip Barbell Bench Press 4 x 12
Seated Press 4 x 12
Thursday: Shoulders
Seated Dumbbell Press 4 x 12
Seated Side Lateral Raises 4 x 15/20
Barbell Shoulder Press 4 x 12
Seated Bent-Over Rear Delt Fly's 4 x 15-20
Friday: Full Body
Leg Extensions 4 x 12
Hack Squats 4 x 12-15
Wide Grip Lat Pulldowns 4 x 12
Barbell Curls 4 x 12
Barbell Bench Press 4 x 12
Dips 4 x 20
Barbell Shoulder Press 4 x 12
Saturday: Rest
Sunday: Rest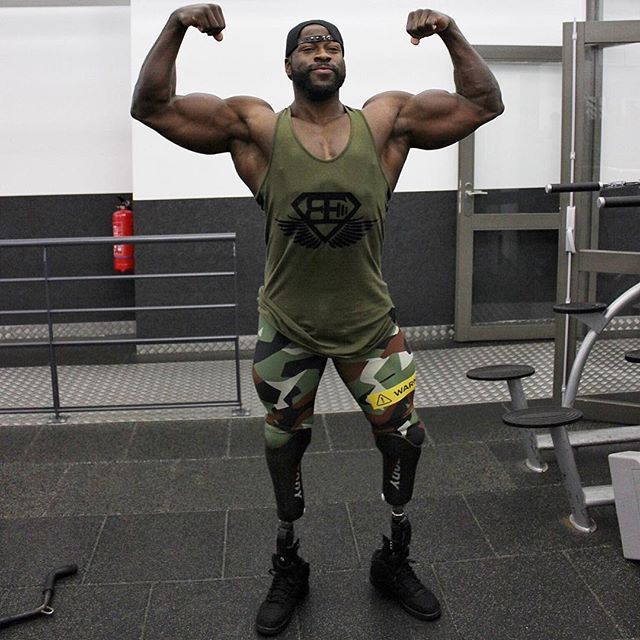 What is your diet like?
My diet really depends if I am in bulking or cutting. Off season, I usually take in five to six meals a day. During the cutting season, I take in five meals a day, and I reduce my carbohydrates by 10% each week. I tend to stay very consistent with my diet by keeping meal two and three the same. I drink about six liters of water daily, and then I will start to cut water approximately three days prior to the competition. I'm currently in cutting season.
Daily Diet:
Meal 1: 12 Eggs Whites, 2 ounces Oats, 1 cup Spinach and ½ cup Onions
Meal 2: 6 ounces Chicken, 5 ½ ounces Rice or Sweet Potatoes and 5 ounces Asparagus or Broccoli
Meal 3: 6 ounces Chicken, 5 ½ ounces Rice or Sweet Potatoes and 5 ounces Asparagus or Broccoli
Meal 4: 7 ounces White Fish and 7 ounces Salad or Vegetables
Meal 5: 12 Egg Whites, 1 cup Spinach, ½ cup Onions and ¼ cup Almonds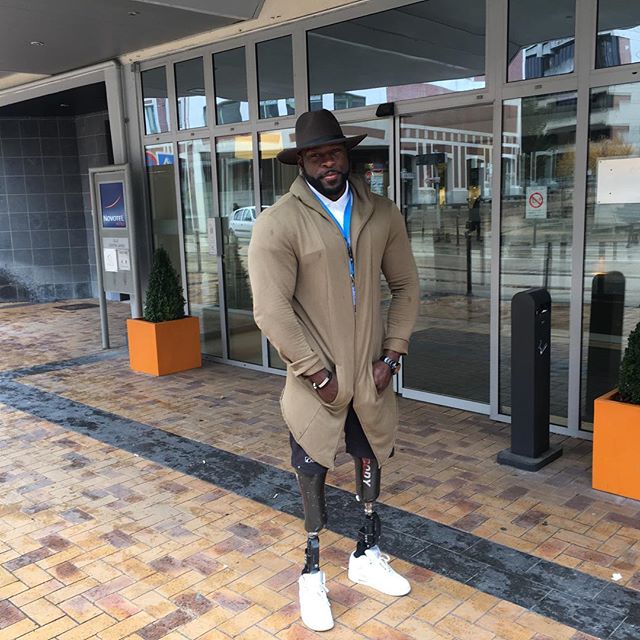 What is your supplementation like?
Whey
BCAA's
ZMA
Multivitamin
Glutamine
Fish Oil
Glucosamine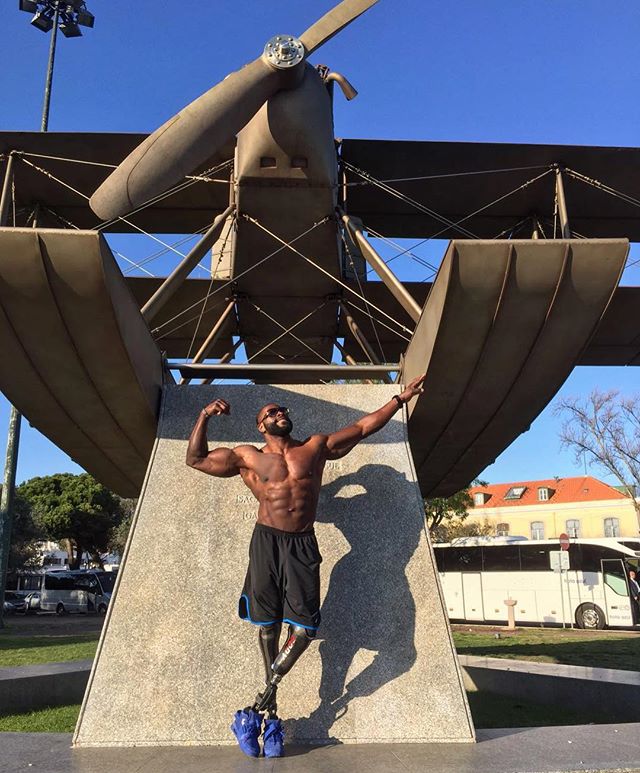 What do you love most about this sport and why?
What I love most about this sport is the dedication it takes. Bodybuilding gives me a real sense of accomplishment every day. It also gives me an objective, a discipline and has become a way of life for me!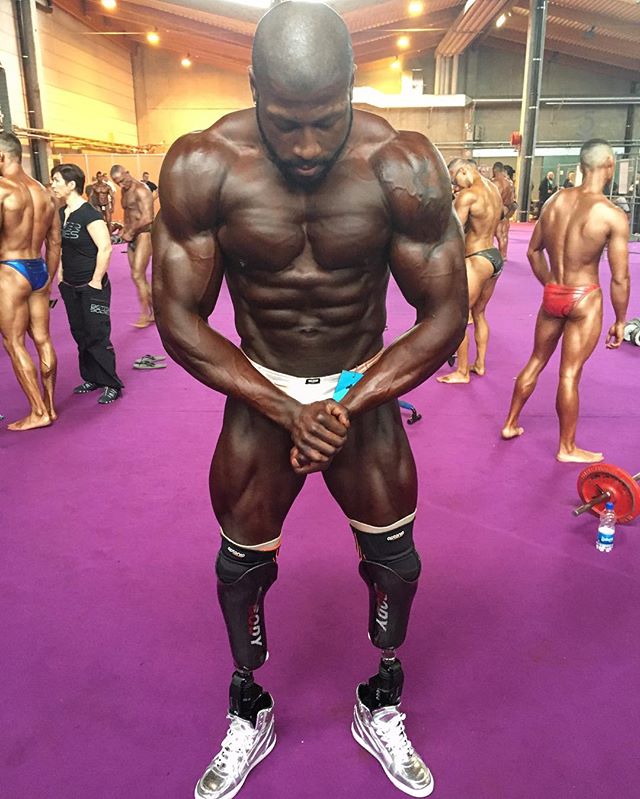 Favorite Quote:
"The sky is the limit!"
Social Media
Instagram: @bionic_body