Quick Stats:
Age: 22
Height: 5'7″ – 170 cm
Competition Weight: 161 lbs. –  73 kg
Part 1 Interview: Simplyshredded Feature
Transformation story:
Life before gym was very active as I was into a lot of sports. I loved football and athletics, but once I hit high school I moved into Rugby Union. I played a lot sports because of my competitive nature, as well as my need to push myself and become good at whatever I did. After starting up Rugby there was a need to be big and strong so that's why I initially started hitting the gym. I enjoyed making gains and I continued to try to improve my strength and size.
After finishing school I moved to a gym where I met Aaron Curtis, and that was when I took my training to the next level.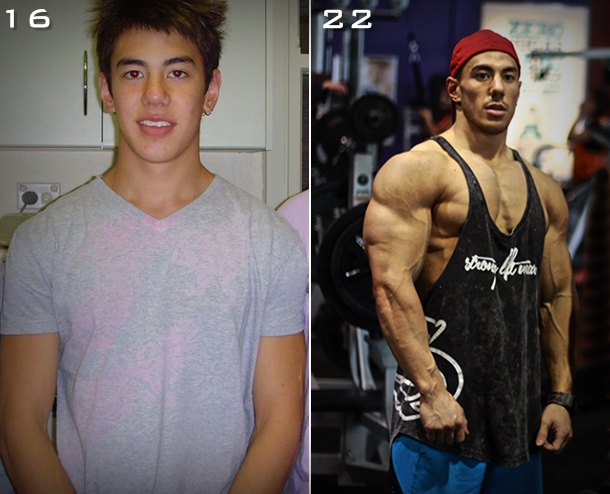 Have you ever had any setbacks or obstacles while trying to reach your goal physique?
Last year I suffered an elbow injury which affected my training dramatically, this was when I decided to take some time off and enjoy life a bit more. Then when I was feeling up to it I decided to make a goal to compete in the 2013 INBA titles and make my comeback. Apart from the elbow injury, I've had a pretty easy going prep for this years competitions and I wouldn't say anything has really held me back from achieving my goals. I recently had a career change this year where I decided to become a personal trainer.
A lot of my time and efforts were redirected from my training into my business however I am satisfied with the change and am able to fit my training in between clients.
What is your life like now that you've made a transformation?
My life is very regimented at the moment. I am still strict on the dieting as I am preparing for upcoming comps. My job entails helping people and motivating them to become bigger, fitter and stronger. This helps motivate myself when I see them going through amazing transformations.
My networking has expanded a lot since I made my transformation this year, so I have met a lot of people and seem to have inspired a lot, which is very satisfying to know.
What motivates you to keep going and push harder?
My motivation comes from my desire. I plan to become Natural Mr Olympia one day so I am slowly working towards that goal. Inspiration comes from training with different athletes from my community and also from a deep interest in the sport of bodybuilding. Following the progress of the Pro's keeps me motivated, as I tend to educate myself by watching a lot of online videos. I believe that in today's day, we are fortunate enough to have access to loads of information through the Internet.
To watch someone else's journey to success helps me to plan my own path and direction to which I want to take my self.
What is your next goal?
My next goal is to win a Mr Australia Overall Title. This has been my goal for the past 2 to 3 years but seems to be getting closer a lot sooner than expected. Having taken out the Mr. Victoria Overall Championship this year, I have gained confidence in myself and am actually training harder than ever to achieve that goal.
My goals are also set on competing in the Junior Division at the Natural Olympia this year but only time will tell.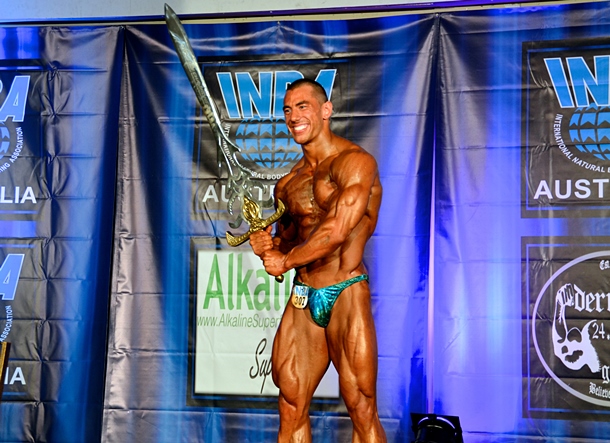 What is your current training philosophy?
My training philosophy is to be able to enjoy training and not look at it as a requirement or chore, in my eyes, it is a privilege, and you must enjoy what you do otherwise why do it? I also believe that to achieve greatness you have to go that one step further than what everybody else is doing. There are no shortcuts in this sport and having an overall complete physique is what I aim to achieve.
Workout Split:
Monday: Quads/Calves
Tuesday: Back/Biceps
Wednesday: Chest/Triceps
Thursday: Hamstrings/Glutes/Calves
Friday: Delts
Saturday: Bis/Tris
Sunday: Low Intensity Cardio
Favorite form of cardio?
I prefer to do HIIT cardio because it is quick and easy. 7 minutes and you're done. Not to mention your legs will be full of blood by the time you finish, making it hard to walk!
Describe your cardio routine:
I do HIIT cardio on training days. 7 sprints on the bike, 20 sec effort, 30 sec rest. On Rest Days I do low intensity cardio on the Cross Trainer for 1 hour.
What is your approach to nutrition?
I am very strict with my diet, I believe if you fuel your body with good nutrients you will get better results than if you feed your body with junk. If I am in the cutting phase I don't have "Cheat Meals" I only have High Carb days to reefed my body. This might consist of a lot of Roast Potato and Salmon or something similar.
Do you bulk and cut or stay lean year round?
I try to stay lean through the offseason, this gives me less fat to burn when I decide to start my cutting phase. I do a clean bulk from about Feb–Jun then I usually cut for 3 months until competition time.
Daily Diet:
Meal 1: Oats, 1 Scoop of Maxs Supershred, 1 Banana & a handful of Almonds
Meal 2: Chicken Breast, Brown Rice, Beans & Broccoli
Meal 3: Chicken Breast or Fish & Sweet Potato
Meal 4: Lean Beef, Tuna or Chicken & a Green Salad
Meal 5: Scrambled Eggs
Meal 6: Max's Night Time Shake & 1 tablespoon  of Natural Peanut Butter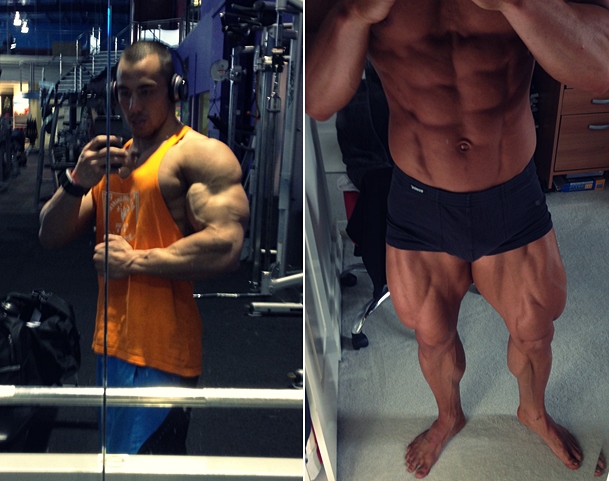 What has been your biggest accomplishment in the fitness field?
Winning the Mr Victoria Overall Title. I trained harder than I ever have for this comp, looking at it as if I was training for the Mr Olympia contest. Because of my age I wasn't expecting to win the entire show, however I knew I had a good chance of being a contender for the title. It seems everything went my way on the day and I came out on top.
My conditioning was spot on and my posing was well executed allowing me to take victory over one of my idols and good friends, Aaron Curtis.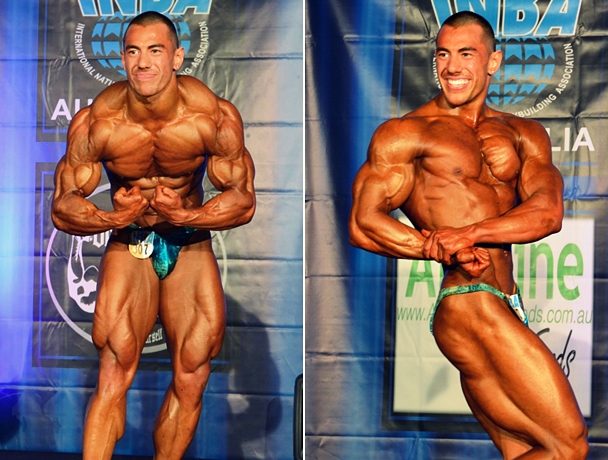 What are your best 3 tips for someone looking to reach their goal physique?
Consistency is key.
Stay positive!
Enjoy your training and mix up your routine. Find what works for you and don't worry about what everyone else is doing or saying. Just train hard and strive for greatness.
Favorite Quote:
"Your dreams are always going to be the most important to you than they will be to anybody else. So keep dreaming, keep believing, and keep pressing forward. So all those warriors out there – be encouraged" – Kai Greene.