Quick Stats:
Age: 27
Height: 5'4" – 164 cm
Weight: 119 lbs. (Off Season) 112 lbs. (Competition Weight)
How did you get started with bodybuilding?
I have always been competitive in sports growing up but after high school I began glamour modelling. I first started weight training when I wanted to tone up a bit for the Australian Swimsuit Calendar shoot I had coming up so I started going to the gym with my partner. Since I had no other females to work out with I would work out with Chris just doing what he did with a fraction of the weight. It was addictive! The biggest adjustment though was my diet. After seeing the massive difference a clean and calorie/carb controlled diet made to my body, I don't think I could ever go back to eating the way I used to.
I started watching Olympia and the Arnolds on YouTube and saw that they had a bikini section. "These girls are amazing!" I thought to myself. I now had my new goal!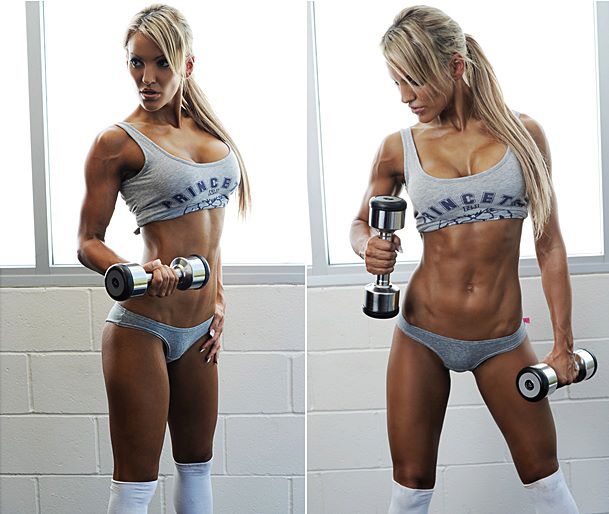 Where does your motivation come from?
I often watch clips and DVDs from the Olympia and other Pro comps that upload their competitions online. I love getting that excitement of being on stage and showing off what you've been working on. Watching the Pro's makes me keep my eye on what I am working towards. All the early mornings, dieting, cardio and weights sessions will pay off in the end and I will be on stage too showing my physique at the best condition I can have it in.
I also look at my previous competition pictures and look at what I want to work on and "grow". This makes sure I get on stage every time looking better than the last time.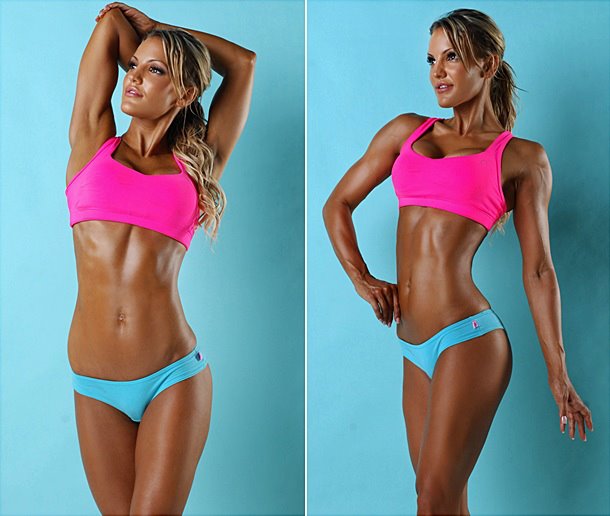 What workout routine has worked best for you?
My training changes depending on what time of the year it is and what competitions I am preparing for. I like doing weights in the afternoon/evening and cardio in the mornings. Coming close to competition time I'll split cardio up into morning and evening cardio and weights will become lighter with more reps being added.
Full Routine:
Monday – Off Day
Tuesday – Legs
Leg Press (Single Leg) 4×8-10
Leg Extension (Single Leg) 4×15
Hack Squat 4×15
Leg Curl (Single Leg) 4×15
Wednesday – Chest/Arms
Chest Press Machine 4×15
Pec Deck Machine 4×15
Preacher Curl 4×15
Bench Dips 4×15
Standing Dumbbell Curls 4×15
Thursday – Back/Shoulders
Pull Downs 4×8-10
Cable Row 4×8-10
Shoulder Press 4×8-10
Reverse Fly's 4×15
Hyper Extension 4×15
Side Lateral Raise 4×15
Dumbbell Bent Over Rows 4×15
Friday – Off Day
Saturday – Outdoor Session – Legs/Glutes/Cardio
Walking Lunges
Sumo Squats
Narrow Stationary Jumps
50m Sprints
Sunday – Cardio
45min – 60min Incline Walking
If you have to pick only 3 exercises, what would they be and why?
Lunges – For great glutes and legs
Reverse Fly's – For that extra bit on the top of shoulders
Bent Over Rows – Great exercise for the back and rear delts
I've picked these because this is what I need to work on for my body.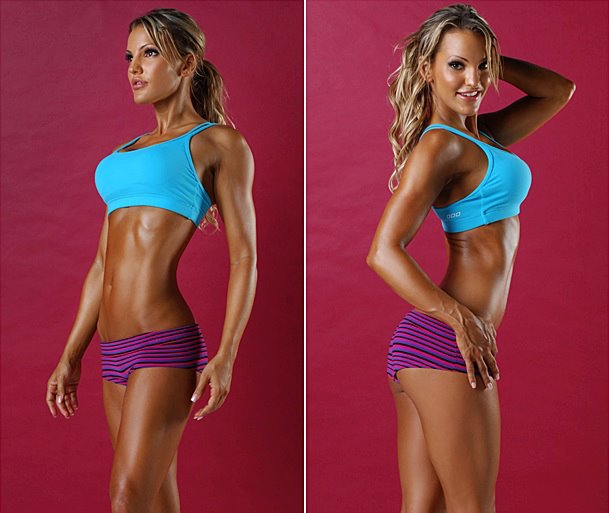 What is your diet like?
I try and keep my diet clean all year round and free of any soft drinks and alcohol processed meats
Daily Diet:
Meal 1: 3 Egg Whites & Oats
Meal 2: Protein Shake
Meal 3: Lean Beef or Turkey Mince, Capsicum, Onion and Brown Rice
Meal 4: Chicken with Sweet Potato and Broccoli
Meal 5: White Fish and Spinach
Meal 6: 10 Almonds and a small Light Yogurt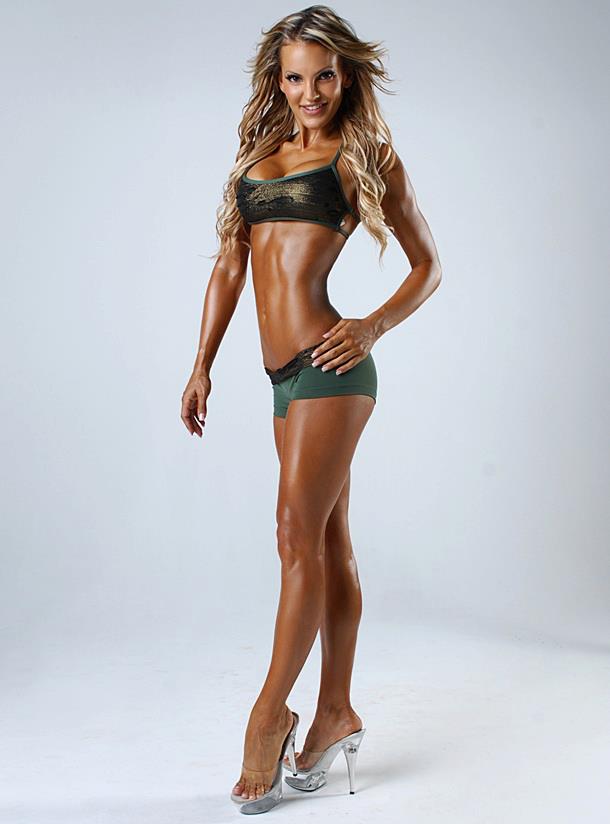 When trying to cut down do you prefer to use HIIT or just normal cardio?
Normal cardio. I like to split it up coming closer to the week of competition as well so I will have morning and evening cardio.
This has worked well so far but during this next "off season" I would like to try HIIT to just to mix it up and keep it interesting.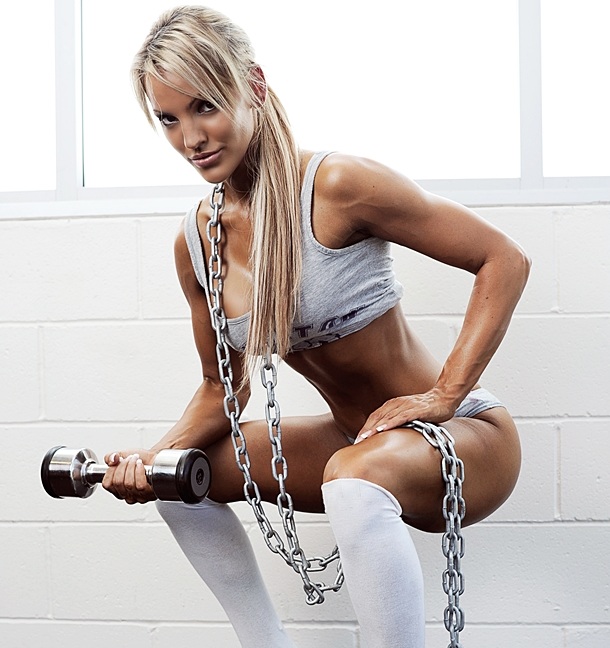 What is your supplementation like?
Iron
Folic Acid
Calcium
Vitamin D
Wild Fish Oil
BCAAs (During training)
Magnesium (After training)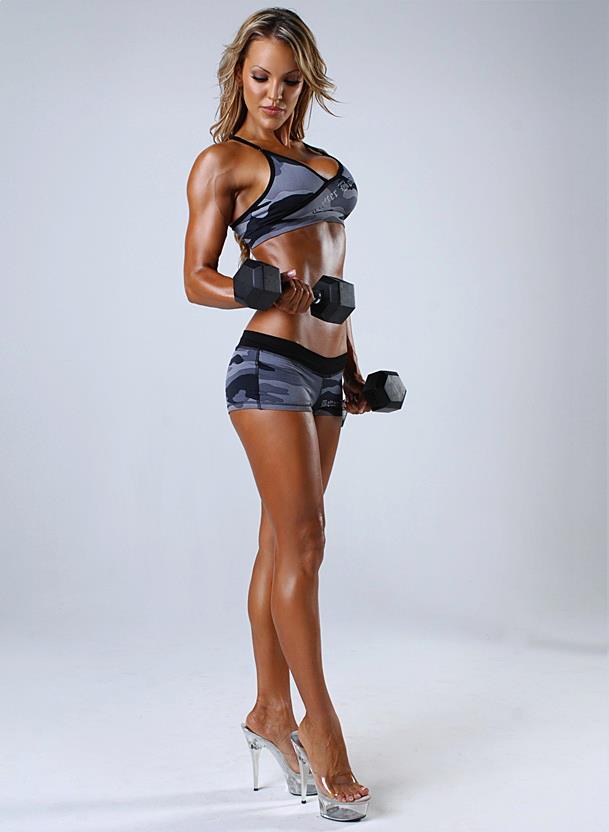 Photo Credits: Foxee by Nick Peal, Nicole Miller Photography, & Images by Helen Photography
Website: www.sarahallen.tv
Facebook: www.facebook.com/AusSarahAllen