How did you get started with bodybuilding?
My parents have always been supportive of me to maintain an active lifestyle as in my childhood they encouraged me to excel in sports as martial arts, swimming and tennis. However, as I got older I relaxed a bit on the sports while becoming more focused on my professional and college life. Once I moved from the States to Belgium on a work assignment, I saw how Europeans were generally more fit and slim than Americans which made me reflex on my own body. It was an easy motivator to get into better shape.
I picked up fitness as a way to deal with homesickness and to have a new personal goal to pursue. It's great to keep working towards goals of competing in physique competitions to stay in shape and help spread the good word about natural fitness and health.
What gets you motivated?
My motivation comes from a personal goal to build myself into the person I always wanted to be – a worldly, successful woman who also happens to have a rockin' body. This is my goal for improving myself, and it's so satisfying to achieve this step by step.
What is your training philosophy?
"Learn to love what you hate."  Always work to improve your weakest points.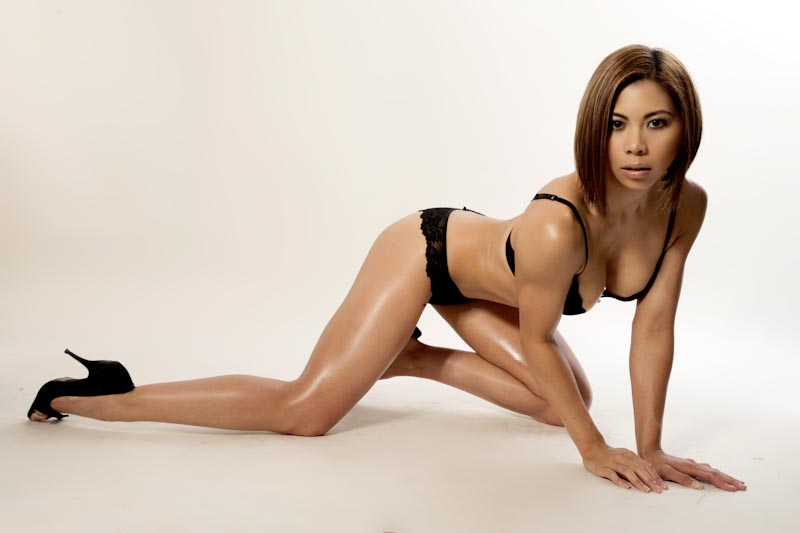 If you have to pick only 3 exercises, what would they be and why?
Tabata style barbell squats, HIIT on the stairmaster, and push ups.  I love compound movements because I feel that they best balance my physique and as functional exercises they just make sense.  HIIT because of the efficiency.  And pushups because they are a great upper body classic.
When trying to cut down do you prefer to use HIIT or just normal cardio?
HIIT all the way.  I am all about maximizing your time and efforts and HIIT allows me to compress my workouts.
What is your philosophy on nutrition?
If it flies, swims, or grows – eat it. Avoid processed foods!
Drink 4L+ water/day
On a scale of 1-5 where 5 is full, eat until you feel about a 3.
Eat 5-6 small meals a day.
What are your favorite meals and foods?
My favorite recipe is a Vietnamese dish called Buon Bo Nuong which consists of rice vermicelli, grilled beef slices, topped with a heaping of fresh herbs such as coriander, lettuce, mint, bean sprouts, and green onions. It's been my favorite growing up and I remember my mother making me a bowl when I came home from school. Depending where I am with my diet, I'll enjoy a hearty bowl. The problem with favorite foods is that it's easy to binge so I have to be careful when I'm around this dish!
Favorite cheat food?
BBQ ribs, lamb chops, fried chicken, rice, milkshakes, super deluxe burgers, pate, champagne, chocolates, peanut butter, cake…..Oh wait I have to choose just one?
What supplements do you use?
Multii-vitamin, glutamine, L-Carnitine, Omega 3's, Calcium. Vit C.  Take it daily, helps get me my needed essentials whilst dieting.
Favourite Bodybuilders?
IFBB Hall of Famer Shawn Ray!
Favourite Quote?
"There are no problems, only solutions."