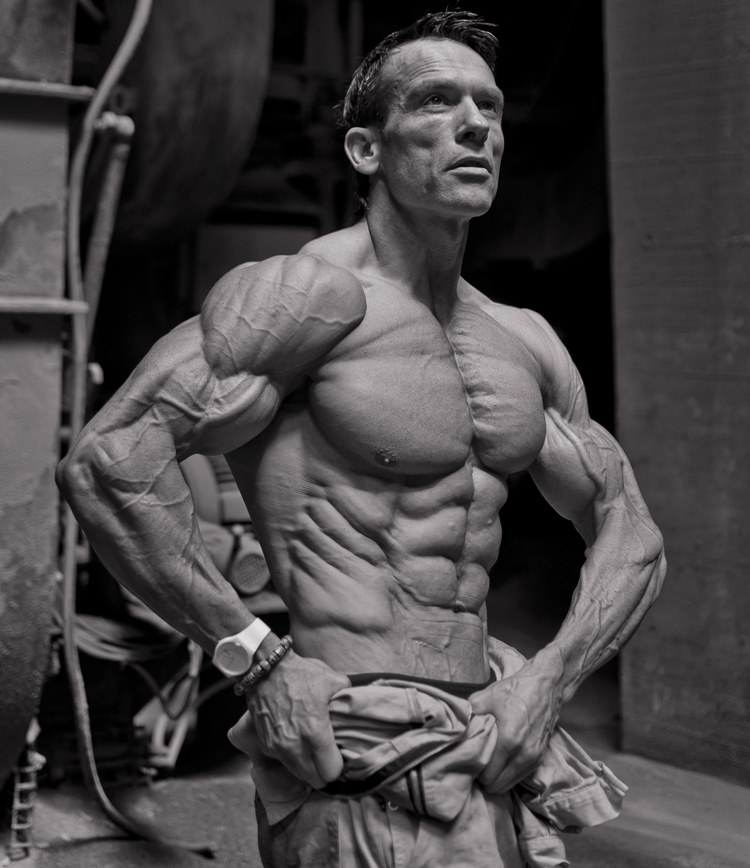 Age: 47
Height: 6'3″ – 190cm
Weight: 200lbs – 91kg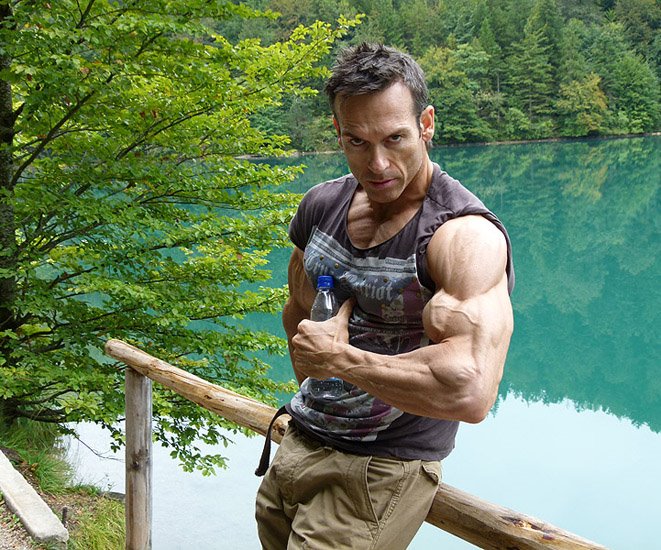 How did you get started with bodybuilding?
At 12 years old, I was a skinny weakling and an easy prey for bullies as I stood out in absolute contrast to a schoolmate who was a muscle machine. At first, I got into lifting weights only to protect myself. But soon, I was also determined to put myself on a physical par with this schoolmate, my odd twin. Here was wishful thinking. From it, there came my dream of becoming a fitness model. I liked weightlifting from the start. My first pair of weights was five kilos a piece. This was two bottles of washing detergent, filled with water though. I did not have proper dumbbells until a few years later. I was 16 years old when I joined my local gym. From early on, high aspirations and mental conditioning have been the keys to my life in fitness training and competition.
For I feel that to develop in the sport takes big dreams and a mind set for realizing them. Bodybuilding is the art of the possible.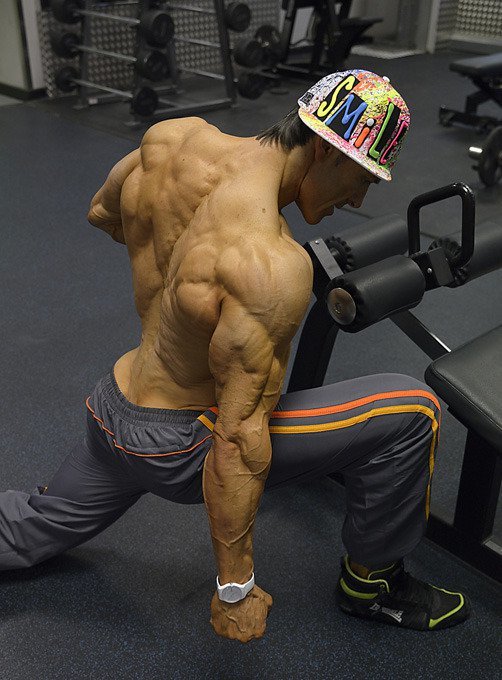 Where does your motivation come from?
What truly motivates me is my mission to serve as a graphic example of achieving ideals—ultimate fitness dreams and more. 'My life is my message', so I would have it.
There is for me too the simple fact that training can feel so good. I mean incredibly good, when the mood and energy are right.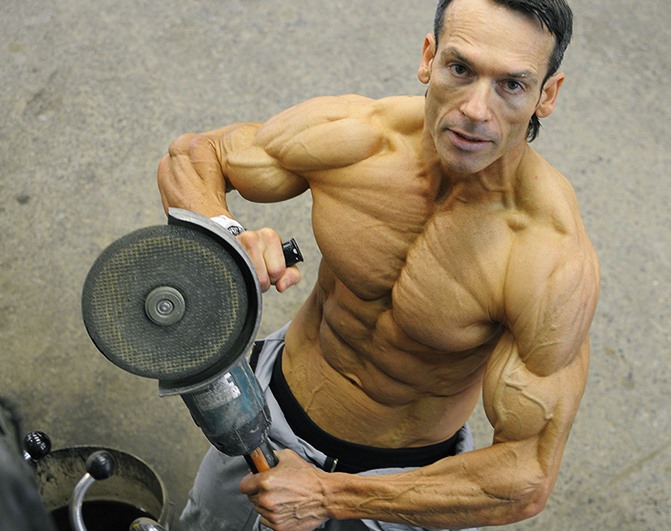 What workout routine has worked best for you?
My routine is far from being over-programmed. Every five or six days, I train each of my major muscle groups.
Monday: Back/Shoulders/Calves/Abs
Wide Grip Lat Pulldowns – 4×16-20
Chin Ups Close Grip – 3×12
DB Rows (Pronation grip) – 3×8-12
Seated DB Military Press – 5×8-12
Seated DB Side-Arm Raises (neutral-grip) – 3×15-20
Standing BB Upright Rows – 4×8-12
Seated Calf Raises – 5×30-50
Standing Calf Raises – 5×10-15
Seated Machine Crunches – 6-8×30-50
Leg Raises (in abdominal chair) – 5×20-40
Tuesday: Chest/Triceps
Bench Press – 5×6-10
Stability Ball DB Bench Press – 5×10-15
Butterfly Machine – 5×10-15
Seated BB Tricep Extension – 5×8-12
Dips – 5×15-20
Wednesday: Biceps/Hamstrings/Abs
Seated BB Preacher Curls – 5×8-12
Standing BB Bicep Curls – 5×6-10
Lying Leg Curls – 4×8-12
Seated Leg Curls – 4×6-10
Bench Crunches – 5×30-40
Incline Bench Crunches – 5×30-50
Thursday: Quads/Calves
Incline Leg Press – 5×20-30
Seated Leg Extensions – 5×15-30
Seated Calf Raises – 5×30-50
Standing Calf Raises – 5×10-15
Friday: Glutes/Chest (Heavy)
Lying-Down Machine Glutes Extension – 5×20-30
Standing Machine Glutes Extension – 5×20-30
Decline Close-Grip Bench Press – 5×3-5
Saturday: Rest
Sunday: Back/Calves
Seated Row – 4×15-20
Reverse-Grip Lat Pulldown – 5×10-14
Seated Calf Raises – 5×30-50
Standing Calf Raises – 5×10-15
I usually do supersets, and less often mammoth sets, working them to failure. I punctuate a series of reps with 'resting' by breathing in and out about five times. And holding to the dictum that what is necessary is never unwise, I follow these seven procedural imperatives:
Always warm up
Observe proper posture
Breathe properly
Stop lifting if I feel pain
Observe proper form
Use torso stabilization
Execute full range of motion
Intensity and following my instincts are to the point here. I have a calendar notebook. In it, I sometimes plot in advance the exact days and hours for training my shoulders, chest, back, quads, hamstrings, triceps, and biceps.
But I always treat this as a very rough blueprint for action.
What is your diet like?
As opposed to my workouts, my diet follows more detailed planning. I eat between five and seven meals a day. I have lean protein in every meal: Egg Whites, Turkey, Chicken, Beef, White Fish. For my carbs, I go heavy in season on the Sweet Potatoes and Brown Rice. During this time, I cut carbs in the evening.
Full Diet:
Meal 1: 5-8 Egg Whites + 1 Yolk, 1 Chicken, large cup of Coffee, 3 Bagels with sweetener Jam, Mustard, Low-Fat Spread
Meal 2: Meal Replacement Shake: 50 grams of protein, 80 grams of carbs
Meal 3: Cooked Basmati Rice and Turkey/Chicken
Meal 4: Basmati Rice and Turkey/Chicken/Fish
Meal 5: Basmati Rice and Turkey/Chicken/Fish
Meal 6: 10-12 Egg Whites (No Yolk) and 4 slices of Brown Toast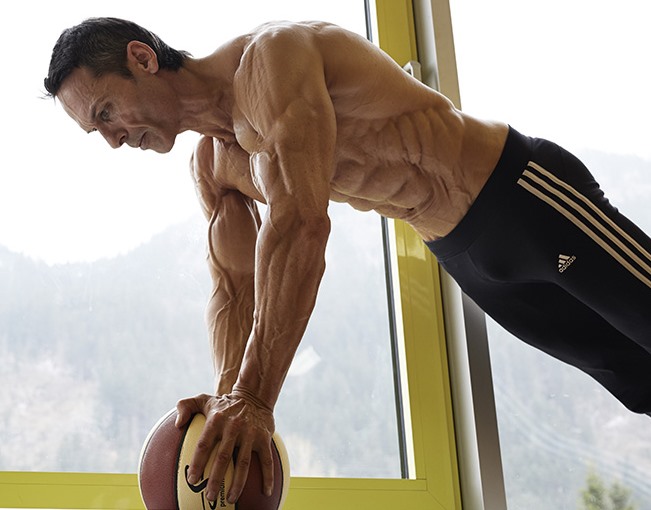 When I cut down for a competition, I do what is necessary to peak at 4% body-fat.
This means decreasing my carb intake and slightly increasing my fat consumption. I also do carb cycling for about a month prior to the event. Each of my cycles lasts four days. For the first three, I have between 150-200 grams of carbs, divided over six meals.
On the fourth day, I just escalate, to between 300-400 grams. After this 'high day', I start the cycle again.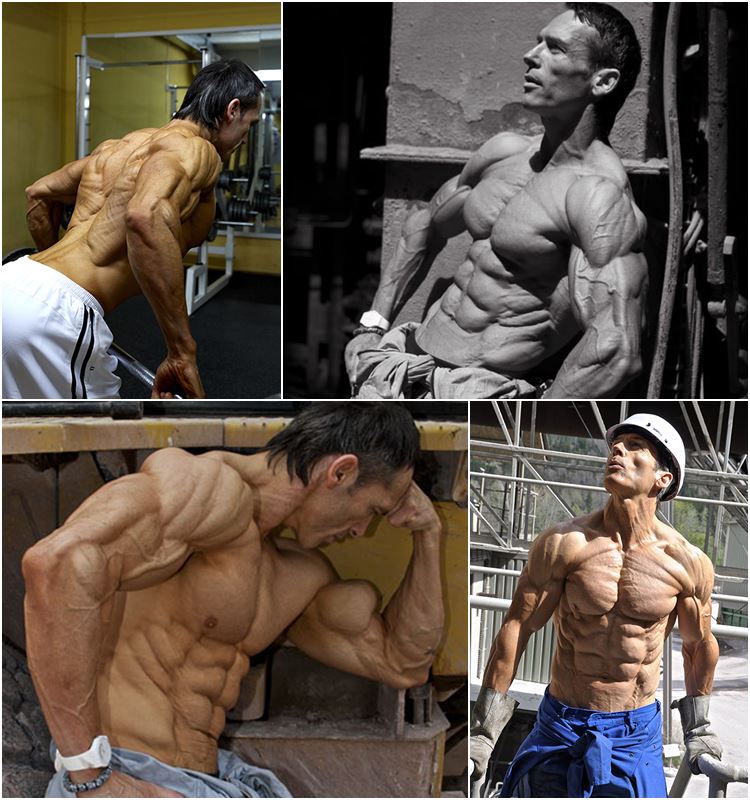 Favorite quote?
Perfection is not attainable, but if we chase perfection we can catch excellence. – Vince Lombardi
Website: http://www.hellestrebl.co.uk
Instagram: https://www.instagram.com/helmutstrebl/