How did you get started with bodybuilding?
I have been an athlete my whole life and so have always loved both weight and cardiovascular training. I have also always been cognizant of the foods I eat and interested in how nutrition plays a role in athletic performance. In college, I read my first issue of Oxygen magazine and became really inspired to take my training to another level. I loved the tight, feminine and muscular look that the models in the magazines had, and I loved experimenting with the different types of training and nutrition protocols these girls were using. I saw a girl at my local gym prepping for Figure contests, and I instantly wanted to do a show. Once I completed my master's degree in Exercise and Sport Science, I put my focus to training for an NPC Figure show and won the overall.
I was hooked after that! Competing in Figure was just a natural fit for me. 4 years later I earned my IFBB pro card.
What gets you motivated?
I want to be the best me possible. For me, my body is like my art work. I get enjoyment and satisfaction out of constantly refining it and making changes to it. I love being healthy for me, but it's also important that I am healthy and present a fit physique to my clients I train in person and online. This is about a lifestyle for me, not just prepping for a show every few months. The most satisfaction I get is being an inspiration to other women and helping them achieve their fitness goals. It's rewarding showing people what is possible when you follow and stay dedicated to a clean eating plan and regimented training routine. I also love my workouts in the gym. Lifting hard and feeling myself get stronger is the best.
I also have a couple of awesome training partners and my boyfriend puts me through every one of my workouts – I have an amazing support system to keep me motivated too and that is HUGE for anyone!!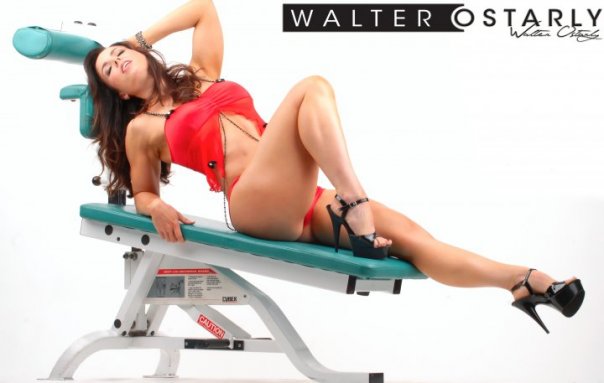 What workout routine has worked best for you?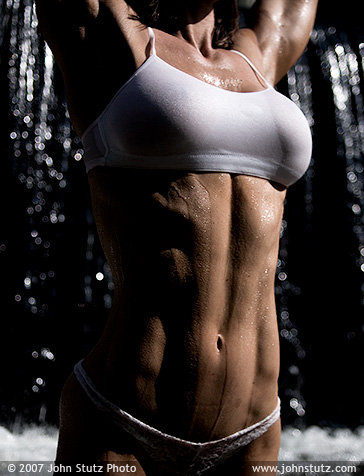 The past year I have been working hard to make some changes to my physique for the Figure Pro stage. My coach, Hany Rambod, and I have been working to bring up my back and legs. Lifting heavy, but higher reps, and always to near or ultimate failure has worked really well. It's all about mind-muscle connection, controlling the weight, and going through the full range of motion on every exercise and squeezing for the ultimate contraction!
Sample Routine:
Monday: Back and Bi's
Tuesday: Legs
Wednesday: Shoulders, upper chest, tri's
Thursday: Abs
Friday: Back
Saturday: Legs
If you have to pick only 3 exercises, what would they be and why?
Bent Over Barbell Rows – for the awesome thickness this creates in the back
Reverse Grip Pull Downs – Great for hitting the lats and medial back
Step Ups – I hate these, but they are awesome for tightening and shaping the legs all around
My focus for the past year has been so much about bringing up my back, which is the reason for 2 back exercises!!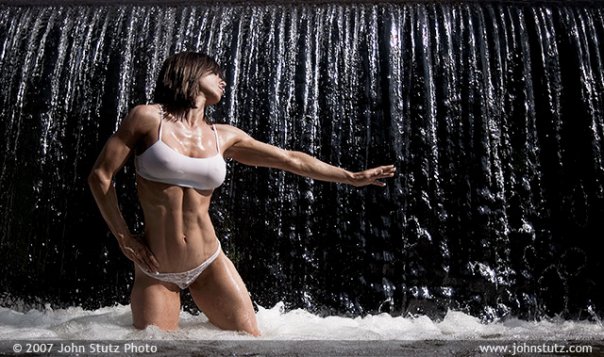 What is your diet like?
Off-Season, I eat very similar foods to when I am prepping; the quantity is just different! This contest season, my carbs have stayed mostly moderate, fats are very low and protein is high.
Sample Diet:
Meal 1: Oatmeal and Whey protein
Meal 2: Egg whites or Steak and Brown rice
Meal 3: Tilapia and Yam
Meal 4: Chicken and Brown Rice
Meal 5: Ground Turkey, Broccoli
Meal 6: Tilapia, Asparagus
Meal 7: Whey protein shake
Cheat meals are prescribed as needed. No ultimatums here, just when necessary! Hany makes manipulations to my diet whenever he sees me needing it. We have made tweaks as often as every 4 days and sometimes things stay the same for awhile – just depends on how my body is responding and what our goals are for the given time period.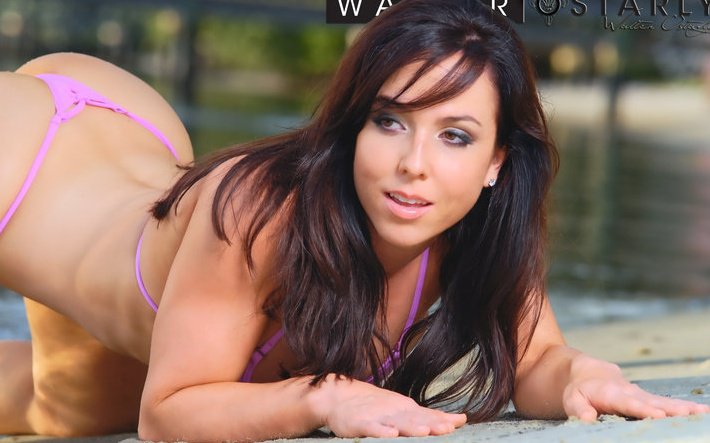 They say that the pre and post-workout meals are the most vital meals for the day, what do yours consist of?
Pre-workout is Tilapia and Yam, Post-workout is Chicken and Brown Rice….I LOVE fish! I could eat a pound of it every day, no lie. Really, I love all of my meals. Biggest thing about contest prep is just wanting MORE of what I already get :)
When trying to cut down do you prefer to use HIIT or just normal cardio?
I prefer a combination of both! Both forms of cardio have their place for fat loss and have worked well for me.
Again, it really just depends on where my body is at, what my training is like, what my diet is like and how I am responding when deciding which one(s) to incorporate.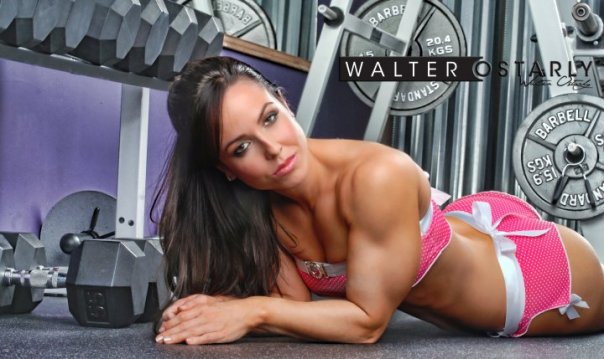 What is your supplementation like?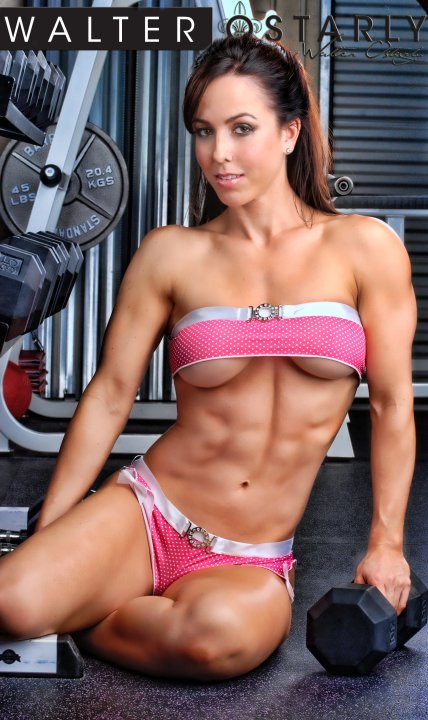 I use Evogen EVP. It gives me amazing pumps in the gym and incredible focus. It has kept my muscles very full this prep, which I love! I drink 2 scoops pre and post workout, as well as 2 scoops first thing in the morning while prepping.
Favorite Bodybuilders/Figure Competitors?
Davana Medina, Valerie Waugamann…these were both women about my height and I greatly admired their physiques during my early amateur days. Davana was always so sweet and gracious when I would talk to her at shows; she answered all of my training questions in person and via email which said so much about her as a person.
Favorite Quote?
Go confidently in the direction of your dreams. Live the life you have imagined. – Henry David Thoreau
Bodyspace: http://bodyspace.bodybuilding.com/hollandc/
Website: www.catherinefitness.com