How did you get started with bodybuilding?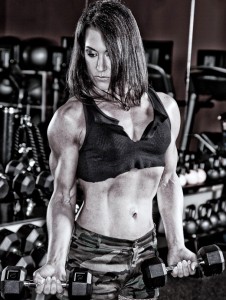 I was never the athletic type.  I did not find exercise or working out to be an enjoyable experience.  Only after the birth of my 2 children, did I decide to make fitness a part of my life.  Once I saw the changes in my body after months of dedicated weight training, I was hooked forever.  BUT, I had not embraced the nutrition aspect.
So, after years of stumbling around, I learned how to eat clean & really change my body.
In 2008, I decided to take my physique to a different level.  I had finally achieved the body I was working for and I knew it was time for a new challenge.  I hired a local trainer that specializes in getting men & women ready for bodybuilding & figure competitions.  The rest is history.
Where does your motivation come from?
Every day I am a walking advertisement for my personal training business.  I believe that I cannot expect the best from my clients unless I give my personal best every day.  I also love inspiring my fellow moms who believe it's too late to get in shape.  And of course, my two beautiful children who I want to remain healthy for and show them the benefit of a healthy lifestyle.
What is your training philosophy?
My training philospy is simple.  I use the shape of a triangle when explaining what I mean: the triangle has 3 points to make a perfect shape.  I believe that in the fitness equation we also have 3 points: nutrition, strength training & cardio.  You cannot have 1 without the other.  All 3 points must be in place to complete the shape.
If you had to pick only 3 exercises, what would they be and why?
Squats: Best butt exercise hands down
Military Press: To sculpt the shoulders
Wide Grip Pullups: To sculpt the back
When trying to cut down do you prefer to use HIIT or just normal cardio?
I actually do a mix of both to shock my metabolism.  As I get closer to a show, the amount of cardio I do will change/increase, but not the type of cardio.
What is your nutrition like?
Good food doesn't make you fat…BAD food makes you fat.  Don't be afraid to load up on the important carbs & fats to make your body run efficiently.  Also, you must have a plan in place for your meals.  Don't leave it up to chance.  I don't go anywhere without my cooler & a "back-up" meal just in case I'm left without food.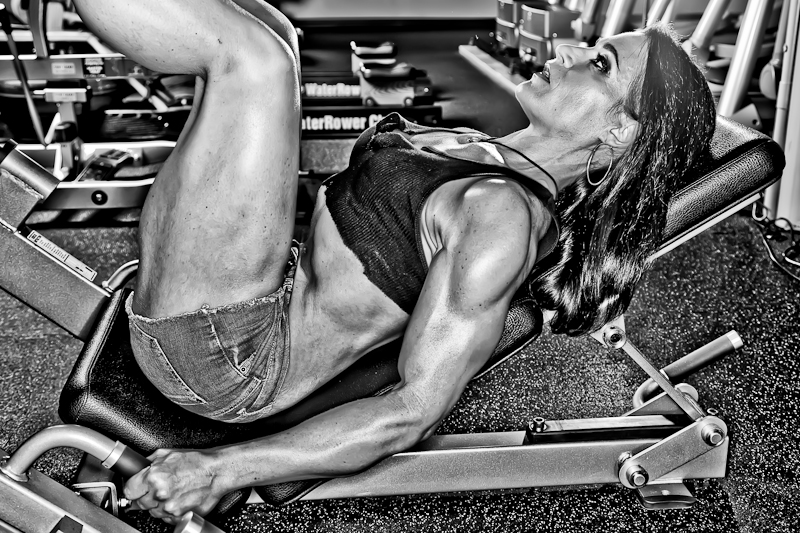 Favorite meals & foods?
I crave protein.  I crave it more than carbs or fat.  I love grilled chicken & ground lean turkey.  I also have a killer recipe for baked tuna (check out my web site for more info).  And to add spice to my sweet potatos, I wrap them in foil & add them to the grill when I'm cooking my chicken.
Favorite cheat food?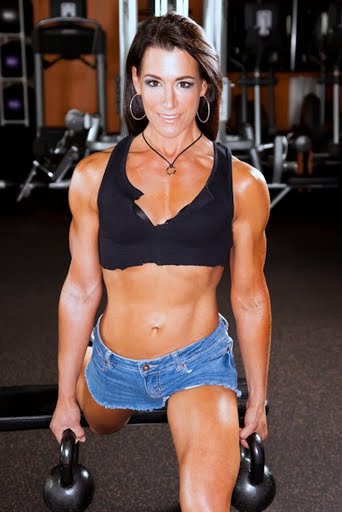 MEXICAN! Nuff said!!
Favourite supplements?
My favourite supplements are Apex's Volumizer w/creatine ( I take 2 in the morning on an empty stomach & 3 before my workout), BCAA's ( I take 2 before & 2 after my workout) and Arginine ( I take 3 times a day- before breakfast & pre/post workout).  I also use Cellucor NO or Scivation XTend for my workout fuel.
For my everyday vitamins, I use the following:
Omega 3/6/9 blend combined with CLA
B Complex
Green Tea Extract
Glucosamine
Calcium w/Magnesium
Favorite figure competitors?
My favorite figure competitors are Sherlyn Roy, Shannon Meteraud and Jelena Abbou
Favorite Quote?
This quote is actually my own…
"Yeah, I'm tired & hungry, too.  So What?? GET IT DONE!"
Bodyspace: www.bodybuilding/bodyspace.com/KLTexas
Website: http://www.kathylauciusfitness.com/