Kevin Levrone was born to an Italian father and an African American mother on the 16th of July 1968. He is known as a pro bodybuilder, actor, singer of the band Full Blown, and blogger and fitness guru on The Levrone Report, launched in april 2009. Kevin has 22 professional IFBB wins. He's an eight-time world champion, won the Arnold Classic two times ('94 and '96), and came second at the Mr.Olympia four times over the span of a decade ('92, '95, '00 and '02). He has not officially announced his retirement.
How did you get started?
My father died from cancer when I was 7. I actually lost a lot of family members from cancer. My mom died when I was in high school, from cancer. Several of my relatives died the same way. I figured, "hey, something's going on here, I need to stay healthy." At the time that translated to me, at my age, to wanting to become strong, perhaps to protect and ground myself, gain some power in an uncertain world.
That's how I dealt with the loss.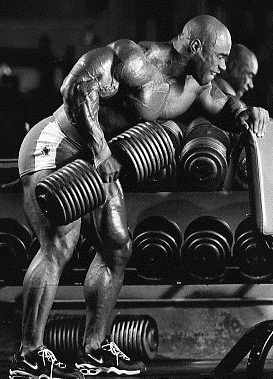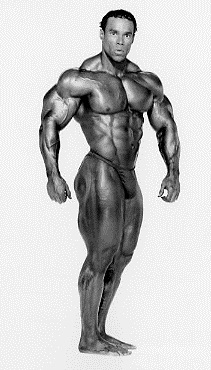 What gets you motivated?
My motivation today comes from wanting to make a difference, to help people in the world and set a good example. That's why I get out of bed every day.
It may sound idealistic, or too altruistic. But there's an excitement, a sort of fun in knowing you're helping someone. It's a natural high, in a way. It makes your own struggles and anxieties seem tiny in comparison to what you're doing when you're expending energy for something or someone outside yourself. Being selfless in this way can be a form of therapeutic, benevolent selfishness in disguise. If there's such thing as good selfishness, this is it. So today I chase that feeling. My mother once said, "If you can help someone, help." She knew what was up.
What workout routine has worked best for you?
It always depends on the specific goal. But as a rule of thumb, all of my pushing movements are done on one day, and the pulling movements, on another day. You might think that's basic common knowledge 101, but I get that question more times than I can count on the LevroneReport.com community. So it bears repeating.
Maryland Muscle Machine – Beast ! (HD)
If you have to pick only 3 exercises, what would they be and why?
Flat bench
Squats
Bent Over Rows
Flat bench works the whole chest. Squats hit every muscle in body. Bent Over Rows will get every single muscle in your back. Three very powerful, very efficient workhorse exercises.
What is your diet like?
I hate red meat. My diet is of low carbs, fish, and chicken. Everything is very clean. I love vegetables and right now I'm cutting. When I'm not cutting I'll add some sauces and spices into the mix. But right now it's just whole foods, unprocessed, clean.
Pre-workout diet:
I have a new supplement out called the Levrone Formula, before I do cardio in the morning I'll take it and then again before weight training, too. It's got no proprietary nonsense, fillers or gimmicks. No sugar or artificial stuff. It's just like the food I eat, it's clean.
I absolutely recommend an NO2 component for pre-workout. It warms up the machine and gets blood to the muscle. Just be careful you're not buying garbage. Be careful in general, especially with the premium pro-grade stuff, like mine, because you WILL feel it. I'll definitely have some food before weight training. Protein and carbs before I lift. Protein and carbs after I lift. For bulking I'll consume higher calories; for cutting down I'll lower the carbs.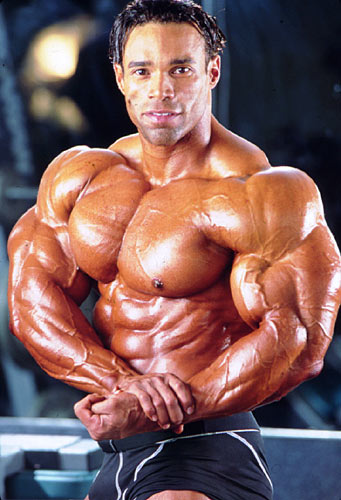 Why are you not on stage now?
Being on stage is all about me. I'd rather be down here building communities of men and woman who have been waiting all their lives to walk as a champion among champions.
That is what I hope to bring to the sport and the fans. Involvement, community, relationships, growth, and the kind of truth that can only come from friendship, NOT from business or entertainment.
I'm conflicted about the message we send to children in this nation in regard to steroids.
There's a double standard when young fans, who simply try to emulate what they see their heroes doing, wind up getting punished in one way or another. I don't have all the answers, but I know the answer isn't standing in my ivory tower. I have to get involved with the people. Educate, inspire, and do my part.
1 day before the 1999 Olympia & Shredded !
Favorite Bodybuilders?
Every bodybuilder is extraordinary and contributes something good to the sport. There is something I like about every Mr. Olympia. Then again, some of my favorite bodybuilders are just regular guys on LevroneReport.com, or wheelchair bodybuilders, or female bodybuilders.
Anyone willing to visualize an ideal, and then mold themselves into that ideal, amazes me. At any level, those are my favorite people.
Achieve Your Dreams
Favorite Quote?
The quote that plays in my head is: "As long as you never give up, you'll never lose, no matter how long it takes." Not sure how much of that is mine, but it's something that has kept me going many times.
The Levrone 2009/10 Comeback

Website: LevroneReport.com