How did you get started with bodybuilding?
As a child I was a competitive gymnast. Unfortunately I had to stop gymnastics due to sports related injuries, and thought that would be the end of competitions! Then, in the 90's I began watching the Fitness America Pageant on ESPN. I saw women like Madonna Grimes, Tsaianina Joelson and of course, Mia Finnegan who were beautiful, strong, powerful and able to continue in athletics post adolescents'. I fell in love and knew I had to join them!
Where does your motivation come from?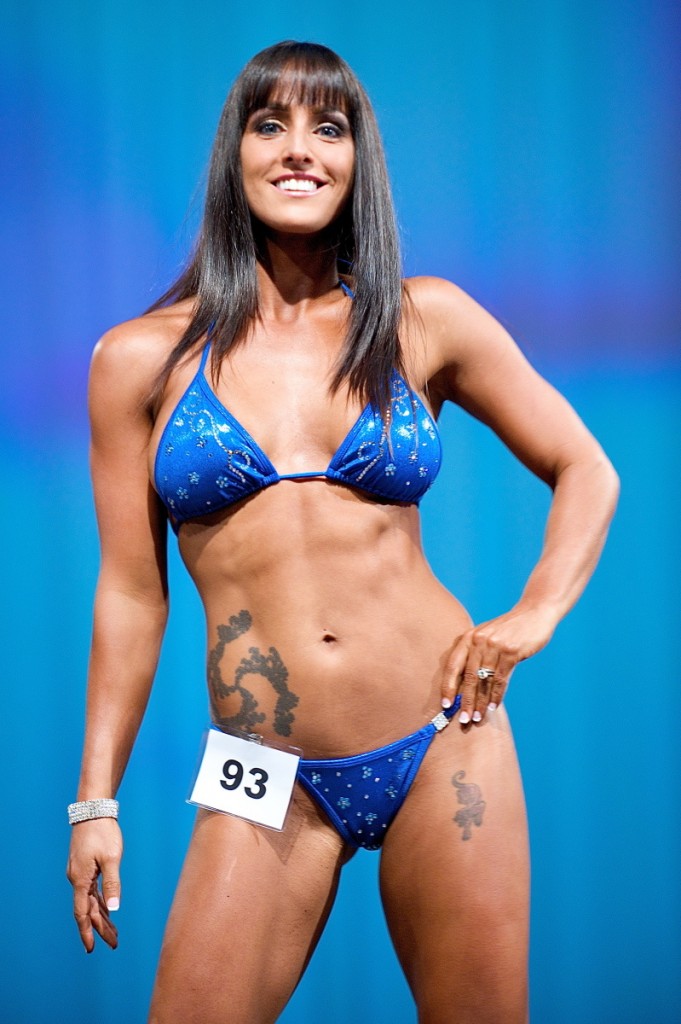 I've always been and athlete and been into health. Now, at 31, I don't just want to look great, I want to feel amazing, both physically and mentally. I think the body is an amazing machine that is naturally capable of so much more than most people believe. It's like owning a Porsche but never taking it out on the track to experience what it really can do! I want to see what this body can do, how far I can push myself.
What is your training philosophy?
My training philosophy is to find a form of exercise that you enjoy and to give it 150% every time. And then do something, whether it's cardio, weights, core, yoga, stretch, just something every single day. This isn't always easy and there are definitely mornings that I hate that alarm clock. But I've never walked out of a workout wishing that I had not gotten up and done it. Period.
If you have to pick only 3 exercises, what would they be and why?
For me it's old-school! Definitely pull-ups, squats and push ups offer the most variety and bang for your buck! These exercises, when done correctly, incorporate multiple muscle groups and for me are the backbone of any workout program. You can do pull-ups close, wide, reverse, corncob, assisted, unassisted, etc.. Push ups can be done military, wide, standard, on the Bosu, one-arm, incline, decline, etc… Squats are amazing, weighted, unweighted, plyometric, plie etc…What other exercises can offer so many variations!
When trying to cut down do you prefer to use HIIT or just normal cardio?
Both. Personally, I think that you've gotta change it up so you #1 don't get bored and #2 continue to see changes week to week. Some days it's steady state elliptical, other days it's interval training. But at least 1-2 times per week you'll see me jumping on and off the treadmill, looking like a crazy person doing the HIIT training programs that my amazing CSF coach Ceal Thompson suggests. The best is when CSF comes up with HIIT workouts and pairs them with a play-list like they did in November's "Eye of the Tiger" program. This was the perfect way to train for Ms. Bikini America.
What is your philosophy on nutrition?
My purpose of competing is to challenge my body and improve my overall health. It's so easy to get caught up in the complexity of pre-contest diets that many, are honestly, unhealthy. One of the reasons that I took a break from competing was the pre-contest diet and post-contest weight gain that many competitors experience. I just never felt like either was healthy. Now, through the coaching program with Cathy Savage Fitness, which includes register dietitian & 2009 Fitness America Champion Tiffani Bachus, it's been easier than ever to cut weight while still having energy and feeling healthy. Now, I have adopted the CSF philosophy of having a well-balanced nutrition plan, even when preparing for an upcoming show.
What are your favorite meals and foods?
In the morning I like to have 1/2 of an Ezikiel Sprout Grain Muffin topped with three crushed red pepper seasoned eggwhites. I also love my homemade 'very healthy' chicken chili or mahi-mahi ceviche!
Favorite cheat food?
I'm a typical chocolate loving girl, but I also like things a little salty. So, my cheat food of choice is a dark chocolate covered almond!
What supplements do you use that give you great results? How do you use them?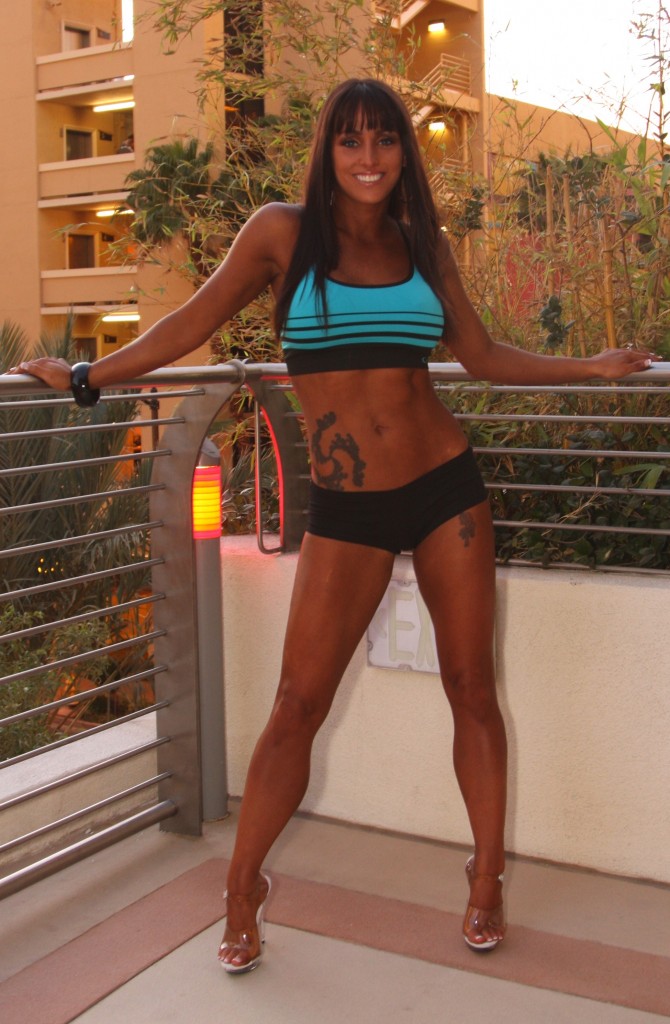 I don't use a ton of supplements daily. I try to get my vitamins through a wide variety of foods. However, I do take a Vitamin-D capsule daily. In addition, I love BSN products. When I'm getting ready for a show I do use Artophex. But I can't live without my Syntha-6 Cookies & Cream protein, as well as the Dessert in Whipped Vanilla. Yummy!
Favorite Bodybuilders?
Of course, I am inspired by fitness icons like Monica Brant, Tanya Merryman, Alicia Marie and Adela Garcia. I appreciate their hard work, dedication and supreme talent. But, for me, there's nothing more impressive than watching the women that compete over 40 rock it out on stage! Thankfully there are more and more of them in fitness, figure and bikini world. To me, continuing to set high personal 'physical' goals and constantly challenging your body and mind later in life is truly inspirational!
Competition history:
2001:
In 2001, it was my final year at East Carolina University I trained for three months to compete in a Fitness America regional in New Jersey. I was ready. I drove to New Jersey only to find out that I was the only 'fitness' competitor that showed up and that the division would be canceled! My goal was to qualify for Fitness America Nationals. But without competing, I couldn't. They called the FAP who said they would allow me to compete at Nationals anyway. But, I felt like I didn't earn it. I said I'd try again next year, but the life got in the way.
2003
In 2003 I decided to compete in the new Ms. Bikini America division. I did well that year, wining both the regional and national for the Super Natural Bodybuilding Federation, placing 6th at Ms. Bikini America in South Beach and 2nd at the Met-Rx Model Search. But, then life got in the way again and I stopped competing for 6 years.
2009:
In August of 2009, at 30 years old, I made the decision, with the help of my husband to get back into the fitness competition world. I chose Ms. Bikini America in Las Vegas which was only 15 weeks away. I hired Cathy Savage Fitness and became a Savage Girl! I went to Vegas with what I thought was a long-shot goal of making the Top 10 in my division. When they called my name in the Top 10, you would've thought I had won the Olympics. Nothing mattered to me after that. In the end, I placed 9th ~ which in my mind was a great starting off point for my return to the stage.
2010 Goals:
This year I'm going back to my roots and competing in fitness at the Kumite Classic in Pittsburgh and Fitness Universe in Miami. I am also competing in the NPC Bikini division which my goal is to earn my IFBB Pro Card for Bikini.
Favorite Quote?
That's easy! My husband and I have a quote that we live by and it's the tag line for our company JetSetLife.tv
"Excuses are over. It's time to live!"
Bodyspace: http://bodyspace.bodybuilding.com/kmurgatroyd/
Websites: