Long before the sight of Steve Reeves sporting gladiator garb made girls in poodle skirts swoon at drive-in theaters, there was Adonis. The legendary Greek figure, borne of a myrrh tree, was said to have possessed such unearthly physical beauty that even the goddess of love herself, Aphrodite, couldn't help but fall head over heels for the delectable deity.
Sadly, Adonis' overwhelming studliness sparked jealousies that led to the summoning of a boar to do him in; he died for the sin of looking too good. As with any Greek parable, there's a lesson to be learned. Basically, if you're a grade-A head-turner, you might do well to keep an eye out for charging wild pigs.
If Reeves hadn't been apprised of this truism during his competitive heyday, certainly some of his modern-day counterparts have. World-class bodybuilders such as Darrem Charles (especially come Olympia time) and Troy Alves have felt the sharp tusks of a sport that in recent years has placed an ever-greater premium on muscular mass, even when coming at the expense of an Adonisworthy appearance. Like the Greek god himself, these men, and all those who endeavor not to let the prevailing winds shape their own forms, may find their glory years brief (if not quite so sanguine), lest the IFBB gods see fit to make some adjustments on the acropolis high atop "Mount Olympia."
In honor of Adonis and those who've aspired to follow his lead in a quest for perfection, we present you with the 20 most aesthetic physiques, ranked from 20th to the best of all time.
20 Melvin Anthony
Birth Date: November 13, 1972

Height: 5'9″

Weight: 235 pounds
It's a generally accepted fact that "Marvelous" Melvin Anthony has the smallest waist in bodybuilding today, which is all well and good on its own. But considering that he also has some of the sport's widest clavicles, we're talking about a serious V taper. Anthony's front double-biceps shot, in particular, harkens back to the physiques of a range of athletes, from Sergio Oliva to Arnold Schwarzenegger to Shawn Ray. Anthony's ab column is especially narrow, relatively high and sits under his rib cage just so. His biceps are long and full, and his lats flare with the best of them. The overall effect is a classic interpretation of this classic pose.
Along with so many others on this list of 20, Anthony is known as one of the best posers of his era.
It's the savvy bodybuilder who knows his strengths and plays to them.
Anthony's rousing routines usually begin with dramatic moves capped with subtle flourishes. That minuscule waist, those rounded lats and those steel-cable arms are all displayed to great effect, most successfully at the 2004 IFBB Night Of Champions in New York, the site of his first pro victory.
Anthony certainly has the tools to add to his trophy case and to continue representing the aesthetic brigade with honor.
Melvin Anthony Highlights
19 Sonny Schmidt
Birth Date: September 9, 1953

Died: January 25, 2004

Height: 5'10"

Weight: 240 pounds
New Zealand's greatest bodybuilder, Sonny Schmidt, may have passed on, but he will never be forgotten, especially in the annals of bodybuilding's most aesthetic athletes. Considering his height and weight, Schmidt is one of the larger guys on this list and he was viewed by some as part of bodybuilding's mass contingent; often overlooked is the fact that his near-flawless proportions separated him from the rest of the pack.
The 1995 Masters Olympia champion was a perennial top-10 finisher who was rarely seen onstage in anything less than crisp conditioning.
Although Schmidt was supremely proportioned, he had something others of his ilk didn't always possess freaky bodyparts, which usually make for a bodybuilder who's somewhat less than balanced.
Fact is, every one of Schmidt's bodyparts was freaky: his arms were absolutely enormous, as were his calves; his chest was full and ridged; and his back was wide and thick. Add to that combination hanging hamstrings and brick-and-mortar abs, and you have a physique worthy of top-20 status.
Sonny Schmidt Highlights
18 Sergio Olivia
Birth Date: July 4, 1941

Height: 5'10"

Weight: 240 pounds
Say "the Myth" in bodybuilding circles and everybody, no matter their age or global residence, will nod their heads in approval. Sergio Oliva was a phenom the likes of which has not been seen before or since. Suffice to say Oliva was the only bodybuilder that invoked fear in the heart of the nearly invincible Arnold Schwarzenegger … now that's saying something. The Cuban emigre started his iron-pumping career as an Olympic weightlifter for Fidel Castro's national team.
After coming to America in the early 1960s, he soon discovered with the aid of fellow legend Bob Gajda that he had the God-given structure to be a world-class bodybuilder.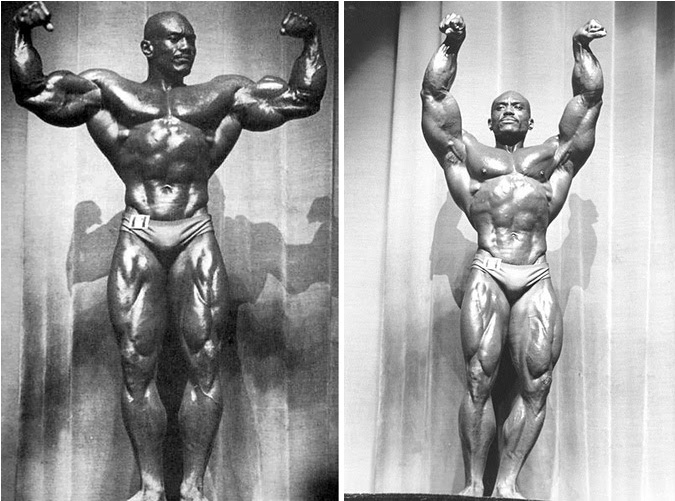 No sooner had he embarked on a bodybuilding career than he began winning titles in the Chicago area.
Then he broadened his scope to the national level where, save for a Mr. America title that should have been his, he dominated. Finally, in 1967, he climbed to the pinnacle the Olympia where he would sit for three years, until the aforementioned Austrian supplanted him. Sure, Oliva was the most massive guy of his day (and many, many days since), but the seamless flow of his muscle groups was truly a thing of beauty. Just a single look at his trademark "victory" pose makes his nickname a no-brainer.
17 Danny Padilla
Birth Date: April 3, 1951

Height: 5'2″

Weight: 175 pounds
Dubbed the Giant Killer, 5'2″ Danny Padilla regularly defeated his towering opposition by way of stellar proportions and flowing lines rather than mere mass not that he wasn't endowed in the area of striated muscle as well. Looking at photos of Padilla standing solo, it's difficult, if not impossible, to determine his (lack of) height. Some short men sport proportions typical to their height: long torso matched with stubby limbs. Not so the Rochester, New York, native.
Every bodypart is in near perfect ratio with the others. His muscle bellies are round and emanate from tiny joints.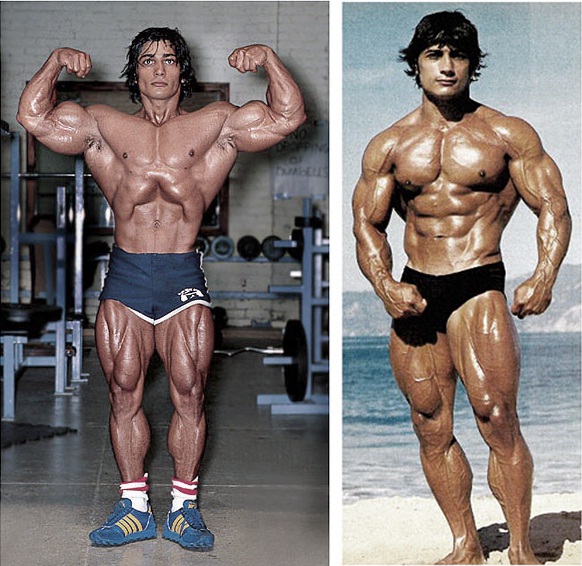 It has been said that Padilla's only shortcoming is his shortness.
Yet, no one can explain why a person's verticality should have any bearing on the judging of his muscularity. Like Robby Robinson (who was a good friend and a frequent onstage rival throughout the late 1970s), Padilla has retained his condition well into middle age, lending credence to the idea that the pursuit of a quality physique above all is a strategy in bodybuilding that could yield benefits for a lifetime.
16 Serge Nubret
Birth Date: October 6, 1938

Height: 6′

Weight: 220 pounds
France's Serge Nubret could be included on a number of "best of" lists other than this one. "Best abs," "best chest" and "best impression of a work of art" are just a few. Throughout the 1960s, '70s and '80s, Nubret was bodybuilding's standard-bearer of grace. When he walked to center stage, it appeared as if he was gliding inches above the floor.
His body seemed to slide into poses as if each was created specifically for him. His form was graceful, yet extremely powerful.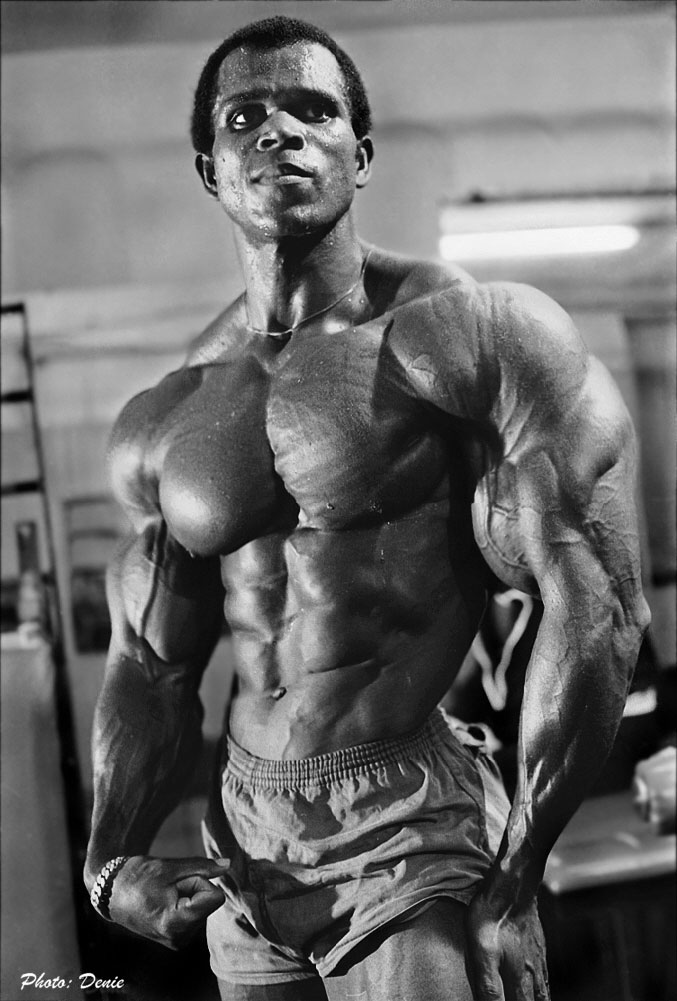 At the 1975 Mr. Olympia, Nubret managed, at a bodyweight of only 200 pounds, to best the hulking Lou Ferrigno, who outweighed him by nearly 70 pounds, en route to a second-place finish in the tall class, behind Arnold Schwarzenegger. Despite shedding a reported 20 pounds within just a few weeks of the contest (he had only a short time to prepare, as he was at first erroneously informed that he was ineligible to compete), Nubret still presented enough in the way of shape and lines to give even the Austrian Oak a run for his money.
Nubret's unique genetic makeup certainly can't be discounted for the role it played in forging his physique, but his distinctive training system, consisting of very high volume coupled with moderate weights, certainly had a hand in polishing this diamond.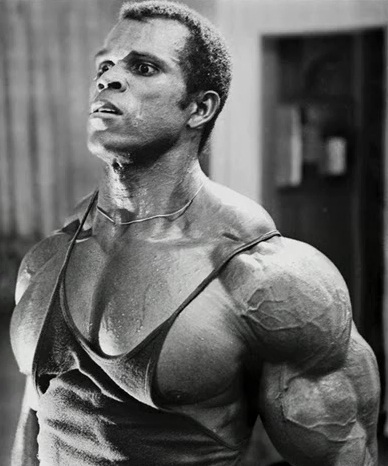 15 Lee Haney
Birth Date: November 11, 1959

Height: 5'11"

Weight: 248 pounds
In bodybuilding, there are legends, and then there are Legends, with a capital L. Appropriately enough, L also stands for Lee, as in Lee Haney. To many, Haney's emergence on the pro bodybuilding scene was a kind of epiphany: a bodybuilder can actually be the biggest guy and the best too. At 5'11" and tipping the scales anywhere between 233 and 248 pounds, Haney was often the largest contestant onstage during his pro career, spanning 1983 to 1991.
Whereas other behemoths often rely solely on mass to see them through, Haney employed a triple-threat approach as he stormed his way through IFBB lineups. In addition to his groundbreaking size, he brought stellar shape and spot-on conditioning to the table, year after year.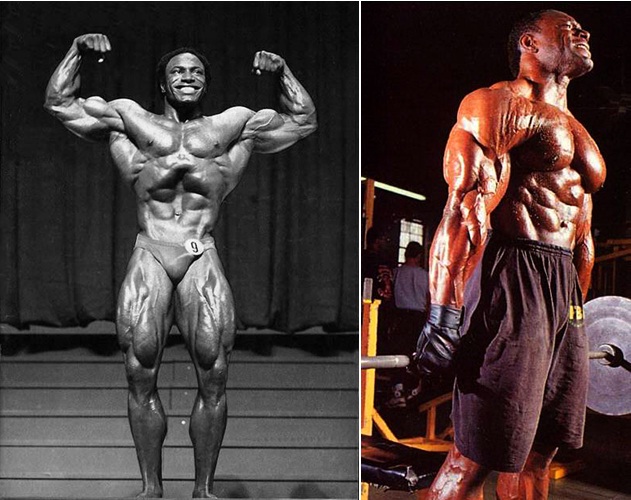 Enough times, in fact, to garner a record eight Olympia titles.
Haney's influence on the sport of bodybuilding has been felt to this day, and not just for the indelible mark he made upon the sport as an individual. The dominating combination of size and shape he displayed caused his competition to rethink their strategies as they attempted to knock him off his throne (they never did). From the time of Haney's first Olympia win in 1984, everybody endeavoring to make a run at bodybuilding's top title would have to bring their mass to a whole new level, while keeping the lines that brought them to the dance in the first place. Many have tried and ultimately failed to match what Haney accomplished.
14 Matt Mendenhall
Birth Date: June 26, 1960

Height: 5'11"

Weight: 242 pounds
Matt Mendenhall is considered by many of those in the know to be the greatest bodybuilder never to earn pro status. He finished second in the heavyweight class at the NPC Nationals in 1982, 1984 and 1986. Despite winning his class at the 1985 USA Championships, he lost the overall title to light heavyweight Dave Hawk. At the 1985 World Games, he finished second in the heavyweights to Berry DeMey. So close to being a pro, yet so far. (He last competed in 1991, at the NPC Nationals, where he placed fifth among the heavyweights.)
Still, it was never for lack of mass coupled with aesthetics that Mendenhall never won a big title. Conditioning was usually his bugaboo.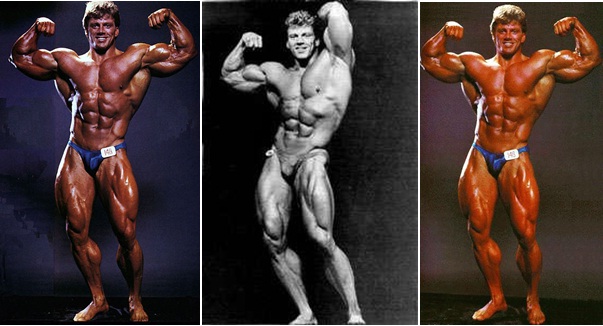 Audience members and even competitors at each of the contests he entered often agreed that Mendenhall had the potential to beat everyone in the sport.
He lacked nothing from his wide clavicles to his narrow hips, right down to one of the most impressive pairs of calves in bodybuilding history. Couple this with all-American good looks, and you have a man who not only caught the attention of first Ms. Olympia and all-around bodybuilding babe Rachel McLish, but that of bodybuilding fans who know a stellar physique when they see one. In the pantheon of legendary aesthetes, titles mean nothing. It's muscular shape, lines and proportion that count and when judging these criteria, Mendenhall is a true champion.
13 Thierry Pastel
Birth Date: June 6, 1959

Height: 5'2″

Weight: 178 pounds
When the name Thierry Pastel comes up in bodybuilding conversations, talk inevitably turns toward his jaw-dropping set of abs and impossibly full arms. Indeed, the French pro's abs can be ranked up there with the best of all time he sported a crisp eight-pack with ridges so deep you could lose a quarter in them.
He stood only 5'2″, yet his arms were the size of a man's a half-foot taller and better shaped than many, to boot.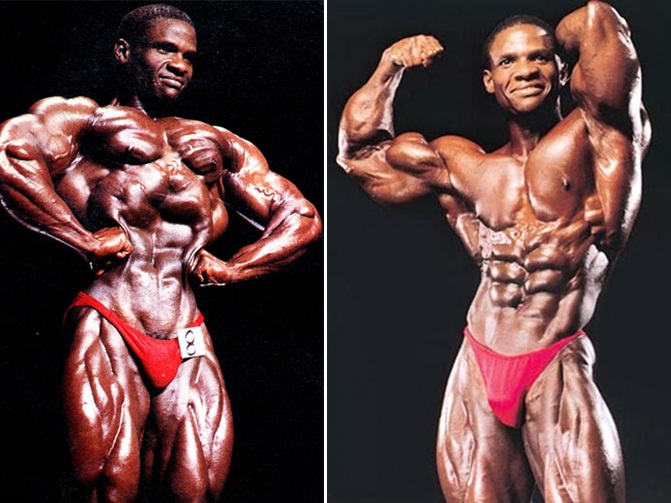 Yet even his outstanding bodyparts couldn't detract from Pastel's overall aesthetic excellence.
An exceptional poser, he would rarely hit a shot in the conventional manner, instead opting to add the kind of artistic flourishes to his stance, his hand placement or the angle of his torso that bespeaks an artist more than an athlete. Not surprisingly, Pastel was a protege of fellow Frenchman Serge Nubret, himself a master poser and paragon of aesthetic distinction.
Although the likes of Pastel and Nubret are seldom seen on bodybuilding stages these days, their photos continue to inspire generations of up-and-coming muscle artisans.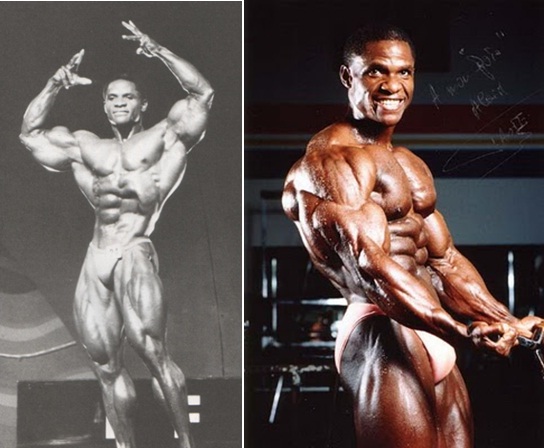 12 Chris Cormier
Birth Date: August 19, 1967

Height: 5'10"

Weight: 250 pounds
Some would say that in 2006 aesthetics is all but dead and buried, that mass and mass only is where it's at these days on the pro bodybuilding circuit. To those who truly believe this, we present you with exhibit A: Chris Cormier. From the time he won the NPC USA Championships in 1993, Cormier has been a sight for sore eyes on IFBB stages around the globe. At a competition weight of around 250 pounds, Cormier is among the heavier guys on our list.
It's the way he carries that weight, rather than the weight itself, that makes him so impressive. Tiny joints coupled with full muscle bellies, all spread out uniformly across a 5'10" frame, make for a physique that has earned 11 pro titles to date in the 70 IFBB contests in which he has competed.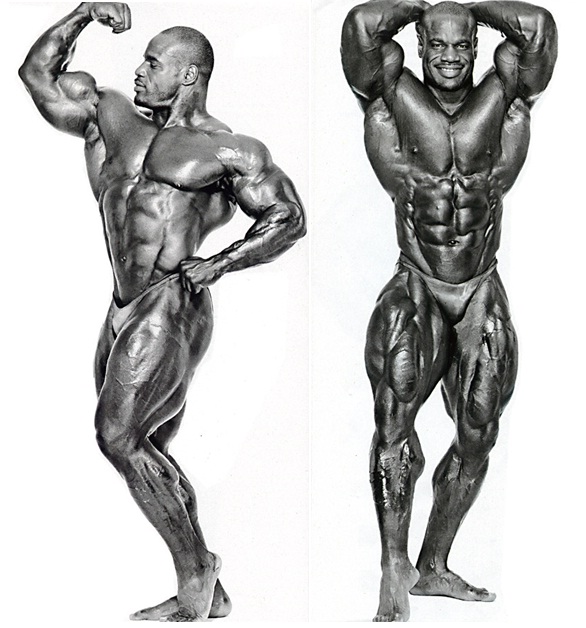 To his credit, in an era when even athletes known for their aesthetics sacrifice their lines at the expense of mass, Cormier has managed to maintain a fine balance between both.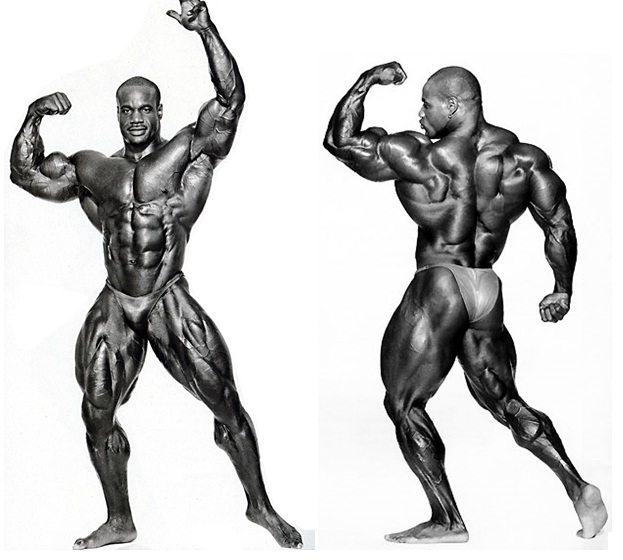 He is one of the few guys in the pro ranks today who can actually vacuum in his abs when hitting a front double-biceps shot.
Certainly, if the traditional vacuum pose were to be incorporated into the mandatory routine, Cormier would be in good standing for top honors at either the Mr. Olympia or the Arnold Schwarzenegger Classic, two shows he would love to win before calling it a career.
Chris Cormier Highlights
11 Shawn Ray
Birth Date: September 9, 1965

Height: 5'7″

Weight: 205 pounds
By the time you read this article, Shawn Ray will be known as many things, including bodybuilding advocate, contest promoter, emcee, charity event organizer and entrepreneur. But the one title that no one should ever overlook in Ray's long and storied love affair with bodybuilding is Mr. Symmetry.
Ray represents a rare breed in bodybuilding, one that is scarcer now than ever: the bodybuilding prodigy. At the tender age of 22, Ray won the 1987 NPC Nationals, which set him up for a pro career that ranks among the most impressive in bodybuilding's history.
Although he never got to place a Sandow on his mantle, Ray nevertheless represented the gold standard of excellence through the reigns of three multiple Olympia winners: Lee Haney, Dorian Yates and Ronnie Coleman. Year after year, from 1988 through 2001, Ray posed a serious threat in every contest he entered.
He competed in 12 consecutive Olympia contests during that time (13 overall, sitting out only the 1989 rendition) and, after his first Olympia appearance, never placed out of the top five, taking runner-up honors in 1994 and 1996.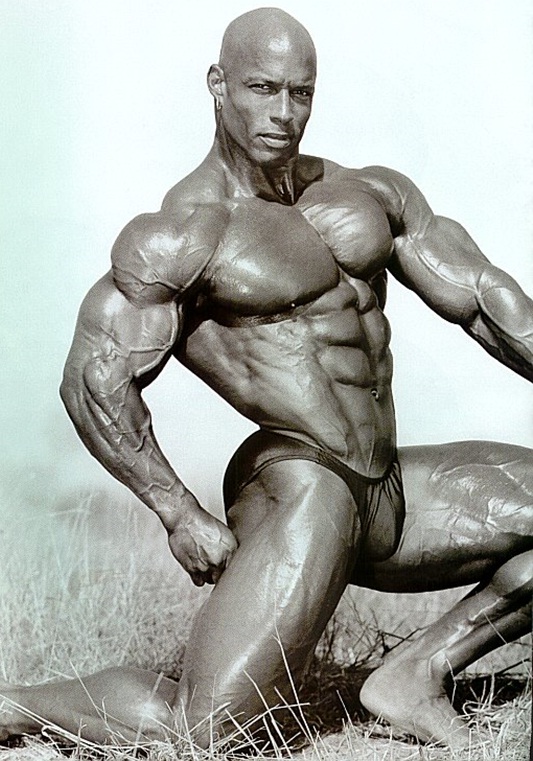 Ray's muscularity rivaled that of any of his competitors during his career, only he carried it better than most. Fully cognizant of the beauty of his physical form, he became an exemplary poser, choosing to move audiences with an artistic display rather than simply wowing them with pure mass. A rare breed indeed.
Shawn Ray Highlights
10 Mohamed Makkawy
Birth Date: August 29, 1953

Height: 5'3″

Weight: 160 pounds
Egypt's Mohamed Makkawy stood just an inch taller than Danny Padilla, but he made just as big an impact on pro bodybuilding as did his fellow honoree. Makkawy's stature within the sport could be more easily measured by the esteem he garnered from fellow competitors than from his height; among his vocal fans was the great Mike Mentzer. In addition, a memorable photograph depicts a grinning Lee Haney, less than a year shy of the first of his eight Olympia wins, hoisting Makkawy into the air on the occasion of just having been defeated by his much smaller rival at the 1983 English Grand Prix.
Despite the groundbreaking size, shape and overall quality of young Haney, Makkawy's ethereal qualities bordered on human physical perfection.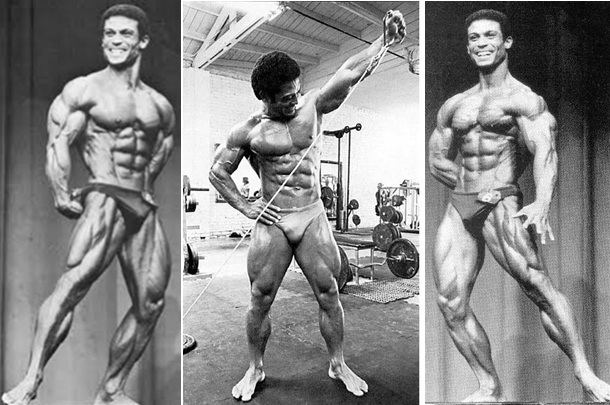 Makkawy's six IFBB pro victories came in 1982 and 1983, starting with wins at the 1982 Swedish and Belgian Grand Prix events.
He took the World Pro title in 1983 and was second to another man on this list, Samir Bannout, at that fall's Mr. Olympia, before earning top honors at three Grand Prix events (including the aforementioned battle in London, England) to round out his very successful year. Unlike many other competitors who are rich in aesthetics, come judging time, he sometimes did get his due.
9 Samir Bannout
Birth Date: November 7, 1955

Height: 5'7″

Weight: 190 pounds
Samir Bannout presented a physique at the 1983 Mr. Olympia contest in Munich, Germany, that came close to matching the ideal embodied by the figure of Adonis. Of course, favorable genetics are at play when we're talking about the best of the best.
But, good genes or not, Bannout did his gym homework as diligently as any of the other legends on this list.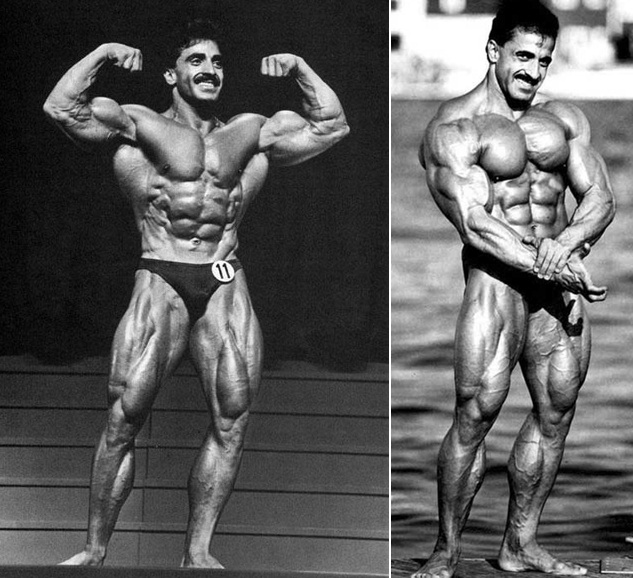 During his long and outstanding career, Bannout would sometimes find himself plagued with water-retention problems, but he managed to dry himself out when it counted, including at the aforementioned Olympia. Bannout presented an ideal balance of shape and mass; whereas some of his contemporaries who also toed the aesthetic line might be accused of being too light or too stringy, not so Bannout.
At 5'7″, he carried just the right amount of mass to be able to stand with both the elephants and the gazelles, which is appropriate for someone referred to as the Lion of Lebanon.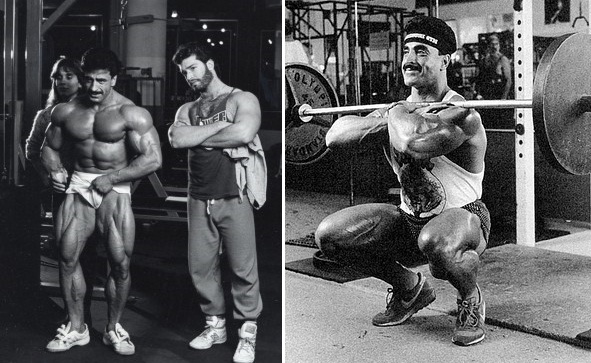 Samir Bannout Highlights
8 Berry Demey
Birth Date: February 23, 1962

Height: 6'1″

Weight: 225 pounds
Berry "The Flexing Dutchman" DeMey came up through the bodybuilding ranks at about the same time as Bob Paris and was seen by many as a European version of the American champion.
Like Paris and Steve Reeves, DeMey had cover-model looks, which, as might be expected, earned him a number of bodybuilding magazine photo shoots. But DeMey, again like Paris and Reeves, was not simply a pretty boy.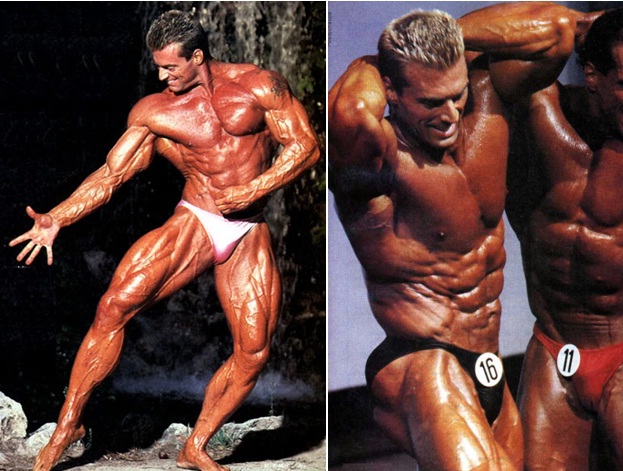 A dedicated trainer, DeMey earned every ounce of his muscles the hard way through day-in, day-out gut-busting workouts and had even reportedly employed the Eastern European method of using single reps to increase his mass.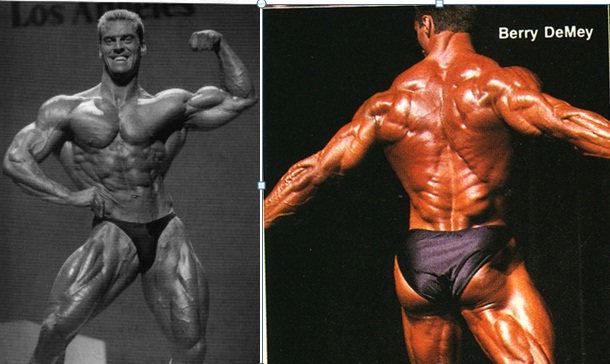 Still, DeMey was known more for shape than for mass, and what shape he had.
Every bodypart was in such perfect proportion with the rest that he more closely resembled a living sculpture than a bodybuilder when posing. Indeed, more artistic photos may have been taken of DeMey than of any other bodybuilder in recent times.
7 Milos Sarcev
Birth Date: January 17, 1964

Height: 5'11"

Weight: 240 pounds
Yugoslavian import Milos Sarcev, like Reeves, Paris and DeMey before him, took full advantage of his GQ looks as he built a large fan base that was composed as much of adoring women as it was men. His image graced multiple magazine covers during his competitive days. Yet Sarcev was and is a bodybuilder at heart, first and foremost.
Sarcev earned the moniker "The Mind" for his intense dedication to finding new and better ways of training and dieting to better serve the needs not just of himself, but of all bodybuilders.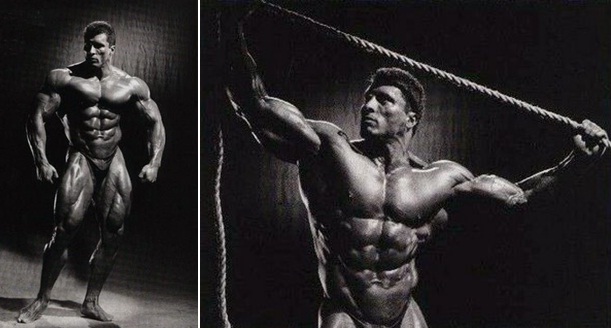 Despite the attention he drew from his looks and brains, it was his body that got him noticed in the first place.
The 1997 Toronto Pro Invitational winner forged a long and fruitful competitive career as he competed in IFBB contests an incredible 72 times. Although his thighs were truly outstanding, Sarcev was not known for any standout bodypart.
He was the guy who simply looked good all the time. In an era when others saw their bodyweights fluctuate drastically between on- and offseason modes, Sarcev was a pillar of consistency, always sporting a trim waistline and pleasing shape.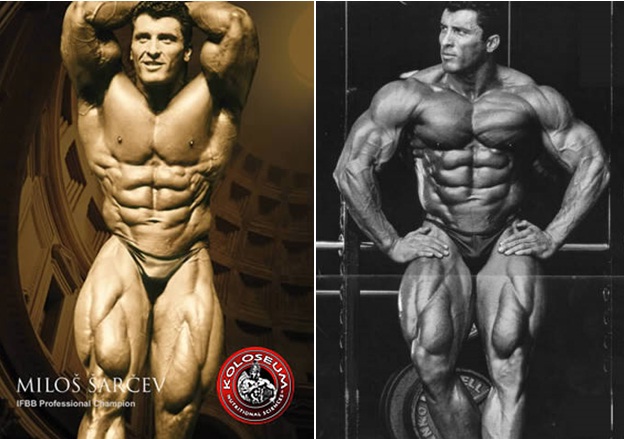 Milos Sarcev Highlights
6 Charles Clairmonte
Birth Date: October 27, 1962

Height: 6′

Weight: 248 pounds
Had Charles Clairmonte lived in the United States rather than in England, his name would probably be the stuff of legend rather than a relatively little-known bodybuilder on these shores. Born in Barbados, Clairmonte swept through the European NABBA federation like a tornado through a trailer park, winning everything from the European Championships to the Mr. Universe four times to the World Championships. Then, a year after making the switch to the IFBB, he won four Grand Prix contests in 1993.
It's next to impossible to find a flaw in the Clairmonte physique.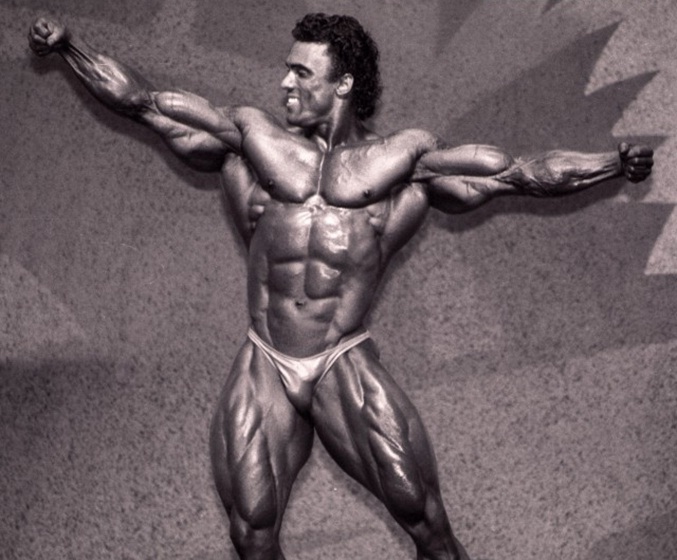 From wide clavicles to a sliced and diced back, a trim waist and flaring thighs, he had it all with definition to spare.
Some will say, however, that no matter how perfectly proportioned a physique is, for a bodybuilder to be considered world-class, he must have at least one truly outstanding bodypart. Fine. Witness Charles Clairmonte's biceps. They were astounding. In fact, his biceps/triceps must be ranked among the best ever. And yet, they did not look out of place on one of the all-time most proportionate bodies. Go figure.
5 Flex Wheeler
Birth Date: August 23, 1965

Height: 5'9″

Weight: 230 pounds
Kenneth "Flex" Wheeler is considered by more than a few knowledgeable fans to be the best of the best. Not just the most aesthetic, mind you, but the best there ever was. In particular, they point to the 1993 version the IFBB rookie who won the first four shows he entered. He was that good.
There is something intangible to the art of discerning a very good physique from a great one. Being that competitive bodybuilding is a purely subjective sport, this makes sense.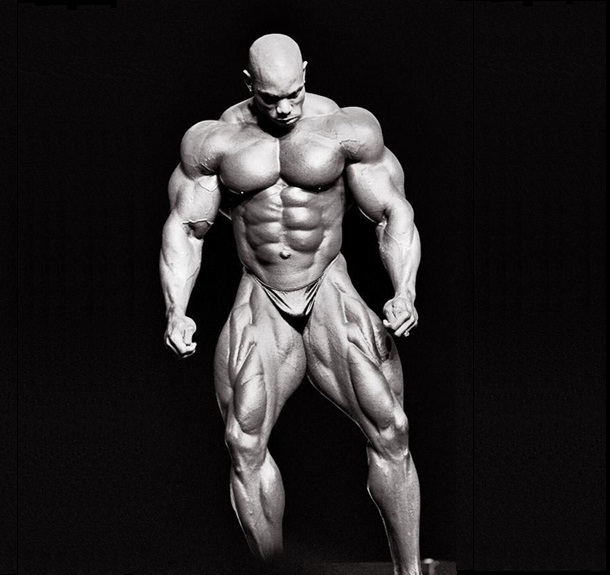 So, when it comes to defining exactly what it is that made Wheeler's physique so appealing, most are left speechless, which is probably the highest compliment one can pay to such an athlete.
It's actually easier to pick out his flaws than his strengths: narrow clavicles, not-quite-shredded glutes and high calves. In the bigger picture, focusing on these points is like criticizing the frame around the Mona Lisa. Wheeler's physique, in particular the 1993 iteration, still is, like Leonardo da Vinci's masterpiece, a work of art.
Flex Wheeler Highlights
4 Lee Labrada
Birth Date: March 8, 1960

Height: 5'6″

Weight: 185 pounds
"A good big man will always defeat a good little man." So goes a timeworn bodybuilding proverb. But what if the good "little man" is so good that few men, big or small, can beat him? In other words, what if your name is Lee Labrada?
With the exception of taller-than-average height, Labrada had it all: shape, proportion, rock-hard conditioning and mass to spare.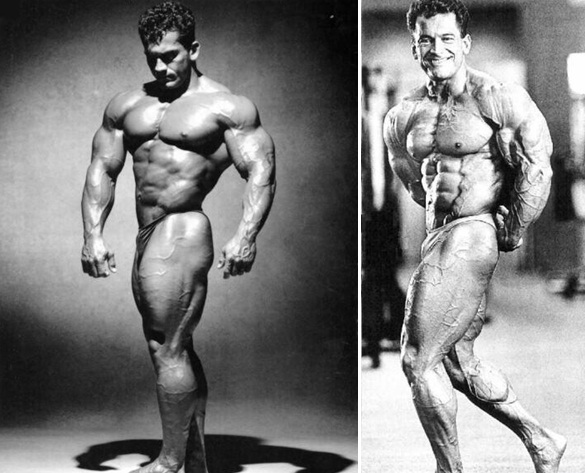 Standing 5'6″, he could often outmass taller competitors and outfinesse them, as well.
He won his pro card in 1985 and promptly made a statement by winning his first contest, the 1986 Night Of Champions. He would go on to win six more pro contests before hanging up his posing trunks in 1995, but it may be his competitive losses that better define the greatness of the Texan. In 1989 and 1990, Labrada took second at the Olympia to the other legendary Lee of his era, Haney. In both years, it was a case of a good big man versus a good little man. Although the old axiom did hold true in the end, Labrada was actually a few points ahead of Totalee Awesome Haney after a few rounds of prejudging in 1990. A case could be made for Labrada deserving the title of "Uncrowned Mr. Olympia." Regardless, Labrada's proportions were unquestionably Olympiaworthy.
Lee Labrada: Perfection
3 Frank Zane
Birth Date: June 28, 1942

Height: 5'9″

Weight: 185 pounds
To be so iconic that one's name is eventually used as an adjective is an honor few of us will ever experience. So, as "Zanelike" crops up more and more in the bodybuilding scene these days, Frank Zane should feel honored. When Zane defeated an enormous young Austrian bodybuilder named Arnold Schwarzenegger in 1968 at a deficit of some 60 pounds people took notice. His win in that year's IFBB Universe contest was a watershed event in the sport of bodybuilding.
Stellar lines and attention to detail had won the day over jaw-dropping mass.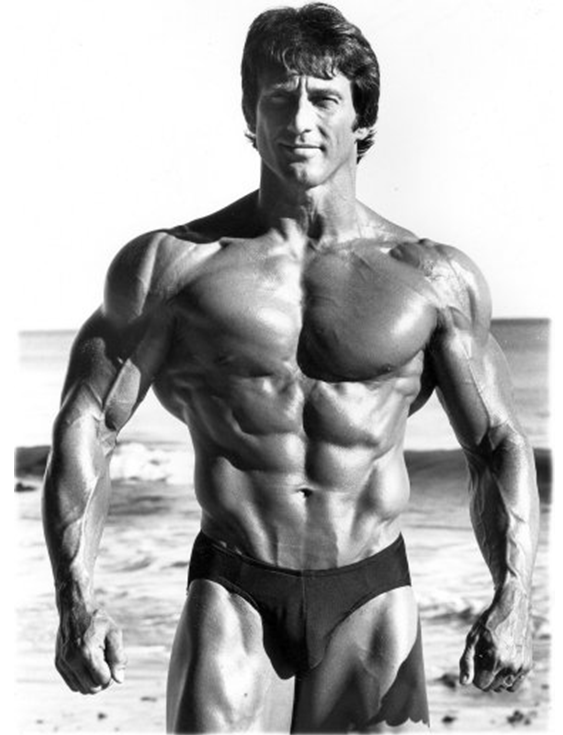 The implications in no small way inspired Schwarzenegger to develop the transcendent physique he would display a few short years later and helped shape the entire sport itself.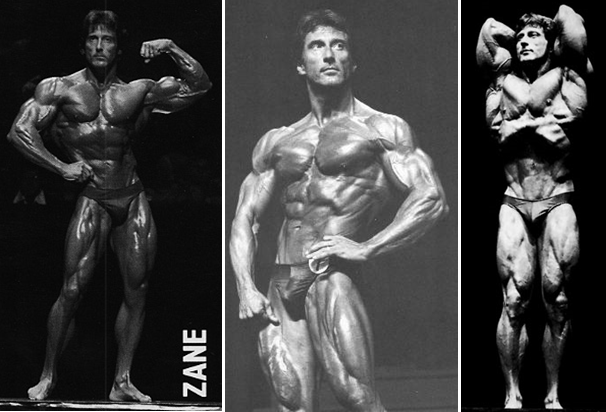 Zane continued in his pursuit of physical perfection and very nearly reached it.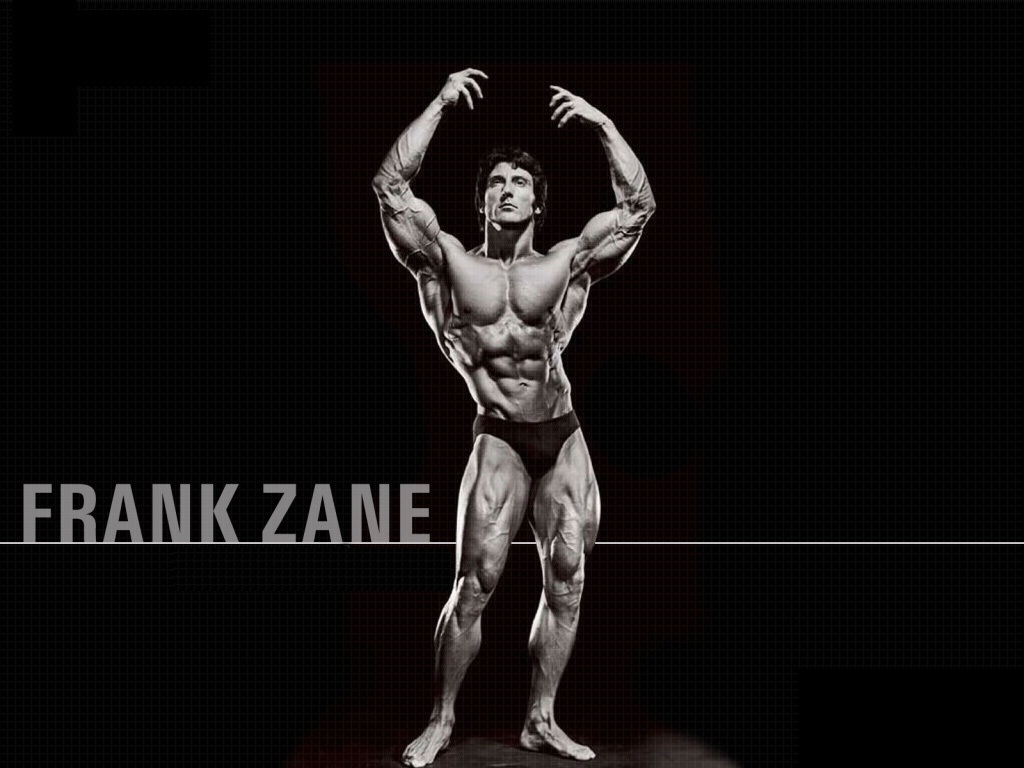 At 5'9″ and a medicine ball shy of 200 pounds, Zane garnered three straight Olympia titles by outfinessing, not outmassing, bodybuilding's best in 1977, '78 and '79.
Frank Zane Highlights
2 Steve Reeves
Birth Date: January 21, 1926

Died: May 1, 2000

Height: 6'1″

Weight: 216 pounds
To bodybuilding stalwarts, such as Armand Tanny and Zabo Koszewski, the late Steve Reeves is still very much "the Man." Stop at the front desk of Joe Gold's World Gym in Marina del Rey almost any morning and you'll find them ready to testify to the greatness of the Montana-bred movie star.
They'll go on about not just his coat-hanger-straight shoulders, trim waistline and diamond-shaped calves, but his rugged good looks and his perfectly coifed 'do.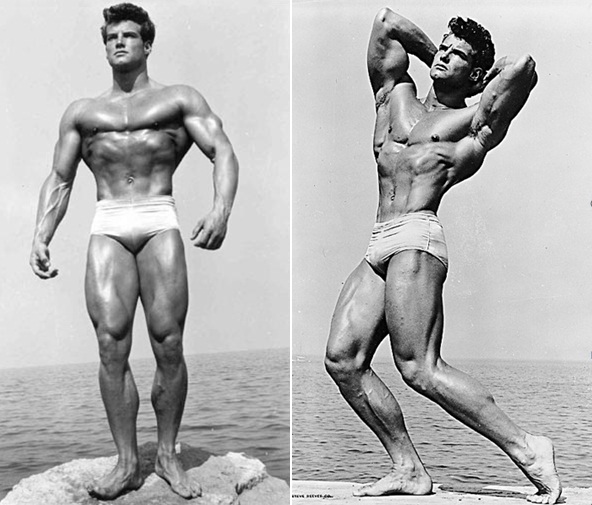 "He was the most beautiful human to ever walk the sand of Muscle Beach," recalled fellow beachgoer Harold Zinkin in the book Remembering Muscle Beach.
Indeed, the Mr. America and Mr. Universe winner was so stunningly handsome that Hollywood soon took notice of the young physique star. In fact, it was legendary movie director and producer Cecil B. DeMille who discovered Reeves and set him on the path to stardom; Reeves went on to star in such films as Hercules and Morgan, the Pirate.
To this day, Reeves is held as the archetype for the aesthetic physique.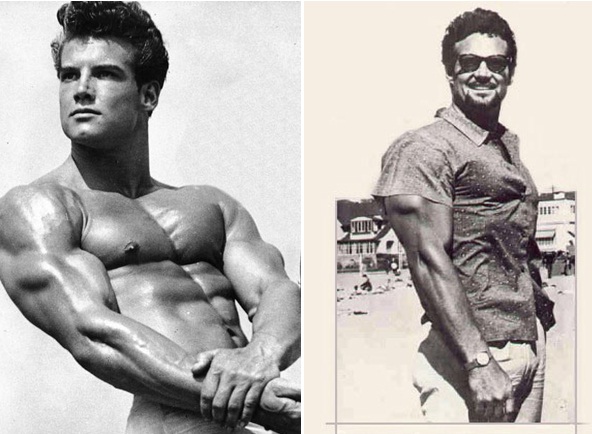 1 Bob Paris
Birth Date: December 14, 1959

Height: 6′

Weight: 230 pounds
For more than 30 years, the bodybuilding world awaited the second coming of the great Steve Reeves. While a number of classically proportioned athletes had come and gone between 1950 (the year of Reeves' last competition) and the early '80s, no one had managed to capture the evanescent combination of magnificence and masculinity that he personified.
Then came Bob Paris.
From his first appearance in a national bodybuilding contest, the 1982 NPC USA, Paris had the sport abuzz with talk that, at last, an heir to the Reeves throne had been found.
The following year, Paris took home top honors at the NPC Nationals, earning his pro card. Surprisingly, he would never place higher than third in a pro career that spanned nine years, but he became the unanimous standard-bearer of the aesthetic ideal. Contrary to the general perception that balanced bodybuilders were relative lightweights in the gym, Paris was a hardcore gym rat who often tackled power exercises in his training routine.
Today, more than a dozen years after his competitive retirement, the bodybuilding world is still looking for someone new to carry the torch lit by Reeves and carried ably for a decade by Paris.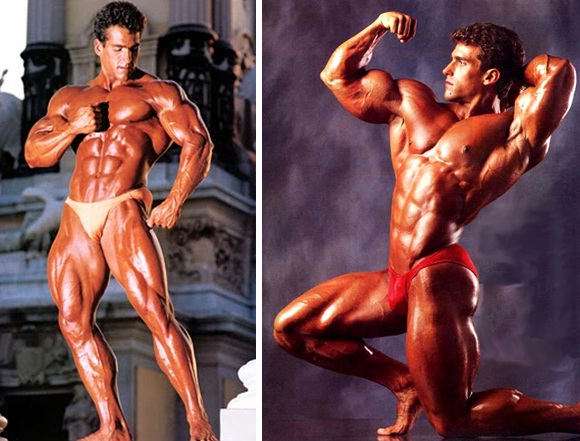 Bob Paris: Flawless Victory

Author: Shawn Perine
References:
http://www.muscleandfitness.com/
http://www.flexonline.com/
COPYRIGHT Weider Publications
COPYRIGHT Gale Group