Photography © www.charleslowthian.com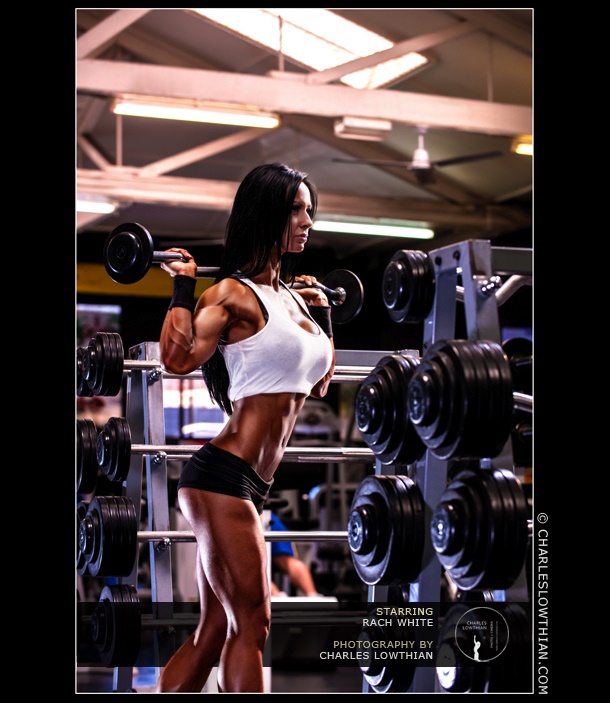 Quick Stats:
Age: 30
Height: 165 cm – 5'5″
Weight: 58 kg – 128 lbs.
How did you get started with bodybuilding?
From a very young age, I was always the skinny kid. Leading into high school, I was often accused of being anorexic. This embarrassed me, especially considering I ate like a horse! I then proceeded to join a gym, but not for the reason most would join, I wanted to add some curves to my tiny frame. I grew muscle quickly and I loved the way my body looked, so I continued to lift heavier and before I knew it I was targeting specific areas to become more symmetrical for the stage. I entered my first IFBB Figure competition in 2011 and took out both the Victorian and Australian titles, this blew me away as I did not expect this at all.
So I now train specifically for Figure competitions and I absolutely love it!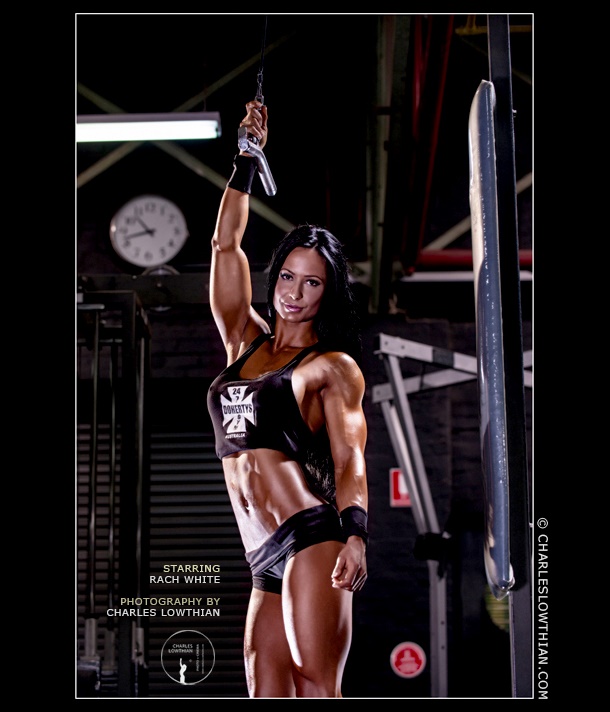 Where does your motivation come from?
My motivation did and still does come from some of the most talented and aesthetically pleasing athletes in the industry. Before competing, my goal was to build a physique similar to that of Larissa Reis or Monica Brant. I loved the fuller, rounder look of each muscle belly. I was determined not to step on stage until I felt I had developed each muscle to the best of my ability, yet still remaining symmetrical. I have always admired the old school physiques, those pleasing to the eye including Steve Reeves, Sergio Oliva, Frank Zane and of course my ultimate inspiration Corey Everson. As for self-motivation, I thrive on bettering myself. I love how I can alter certain muscle groups by varying my technique. I consider the body as a work of art.
Bodybuilding should be about admiring the hard work that has gone into sculpting the physique, not about throwing heavy weights around or boosting ones ego at the gym.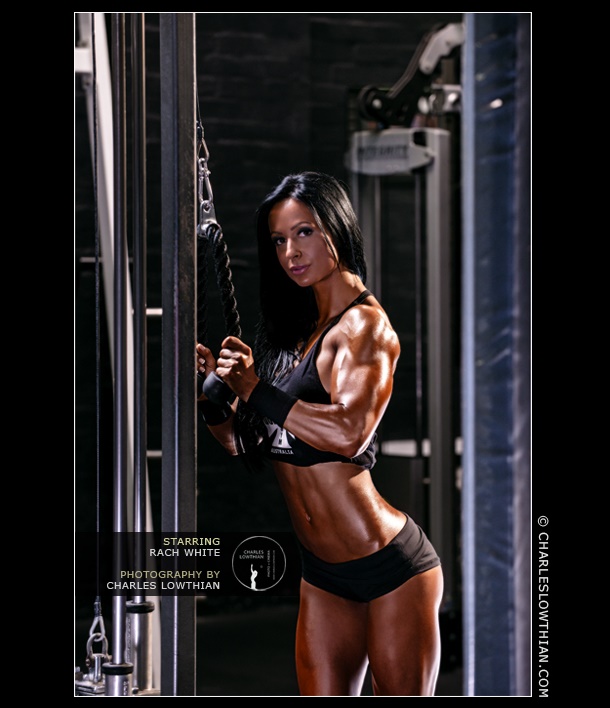 What workout routine has worked best for you?
My routine has gone through many phases throughout the years. Originally I would spend hours in the gym, I loved it and I refused to leave until the bodypart I was training was burning or fatigued. Although this may have built the base I required to get to where I am today, I came to realise I could achieve better results by dropping my rest time between sets and not over-fatiguing the muscle. Now my workouts are around 45 minutes, and I vary from strength to isolation exercises, always changing my routine around. My weekly routine is never the same, but I will always include basic compound exercises.
Full Routine:
Monday: Legs
Squats 4 X 5
Walking Lunges 3 X 10
Hack Squat 3 X 10
Leg Extension 3 X 10 (Drop Sets)
Standing Calf Raise 3 X 21 (7 X Toes Facing Outwards, Forward, Inwards)
Seated Calf Raise 3 X 12
Tuesday: Shoulders/Triceps
Standing Military Barbell Press 4 X 6
Dumbbell Lateral Raises 3 X 12
Reverse Pec Dec 3 X 12
Plate Front Raises 3 X 12
Rope Pulldown 3 X 12
Skullcrushers 3 X 8
Wednesday: Rest Day
Thursday: Chest
Incline Bench Press 4 X 5
Incline Dumbbell Fly's 3 X 8
Flat Bench Dumbbell Press 3 X 8
Cable Chest Fly's 3 X 12 (Superset with Pushups to failure)
Friday: Hamstrings/Biceps
Dumbbell Hamstring Curls 4 X 8
Standing Hamstring Curls 3 X 12
Glute Hamstring Raise 3 X 8
Ez Bar Wide Grip Curls 3 X 8
Incline Alternate Dumbbell Curls 3 X 12
Hammer Curls 3 X 12
Saturday: Rest Day
Sunday: Back
Barbell Bent Over Rows 4 X 6
Lat Pulldown 3 X 8
Plate Loaded T Bar Rows 3 X 10
Unassisted Wide Grip Chin Ups (3 sets to Failure)
One Arm Dumbbell Rows 3 X 8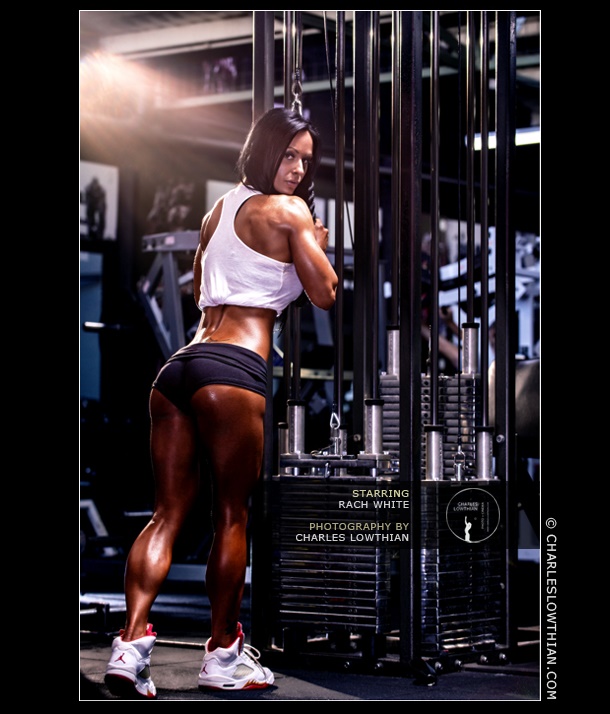 If you had to pick only 3 exercises, what would they be and why?
Squats: Squats have so many added benefits which I don't think many people are aware of. Not only are they great for overall leg development and firm glutes, but squats can also trigger the release of Testosterone and Growth Hormone into your body, vital for muscle growth and overall development of the lower and upper body. Also, performing squats (using the correct technique) has actually improved the overall strength of my lower back. For years I had a very weak back so I would avoid squats as part of my routine, I was so afraid that squats would injure me further. It wasn't until I educated myself properly on the benefits of performing squats that my back has become stronger, not to mention overall mass in my legs due to being able to lift heavier!
Bent-Over Rows: Another exercise I was always very intimidated by, yet once I spent some time perfecting my technique my confidence grew and so did my back! I lacked overall density and mass, too afraid to ever go near this compound exercise due to my lower back injury. But, as with the squats, the more I utilised this exercise, the stronger my lower back became, allowing me to become stronger overall.
Dumbbell/Military Press: I decided to add this as one of my favorite exercises, but only reason being as it is required for my particular class. I am a huge fan of large, round delt caps on Figure contestants, and this exercise is also great for building overhead pressing strength, enabling me to perform heavier sets on dumbbell presses etc. As long as this exercise is performed correctly and the core is stabilized throughout, this would easily be one of my favorites for round, thick delts.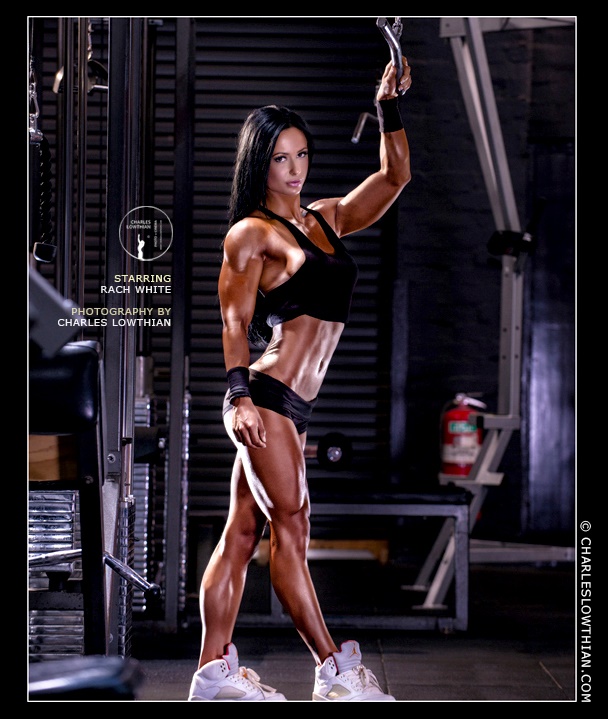 What is your diet like?
My diet throughout the off season has always been a little more relaxed. Through years of experimenting I have learnt my body best reacts to a moderately clean diet. Providing this is kept consistent, I have the opportunity to add in a couple of higher calorie meals per week (ie: Curries, Pizza, etc). Naturally, I have a very fast metabolism, so I always ensure I eat regularly, every 2-3 hours. To change things up a little, some weeks I will remove carbs from my diet and increase my good fats, ie: extra Avocado, Olive Oil, Nuts etc. This also allows me to assess how my body responds to certain foods types combined with timing throughout the day and around training times.
Full Diet: (Off Season)
Meal 1: Oats & Rice Flakes, Blueberries, mixed with Vanilla Protein Powder
Meal 2: 150g Turkey Burger, 150g Sweet Potato & Salad
Meal 3: 150g Chicken Breast, 150g White Rice & Asparagus
Meal 4: 150g Turkey Burger, 150g Sweet Potato & Salad
Meal 5: 200g Steak, Salad & Avocado
Meal 6: 200g White Fish/Salmon, Salad & Avocado
When trying to cut down do you prefer to use HIIT or just normal cardio?
Generally when preparing for a competition, I prefer to alter my calorie intake rather than performing copious amounts of cardio. My body type allows for me to only add some cardio during the final weeks of my contest prep, to which I will add Interval Training. This will consist of cardio first thing in the morning, and I will change it up by using the stepper, treadmill, and outdoor training. From previous experience, my body better responds to eliminating certain substances and portion sizes from my meals, and choosing leaner cuts of meat. This allows me to step on stage appearing fuller, with just the right amount of hardness for my specific division.
Too much cardio for me results in my body looking stringy and/or flat.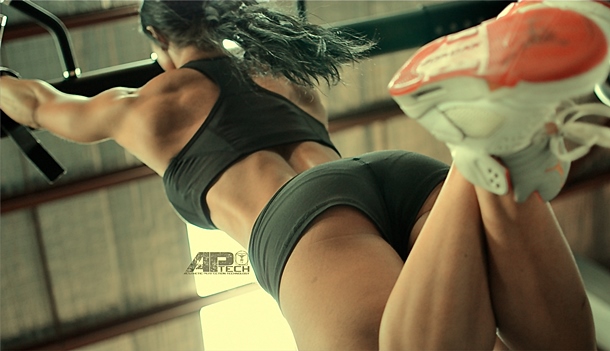 What is your supplementation like?
I use some supplements but they are very basic and generally only used around pre/intra/post workout. Pre/Intra workout I will sip on BCAA's & Vitargo, and post workout I will have a WPI Protein Shake with added Glutamine. If I feel I need a little extra recovery during the day I will sip on more BCAA's and Glutamine.
I also use Fish Oil Capsules, a Multi-vitamin and also Vital Greens everyday.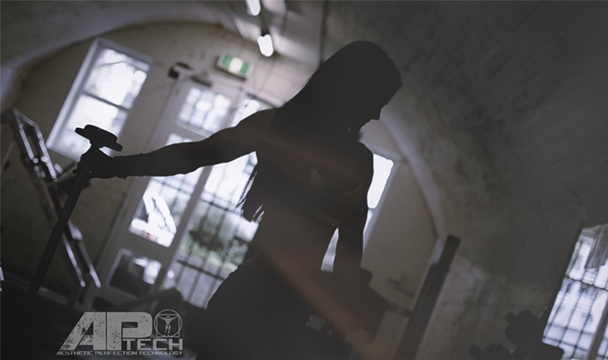 Favorite Quote?
"If you always do what you always did, you will always get what you always got"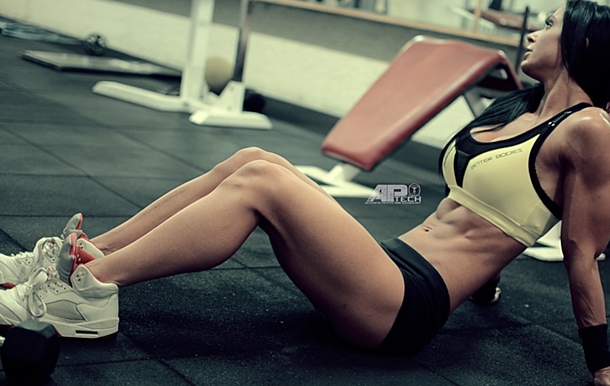 SimplyshreddedTV
Rach White is also Featured in SimplyShreddedTV Episode 4 – Train Like Hell
Filmed and produced by Miguel Valenzuela