Steve L. Reeves (January 21, 1926 – May 1, 2000) was an American bodybuilder and actor.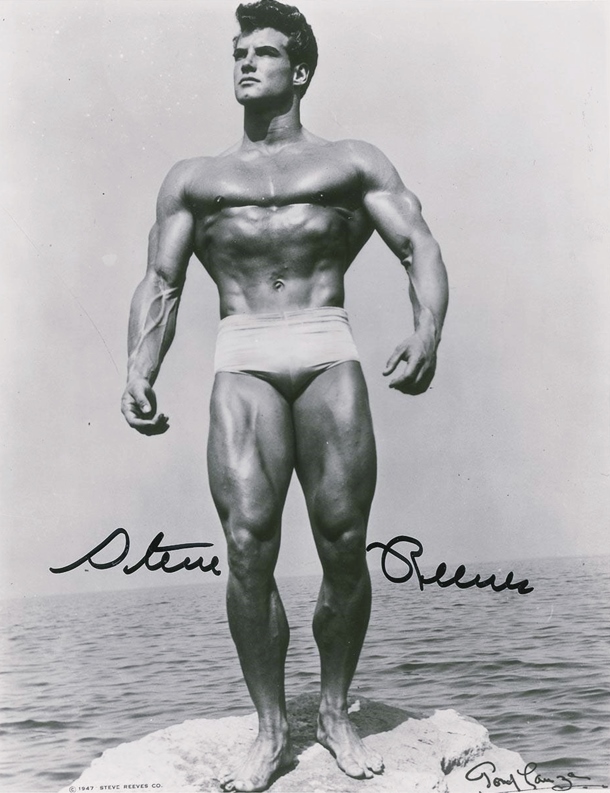 The Beginning
Steve's father Lester died when Steve was only 18 months old. Goldie, Steve's mother would tell her young son what a great man his father was and what great shape he was always in. This left an enduring impression on Steve. After moving to Oakland, Steve met Joe Gambina, who lived on Steve's paper route. Joe and Steve did some arm wrestling, which Joe won. Steve could not believe how Joe could have beaten him. Joe then introduced Steve to weight training in his little garage gym.
Steve spent a few months working out in the garage and achieved a good physical base. His interest grew quickly.
He found out about noted bodybuilding coach Ed Yarick – who owned a gym in the Oakland area. After Ed explained his training methods and nutrition guidance to Steve – the young man decided it was time to workout at Ed's gym instead of the garage. Ed became the father figure Reeves never had and a lifelong friend. Steve entered Yarick's gym at 6′ 163lbs. After four months of the full body workouts he was 193lbs! His genetics for bodybuilding were incredible. His mother helped fuel Steve's workouts with her good knowledge of nutrition. He believed that healthy eating contributed to his success in bodybuilding. Reeves ate lots of fruits and vegetables along with lean meats.
Nothing complex just a good balance of healthy foods. After another year of bodybuilding Steve reached 203lbs and was beginning to make an impression on the local bodybuilding community.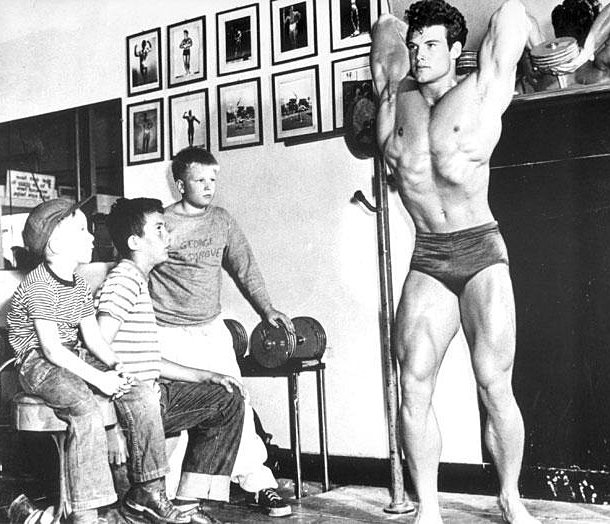 Infantry
World War II put a temporary halt to Steve's bodybuilding, for as soon as he graduated from high school he joined the Army. On September 12, 1944 Steve reported to the Presidio of Monterey, California for induction into the Army. After basic training Steve went into advanced combat training preparing for war. After completion of his special training he received orders to ship out to the Philippines. He was granted a two-week leave and returned to Oakland to spend time with his family and friends. Unfortunately, a flu bug followed him home and he spent the entire two weeks sick in bed! He returned to Camp Roberts for processing and assignment. After Japan was taken Steve was assigned to Japan after the allied occupation.
He was stationed to the town of Otaruon on Nokkaido Island. On September 18, 1946, Steve finally stood on good old American terra firma. It was now time for him to get on with the rest of his life.
Competitions
Once back home in California Steve returned to Ed Yarick's gym and hit the weights hard. He brought his body weight up to 215lbs for the first time and set his sights on the 1946 Mr. Pacific Coast contest.
Steve and a friend traveled to Oregon by train to compete in the contest. In his first bodybuilding competition Steve easily won the show. It wasn't even close. Now a title winner Steve Reeves started to become known outside of Oakland. He now thought about the big one, the Mr. America contest. In the meantime he entered and won the 1947 Mr. Pacific Coast contest defending his title.
Steve not only took first place, but also won trophies for Best Chest, Best Arms, and Best Legs! One look at any of Steve Reeves photos of the event will tell you he had deserved every single award.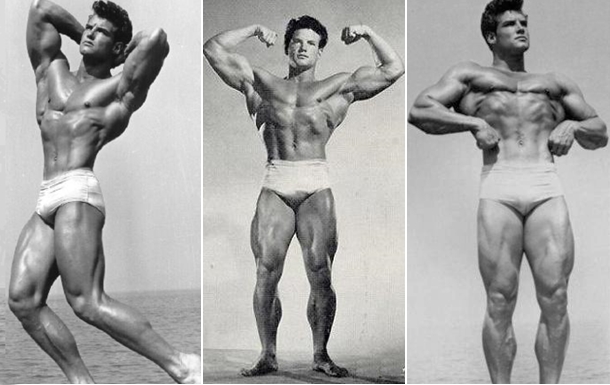 1947 Mr America Contest
For the 1947 Mr. America Steve flew to Chicago and competed against the best bodybuilders of the day. The Mr. America was the biggest title in bodybuilding. He came out on top after initially tying with Eric Pedersen whom he had beaten earlier in the Mr. Pacific Coast contest. With each of them tied at 72 points a pose off decided 1st place. Pedersen came out first and impressed the crowd.
Then Steve took the stage and it was clear that it wasn't Pedersen's day. Bronzed to perfection, at the peak of development, and with a graceful posing routine Steve took top honors.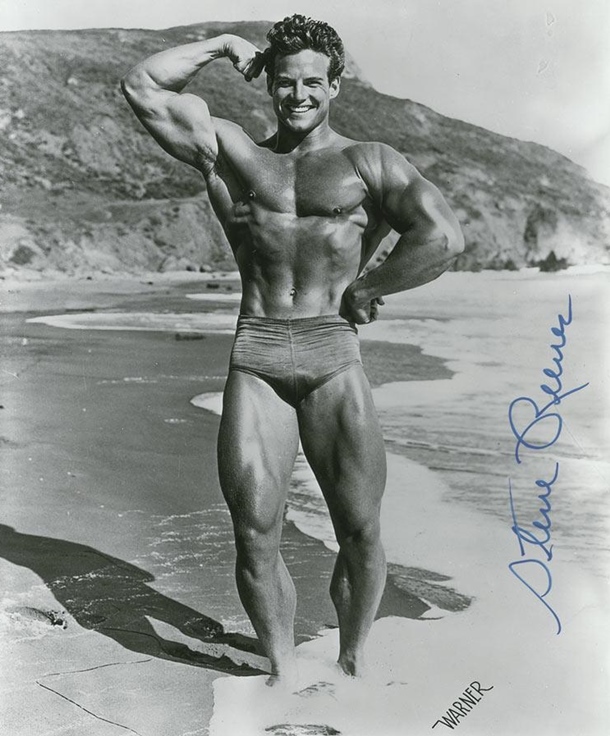 One More Competition
In 1950 Steve Reeves decided to make another run at the NABBA Mr. Universe title. It had now overshadowed the Mr. America as the biggest title in bodybuilding and Steve wanted it bad. He trained for this competition at the famous York Barbell Club in York, PA with his good friend George Eiferman. Reeves had lost a great deal of his previous muscle and few thought he could not get into shape by contest time. In a few weeks however, Reeves genetics and muscle memory combined to add slabs of muscle to his frame. Reeves was also motivated by the fact that the new British sensation Reg Park would be competing in the contest. Reeves flew once again to London confident in victory. Once again, as with the 1947 Mr. America, the contest was a tie for first place. It came down to just Steve and Reg Park.
The two were called out for final pose downs. Both men were in top shape and it could have gone either way without much complaint.
At the end of the day Steve once again captured the top prize in bodybuilding. Announced the 1950 Mr. Universe, Steve Reeves was presented a very special trophy. A bronze statue of Eugene Sandow.
After the contest Steve announced he was retiring from bodybuilding competition to pursue other interests.
With no real money in the sport those days he had to think of his future. Acting seemed to be his focus now. No one could have imagined how Steve's physique would impact the movie business.
At 24 years old Steve Reeves future was bright indeed. Forever immortalized as an Iron Age bodybuilding champion he would soon become famous the world around as the mythical Hercules!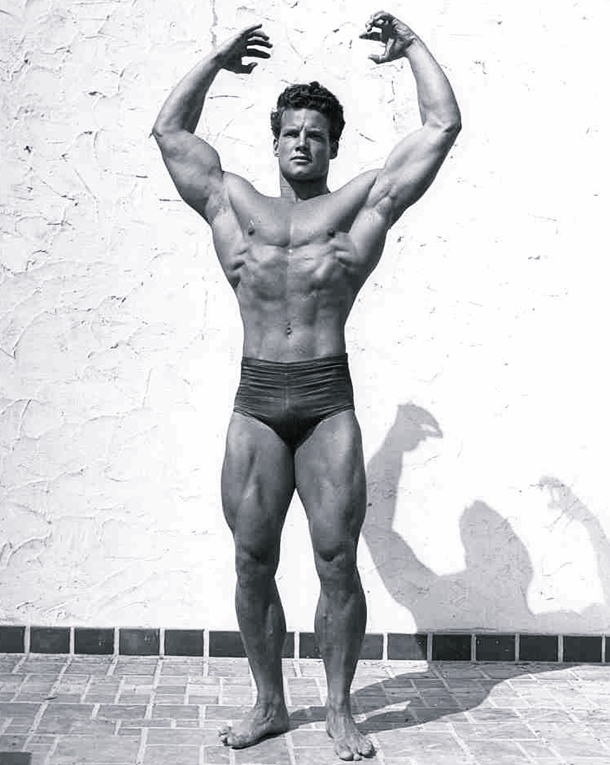 Actor
Steve did not escape the notice of filmmakers. One of the first to contact the young bodybuilder, fresh from his win at 1947 Mr. America contest, was Cecil B. De Mille, the famous director of screen epics. He needed someone to play the Biblical hero Samson in his next extravaganza, and Steve seemed just the one for the job. Steve made quite a bit of news over the years. Although he never won awards for acting, he was the most highly paid actor of his day.
Success is measured by many yardsticks – Steve's philosophy was that if he was working and enjoying it, that was success.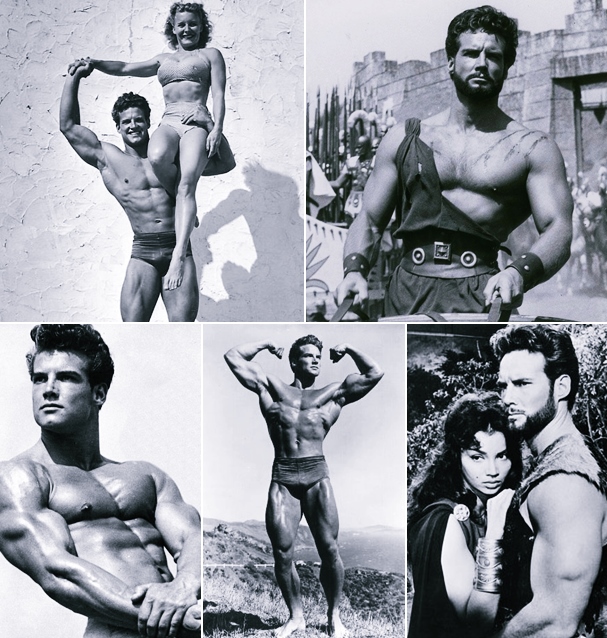 Sources:
www.iron-age-classic-bodybuilding.com
www.stevereeves.com