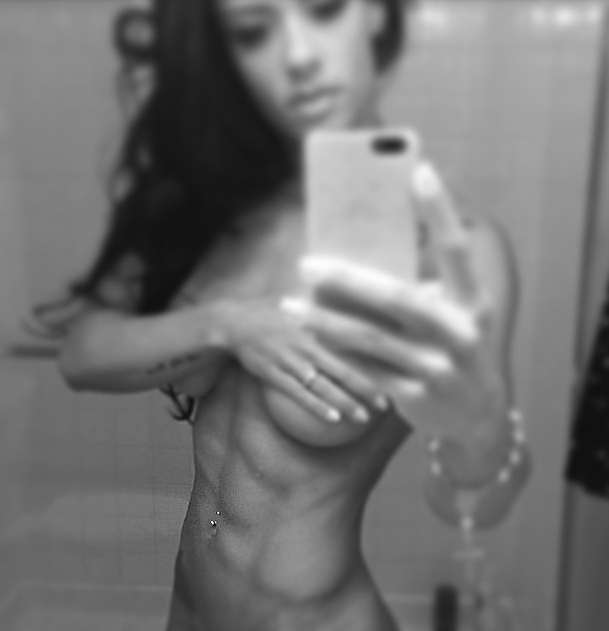 Quick stats:
Age: 29
Height: 5'8" – 173 cm
Weight: 148 lbs – 67 kg
How did you get started with bodybuilding?
There was a point in my life where I was very unhappy with the way I looked. I decided to make a change and I cleaned up my diet and started working out 4-5 times a week. I would never skip any meals and always made sure I stuck to my training routine. I managed to drop 46 pounds and I felt great! I then decided to try something new and compete in a Brazilian Fitness Competition and I placed 4th out of 42 amazing girls. I was so proud of myself and after that I was completely hooked.
Stepping on stage felt awesome, it was such an adrenaline rush. One of the best experiences of my life.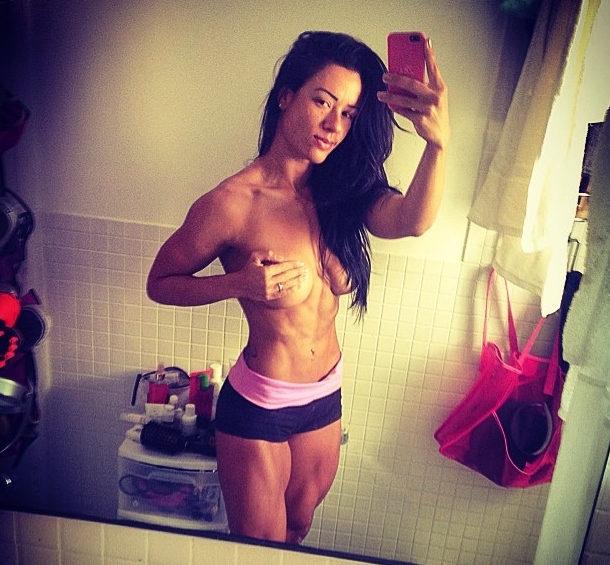 Where does your motivation come from?
My motivation comes from seeing how far I have come. Not many people believed in me when I first decided to start my fitness journey and the fact that I have made it this far is really something special to me. The second biggest motivator is my fans. I want to help as many people as possible change their life for the better.
Your body is the biggest investment that you will ever have in your life. Don't abuse it!
What workout routine has worked best for you?
Full Routine:
Monday: Shoulders/Abs
Seated Dumbbell Press 3×12-15
Alternating Dumbbell Front Raises 3×12-15
Low Pulley Lateral Raises 3×12-15
Reverse Pec Deck (Rear Delts) 3×12-15
Machine Shoulder Press 3×12-15
Machine Crunches 3×20-25
Hanging Leg Raises 3×20-25
Incline Leg Raises 3×20-25
Tuesday: Biceps/Triceps
Dumbbell Curls 4×15
Barbell Curls 4×15
Machine Curls 4×15
Push Downs 4×15
Tricep Extensions 4×15
Dips 4×15
Wednesday: Legs/Calves
Leg Extensions 3×12
Squats 3×12
Leg Press 3×12
Seated Leg Press 3×12
Seated Calf Raises 3×12
Standing Calf Raises 3×12
Thursday: Back
Machine Chin Ups 3×15
Lat Pulldowns 3×15
Single Arm Dumbbell Rows 3×15
Back Extensions 3×15
Machine Torso Extensions 3×15
Friday: Chest/Abs
Incline Bench Press 3×12-15
Flat Bench Press 3×12-15
Push Ups 3×12-15
Cable Crossovers 3×12-15
Machine Pec Deck Fly's 3×12-15
Machine Crunches 3×20-25
Hanging Leg Raises 3×20-25
Incline Leg Raises 3×20-25
Saturday: Hamstrings/Glutes
Walking Lunges (with Dumbbells) 3×15 each leg
Squats 3×12
Stiff Legged Deadlifts 3×12
Lying Leg Curls 3×12
Seated Leg Curls 3×12
Machine Hip Extensions 3×12
Abductor 3×12
Sunday: Cardio
45 minutes of morning cardio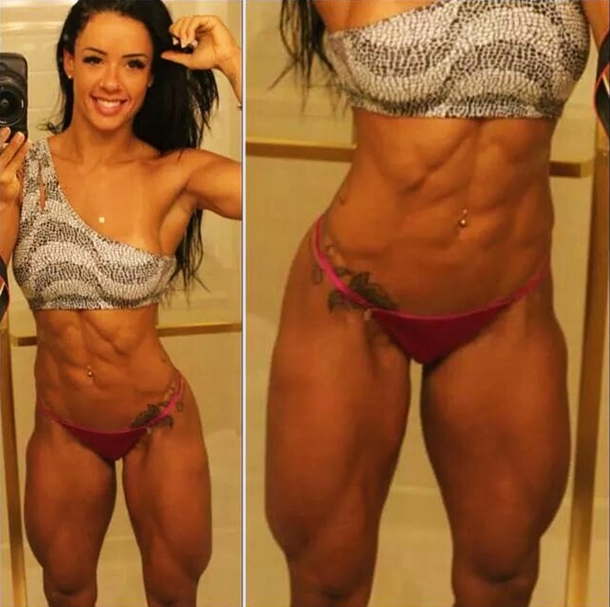 What is your diet like?
Daily Diet:
Meal 1: 4 Egg Whites, Spinach, 1 ½ cup of Oatmeal & ¼ Grapefruit
Meal 2: 4-6 oz. Turkey Breast & Spinach
Meal 3: 4-6 oz. Bison, Asparagus & ½ Sweet Potato
Meal 4: 4-6 oz. Chicken Breast & Broccoli
Meal 5: 4-6 oz. Tilapia & Green Beans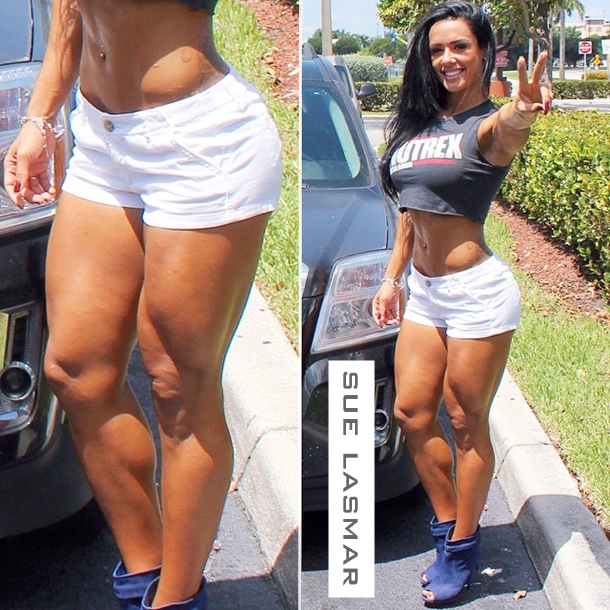 When trying to cut down do you prefer to use HIIT or just normal cardio?
I prefer regular cardio! It's nice and simple and does the job for me.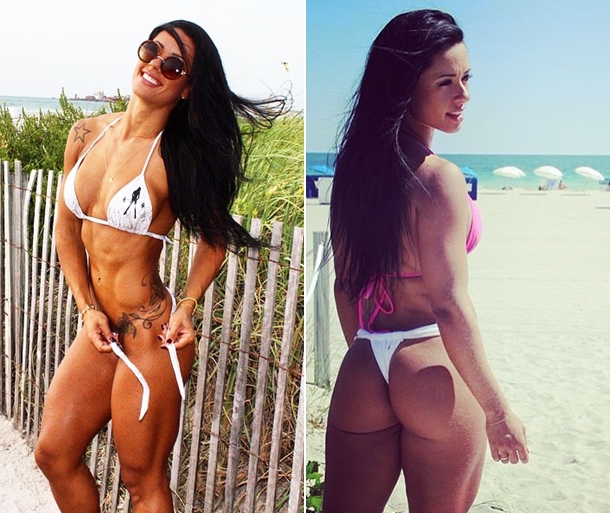 Favorite Quote?
"The worst thing I can be is the same as everybody else. I'd hate that." Arnold Schwarzenegger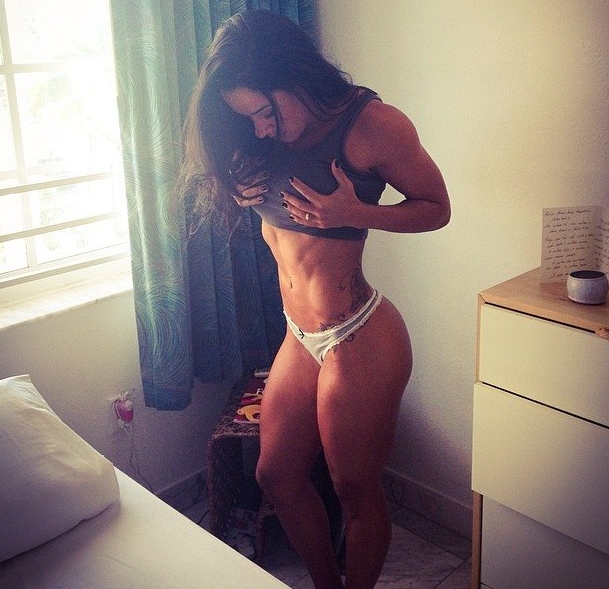 Instagram: http://www.instagram.com/suelasmar