How did you get started with bodybuilding?
I have had a fascination with bodybuilding since I was 16 years old. After the birth of my daughters I started looking up fitness models and different federations to compete in.
I met with WBFF Pro Bree Lind in October 2010 and a week later lifted my first weight.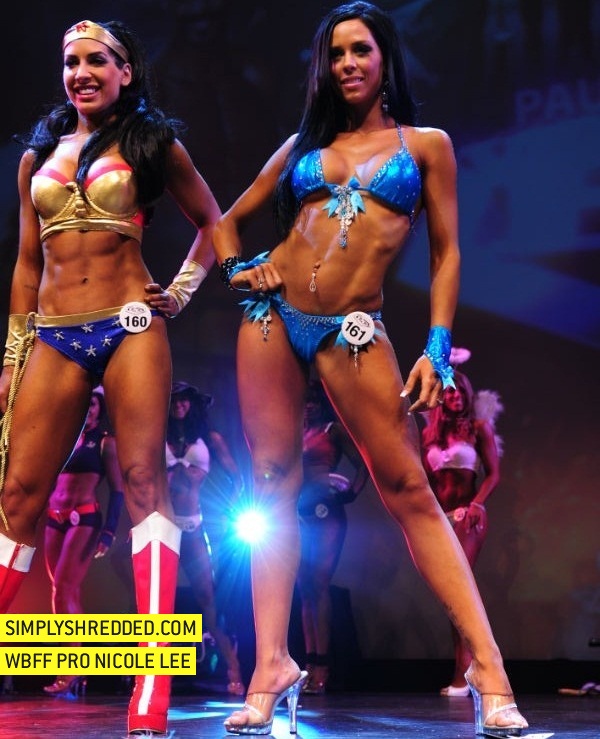 Where does your motivation come from?
My motivation comes from my daughters. I strive to be the best I can be not only for me but to show them that eating right and exercising is vital in living a healthy and happy life. When my motivation levels begin to drop I always turn to inspirational quotes to help boost it back up and this is one of my favorite quotes:
"You focus your mind to train your body and the changes that begin to take place impact your mind as well. Dream it, believe it, and you will achieve it."
What workout routine has best worked for you?
Each body part is done on the same day of the week, every week. My trainer has me super setting almost all my workouts which has made a huge difference in seeing the growth in my muscles.
Full Routine:
Monday: Legs (Heavy)
Walking Lunges 4 x 25 (Superset)
Deadlifts 4 x 15
Pelvic Hip Thrusts 5 x 10 (Superset)
Kickbacks 5 x 15
Leg Press 4 x 10 (Superset)
Calf Raises 4 x 10
Squats – Pyramid sets 5 x 10
Tuesday: Cardio/Abs
45 mins of either Stair Master or Elliptical
Crunches x 100
Toe Touches x 100
Bicycles x 100
Wednesday: Cardio/Shoulders
45 mins of either Stair Master or Elliptical
Arnold Presses 4 x 15 (Superset)
Lateral Raises 4 x12
Upright Rows 4 x 10 (Superset)
One Arm Dumbbell Front Raises 4 x 12
Reverse Fly's 4 x 10-12 (Superset)
Bent Over Lateral Raises 4 x 10-12
Thursday: Off
Friday: Cardio/Chest/Back
45 mins of either Stair Master or Elliptical
Incline Chest Press 4 x 10
Lat Pulldowns 4 x 15
One Arm Dumbbell Rows 4 x 15
Incline Dumbbell Fly's 4 x 15
Straight Arm Lat Pulldowns 4 x 15
Seated Rows 4 x 15
Saturday: Cardio/Arms
45 mins of either Stair Master or Elliptical
Incline Curl Dumbbell 4 x 12 (Dropsets)
Lying Triceps Extension 4 x 10-12
Reverse Barbell Curl 4 x 15
Triceps Dips 4 x 15
Barbell Curl 21's (4 sets)
Triceps Kickbacks 4 x 15
Sunday: Cardio/Abs
45 mins of either Stair Master or Elliptical
Plank 5 x 60 seconds
Scissor Kicks 50 x 2
Incline Bench Sit-ups 4 x 20
Incline Leg Raises 4 x 20
If you have to pick only 3 exercises, what would they be and why?
Pelvic Hip Thrusts. This is by far the best work out I have done for my butt and it hits every part of my glutes.
Walking Weighted Lunges: They are very challenging and workout all the muscles in the lower body, focusing mainly on the glutes and hamstrings.
Side Laterals: I love side laterals! They have helped me develop that "cannonball delt" look.
What is your diet like?
My diet consists mainly of high fats, medium carb levels and high protein.
Meal 1: Oatmeal, Egg Whites
Meal 2: Peanut Butter, Rice Cakes, Chicken
Meal 3: Chicken and Veggies
Meal 4: Pre-workout Shake
Meal 5: Post-workout Shake
Meal 6: Fish, Quinoa and Veggies
Meal 7: Fish and Green Beans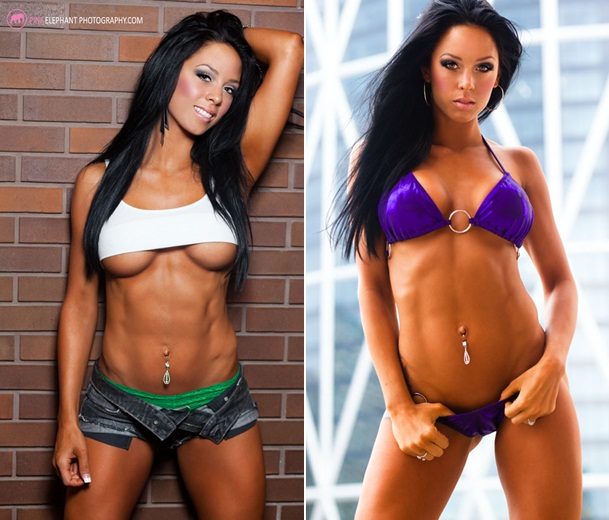 Your own physical feature you are most proud of?
I have to say I am most proud of my legs. I remember the morning I woke up to take a progression picture for my trainer and I could see definition in my quads. I was ecstatic!
That gave me even more motivation to keep pushing harder and harder each week. They are still a work in progress but I'm not shy to show them off anymore.
What has been your biggest accomplishment in the fitness field?
My biggest accomplishment so far would definitely be winning 1st place in the WBFF's Bikini Diva division and my Pro Card. I've always been very shy so going into weight lifting I had a goal set in mind that I wanted to get up on stage and hopefully conquer my shyness.
Just being able to walk on stage in front of hundreds of people was a huge accomplishment, winning my very first fitness competition was the icing on the cake.
What is your supplementation like?
Woman's Multi-vitamin
Calcium/Magnesium
Omega 3,6,9,
Magnum Quattro
DNA
Magnum Serum
BCAA's
Digestive Enzymes
Favorite quote?
"The mind is the limit. As long as the mind can envision the fact that you can do something. You can do it, as long as you really believe 100 percent." – Arnold Schwarzenegger
Bodyspace: http://bodyspace.bodybuilding.com/NicciLee/
Photo Credits: Pink Elephant Photography