Quick Stats:
Age: 26
Height: 5'11" – 180 cm
Weight: 202 lbs. – 92 kg
Part 1 Interview: Simplyshredded Interview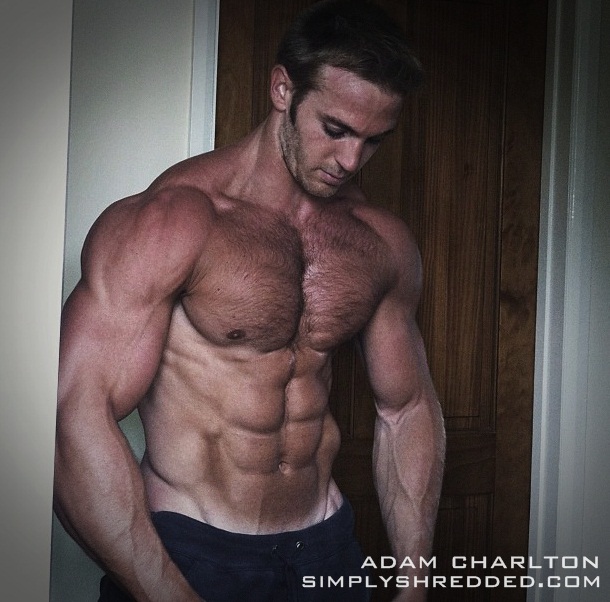 What was your lifestyle like prior to your transformation?
I was always driven to be the best in something athletically. Became a runner and succeeded in that and also noticed that my legs became very muscular and defined. Running also kept my upper body defined and thinner. The muscles were always there in my torso, but very out of balance to my legs. I was noticed for my condition, but not my size. My lifestyle has not changed in my desire to make my body the best in some way, just my focus. When I chose to bodybuild and create something in how I look and not just what my body can do, it opened up a whole new world to me.
I realized my ability to change myself could also change others too. It is a rush to see others motivated by my own desire to change myself.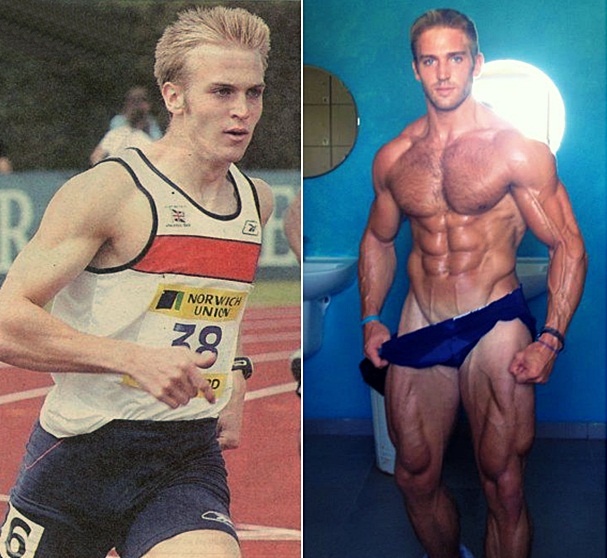 What is your life like now that you've made a transformation?
Life has changed in so many ways. I started out to see what I could do for myself, and in the process I saw how I affected others. I came to realize that I can make other people motivated to achieve their own goals.
My transformation is opening doors to new opportunities and the realization that you can achieve your dreams. Go for it!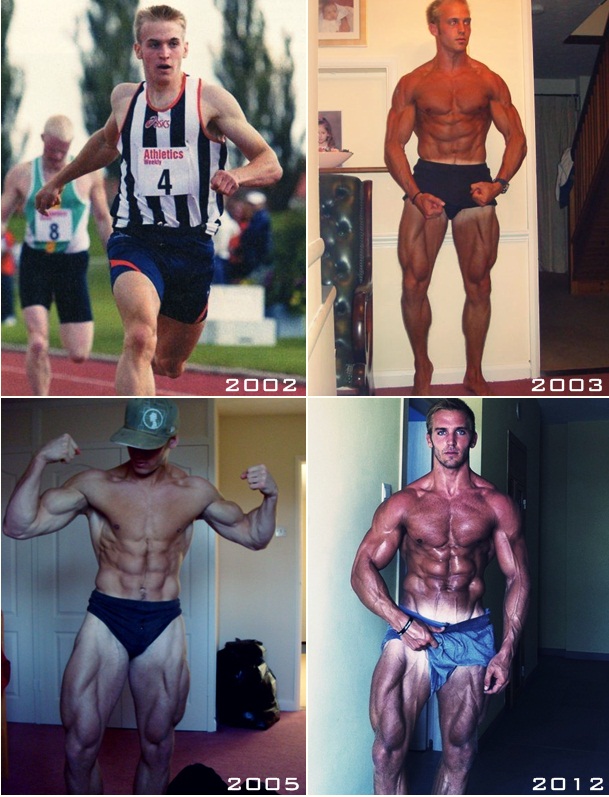 What motivates you to keep going and push harder?
I have come to understand the genetics I was born with. I see what I have been blessed with and I want to see how far I can take it. Going to the gym and trying to make myself better is a pleasure. There is nothing in my mind to stop me from achieving what my body can become.
I love the pain and becoming better every day. When others notice my determination, they want to understand it and it gives them hope for their own goals.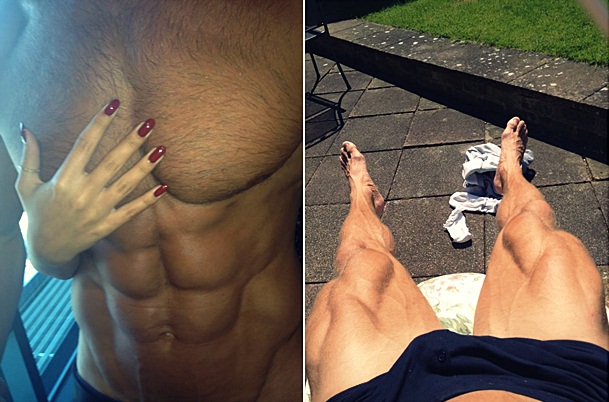 What is your next goal? Where do you see yourself this time next year?
I am in my prime right now and need to take myself to a new level while I can. I will be bulking up in my own way, my body does not put on fat easily, so I will be eating more to try and improve on my weak points. This time next year I will have been to the US to see what can happen there and I may also become a personal trainer if I choose that path.
Although in the end I will become a more balanced man in all areas of my life and see how I can influence others for their own betterment. I want to use my gifts to make other people good in their lives.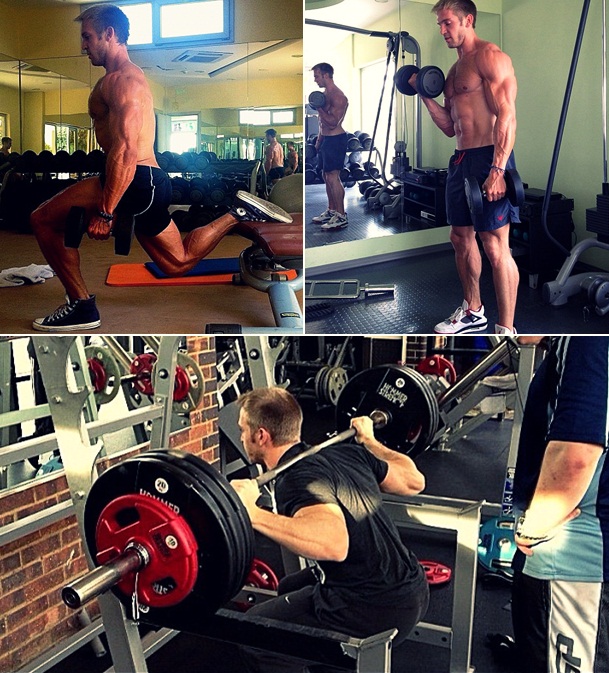 What is your current training philosophy?
For me it's all about intensity and good form. I always keep shocking my body with techniques like negatives, 21's and drop sets. The bottom line is that you have to understand your own body and what works for you. Be realistic about what you can become. Don't compare yourself to others. Be the best you can be for yourself.
Full Routine:
Monday: Shoulders/abs
Seated Dumbbell Shoulder Press 4 Sets 12-15 Reps
Seated Lateral Side Raises 4 Sets 12-15 Reps
Standing Barbell Front Raise 4 Sets 12-15
Reverse Pec Dec 4 Sets 12-15 Reps
Dumbbell Side Lateral Raise, Drop Set 10kg, 8kg, and 6kg 12 Reps on each (x3)
Machine Seated Crunches 1 Set, 100 Reps
Lying Leg Raisers 1 Set, 30 Reps
Side Crunches, 1 Set, 50 Reps
Tuesday: Back
Lat Pull Down Wide Grip, 4 Sets 12-15
Lat Pull Down Close Grip, 4 Sets, 12-15 Reps
Bent Over Barbell Rows, 4 Sets, 12-15 Reps
Seated T-bar Rows, 4 Sets, 12-15 Reps
Seated Machine Pull Over, 4 Sets 12-15 Reps
Hyper Extensions, 3 Sets, 15-20 Reps
Wednesday: Quads/hamstrings
Leg Extension's, 5 Sets, 12-15
Squats, 4 Sets, 10-12 Reps
Leg Press, 4 Sets, 12-15 Reps
Walking Lunges Holding 25kg Plates, 3 Sets
Seated Hamstring Curls, 4 Sets, 12-15 Reps
Lying Leg Curls, 4 Sets, 12-15 Reps
Thursday: Chest/calves
Incline Dumbbell Press, 4 Sets, and 8-12 Reps
Flat Bench, 4 Sets, 8-10 Reps
Incline Fly's, 4 Sets, 8-12 Reps
Cable Fly's Super Set with Push Ups, 4 Sets
Seated Calf Press, 4 Sets, 12-15 Reps
Leg Press Calve Press, 100 Reps
Friday: Arms
Rope Pull Downs, 5 Sets, 10-12 Reps
Skull Crushers, 4 Sets, 10-12 Reps
Single Arm Dumbbell Kickbacks, 4 Sets, 12-15 Reps
Weighted Dips, 4 Sets, 10-12 Reps
Seated Incline Dumbbell Curls, 4 Sets, 10-12 Reps
Single Arm Preacher Curls, 4 Sets, 10-12 Reps
Two Arm Cable Curl, 4 Sets, and 12-15 Reps
Saturday: Rest
Sunday: Rest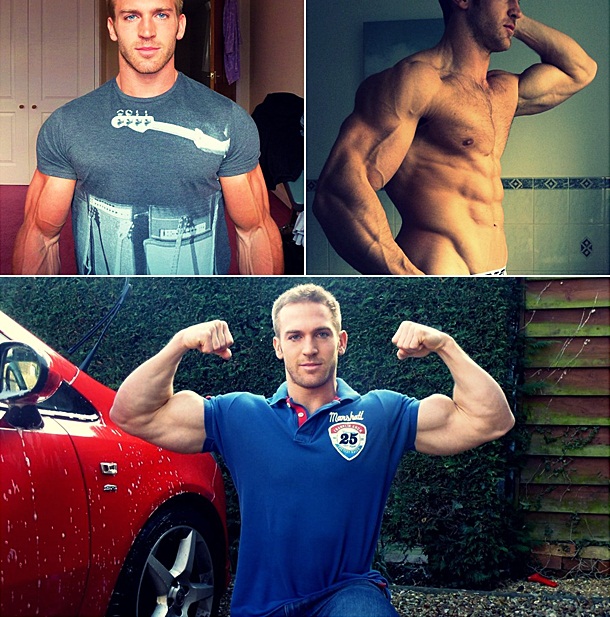 Favorite form of cardio?
I wish I could say I do cardio. If I did it would take away from my muscle gains. I do not need it. But each of us is different in how our bodies respond to training/cardio.
I stay ripped year round due to my hard training and fast metabolism.
What is your approach to nutrition?
Nutrition is always about your goals in any given point in time. You always want to eat clean without all the fat and salt, etc. You can go for the cheat meals when your body desires it. But you still have to understand how your body reacts to what you put into it. I can eat mostly anything and mine still takes it in and stay ripped. But that is me. I will eat more protein and carbs as I see fit to get better for me. What is your goal? Bigger, ripped, just wanting to be looking good with what you have been given? Each of us are different with what needs we have for being in shape.
If you want to stay lean all year long, understand if your body can do it or if you are willing to accept the fact that gradual muscle gain takes time. I have not changed my condition from day one. Just inch by inch making my body better. No drugs. Just years of hard work and being consistent.
Full Diet:
Meal 1: Whey Protein Shake, 1 Wholemeal Bagel with Peanut Butter & Coffee
Meal 2: Jacket Potato, 200g of Tuna with Mayonnaise & 1 pot of Yogurt
Meal 3:Whey Protein Shake & an Apple
Meal 4: 350g Steak, Broccoli and 1 cup of Brown Rice
Meal 5: 5 Scrambled Eggs & Salmon
Meal 6: Cottage Cheese & a Whey Protein Shake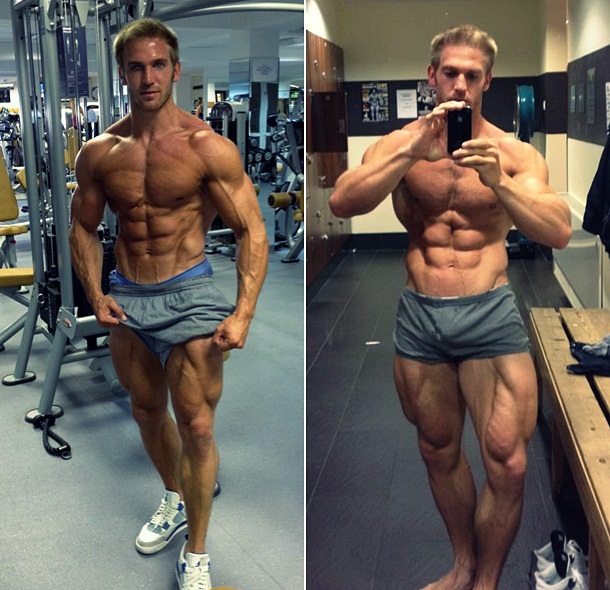 What are your best 3 tips for someone looking to reach their goal physique?
Be consistent with your training
Train with intensity
Believe in yourself and be realistic with your goals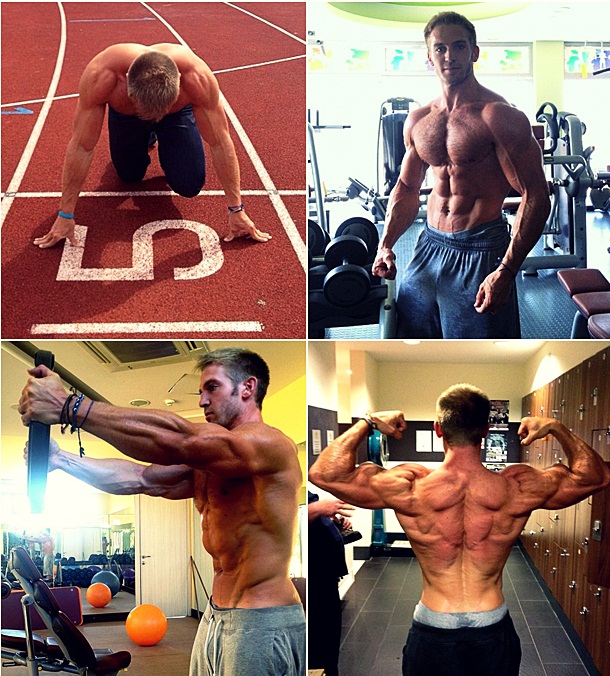 Favorite Quote:
"What the mind believes the body achieves"
Bodyspace: http://bodyspace.bodybuilding.com/add4688/
Facebook: http://www.facebook.com/adam400m
Instagram: http://statigr.am/adam400m