How did you get started with bodybuilding?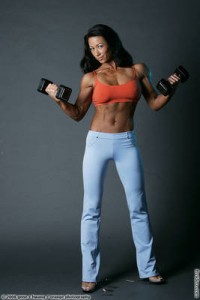 I've always been athletic and loved sports. My first foray into weightlifting was in high school.  I was enrolled in dance class at the time, and broke my foot.  I didn't want to sit still for the hour, so I had permission to enroll in the only other class where I could be active–weights.  I thought it was a lot of fun, and my highschool sweetheart, who was on the football team, continued to show me some basic weightlifting moves.  I used to peruse the muscle mags at the store, and admire icons such as Rachel McLish and Cory Everson! I loved their physiques, but at the time didn't even dream that achieving such a look was possible!  At 19, I was blessed with a beautiful baby girl. Though rewarding, it was a huge challenge to be a parent, and turned into the proverbial "skinny fat girl". Soon I met a wonderful person who taught me the importance of not neglecting myself. He re-introduced me to the gym, and taught me to care about my health. After his passing, working out helped me cope with my grief, and made me feel as if he were still a part of my life. God blessed me again with another very special person who connected the fitness dots for me–nutrition, training, cardio, supplementation, and the overall pursuit of wellness. He also introduced me to the sport of bodybuilding and ignited a new passion in my life.  I started to take my diet and training seriously…no way did I think I could look like my new idols Jenny Lynn and Monica Brant, but I wanted to see where focus and concentration would take me.
What is your diet like?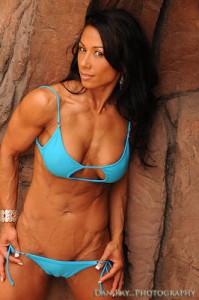 Right now, my diet consists of mostly proteins, vegetables, and some complex carbohydrates and fats.  I prefer to use fresh, organic, unprocessed food whenever possible.  I use whey shakes when I am having trouble getting a meal into my schedule.  I really love AllMax's IsoNatural whey line–it's such a quality, clean product with all natural ingredients (stevia).
Here's an example of a typical day for me:
Meal 1: 1/3 c steel-cut oats, 5 egg whites (stevia and cinnamon for flavor)
Meal 2: 4oz lean fish
Meal 3: Medium salad (romaine lettuce, tomatoes), 1 cup veggies (usually asparagus), 4oz chicken breast (baked with organic chicken rub seasoning), 4oz yams
Meal 4: 4oz lean fish, 1 cup veggies
Meal 5: 4 oz lean fish, 1 cup veggies
Meal 6: 4 oz chicken, medium salad, 1 cup veggies
Meal 7: 4 oz lean fish, 1 cup veggies
Where does your motivation come from?
Overall, I just love being outdoors and active!  It's a nice break from my 9-5 desk job! I enjoy feeling great when I am on track.  But being human, there are definitely blah days…or when I get derailed off my program, or feeling blue…it sort of snowballs and I need a good kick in the pants to get started again. That's when I go into different message boards, forums, and especially BodySpace to look at other people's profiles, and look at their progress, transformations, and hurdles.  I am inspired by both the successes and hurdles of others.
When trying to cut down do you prefer to use HIIT or just normal cardio?
When I am cutting, I prefer to use HIIT for fat burning whenever possible.  I am incorporating more of it into my workouts now–20 min of high intensity such as sprints, bleachers or jumprope, followed by 40 min of moderate cardio.  I am using this for my four week prep for the FitExpo, so you'll get to see the results!
What is your supplementation like?
I like the following supplements:
Multi vitamin, digestive enzyme, Omega 3-6-9, CLA, ALA, Sam-e, 5-HTP, Probiotic, vitamin C, liquid collagen, liquid amino acids, glutamine, BCAAs.

Plans for the future?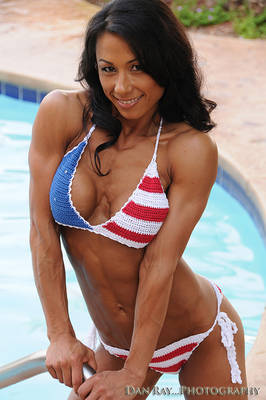 Fitness wise, my primary goal is to win my IFBB Professional status in Figure.  I am looking forward to competing in the National circuit again this year.  I have also signed a 2-year endorsement contract with AllMax Nutrition.  I am also working on obtaining additional certifications.  I really believe in giving back, and I would like to continue to work with local organizations to promote fitness and health in anyway I can, from promoting youth and senior fitness and nutrition to supporting athletic events in my community.
Favourite Quote?
My favorite quote is from Mother Theresa. I think of this short and simple quote when I am feeling blue or lack motivation: The joy of giving is the greatest joy in life.  My own interpretation doesn't limit the giving of a tangible object to a person, but rather giving whatever you have–giving your best in the gym, an affectionate rub to my parrot, or giving time to my daughter–all these things provide instant gratification and make me a much happier, motivated person!
Website: www.sasha-porshnikoff.com
Bodyspace: http://bodyspace.bodybuilding.com/Mikiko