Quick stats:
Age: 27
Weight: 135lbs.
Height: 5'8"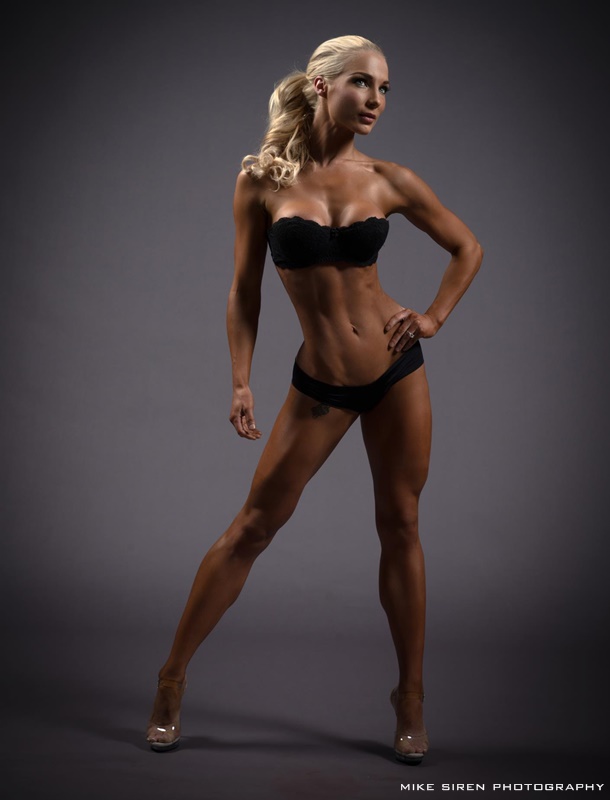 How did you get started?
I discovered the world of fitness when I was in high school. At first I did aerobics classes, and little by little after I gained more confidence I moved to the weight room. I remember flipping through a fitness magazine and thinking that "One day I want to look like these girls!" At that time my English wasn't that good so I needed to use a dictionary to translate all the workouts. It took some time but it was well worth it! I started competing back in 2008 when I lived in Canada. I did smaller local shows, and did well as I won 2 competitions. After living in Canada for 4 years I moved back to Helsinki Finland and started competing with the IFBB in bikini (when it arrived to Finland) in 2011.
I found the perfect team that helped me to achieve my best physique ever "Team Bombshell" and the rest is history!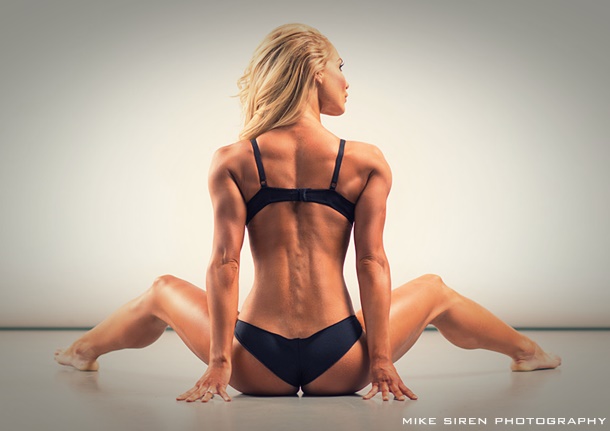 Where does your motivation come from?
I like setting goals. Having a goal motivates me to work out harder and I always follow my workout and nutrition plans 100%. I also like the challenge that reaching a goal brings. I am one of those people who love to exceed and accomplish new things. I am a very visual person as I draw inspiration from motivational photos that I find on the internet and fitness websites.
When it comes to discipline, I'm hardcore. I've found my sport and to do even better in the future I want to put all my heart in to it and give it all I have got.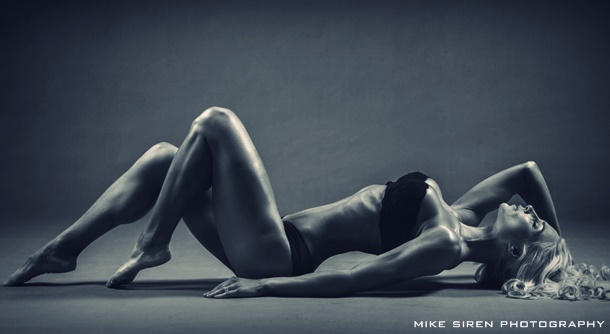 What workout routine has worked best for you?
Monday: Legs
5 X 15 Leg Extensions
5 X 20 Shoulder Width Leg Press
5 X 15 Switch (Jump) Lunges
4 X 15 Narrow Stance Squats
4 X 10 Walking Lunges
Tuesday: Shoulders/Triceps
4 X 10 Shoulder Press
4 X 10 Barbell Press
4 X 10 Rear Lateral Raises
3 X 8 Arnold Press
3 X 8 Lateral Raises
3 X 15 Rope Pushdowns
3 X 10 DB Skull Crushers
3 X 15 DB Kick Backs
Wednesday: Back/Biceps
6 X 8 Pull Downs
6 X 8 Seated Cable Rows
4 X 12 Barbell Rows
4 X 12 One Arm Pull Downs
5 X 15 Hyperextensions
5 X 15 Supermans
4 X 8 Preacher Curls
4 X 12 Seated DB Curls
4 X 15 Incline DB Curls
Thursday: Legs
5 X 15 Leg Curls
5 X 12 Squats
5 X 12 Weighted Step Ups On Bench
5 X 12 Seated Leg Curls
5 X 12 Stiff Legged Deadlifts
Friday: Chest/Shoulders/Legs
5 X 12 Pullovers
5 X 12 Incline Chest Press
8 X 8 Side Lateral Raises
5 X 15 Leg Press
5 X 12 Walking Pump Lunges
5 X 15 Cable Squats
4 X 20 Hyperextensions
Saturday: Off
Sunday: Off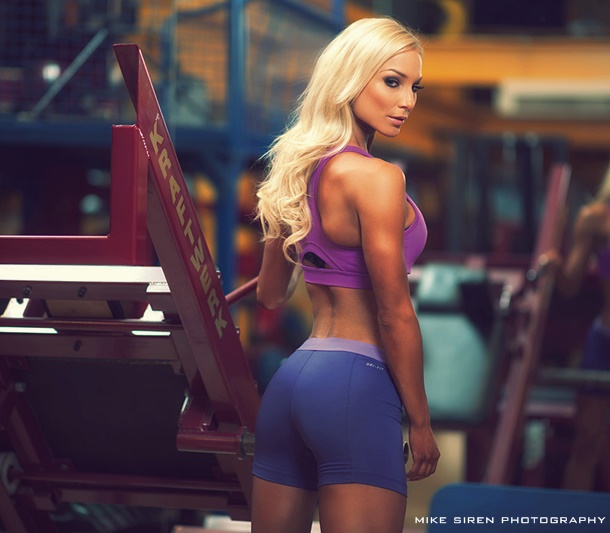 Top 3 favorite exercises and why?
Squats: They've given me nice and round glutes and very strong and fit legs. I absolutely love squats to death.
Box Plyometric Jumps: This a great way to challenge yourself. It works my legs and glutes and gets my heart beat up. So it´s a quick cardio and weight movement in one.
Military Shoulder Press: Nice round shoulders give width to my physique and creates the "X" shape which is what I am aiming for. Wide shoulders, tiny waist and muscular round legs.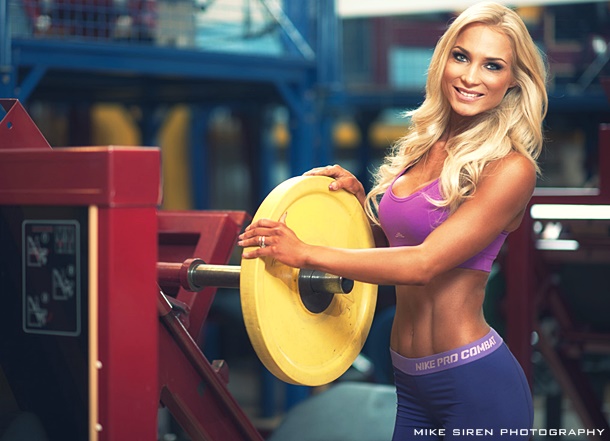 Favorite form of cardio?
I'm a big fan of High Intensity Interval Training. I like pushing myself to my limits with every cardio session. While I do cardio you would find me with my headphones on sweating and huffing and puffing like a crazy person. I also find this a great way to vent. I add HIIT training to my cardio routine about 3 times per week.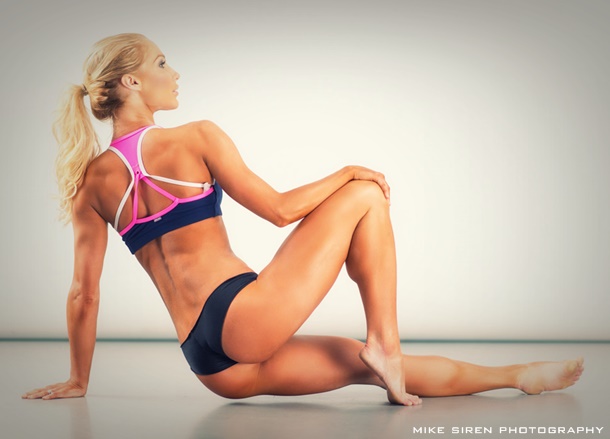 What is your diet like?
I never starve myself! Advice for the ladies – to get a nice muscular and toned looking body you need to eat quality food and get enough calories from your daily diet. I normally get 40% of protein, 30% of carbs and 30% of fat. My calories vary from 1400-2200 calories per day.
Full Diet:
Meal 1: 4 Egg Whites, 1 cup of Spinach Leaves, 1/2 cup of Oatmeal
Meal 2: 3 oz. Tilapia, 2 oz. Cottage Cheese & 1 Rice Cake
Meal 3: Whey Protein, 2 cups of Spinach Leaves with 1 tsp. of Olive Oil & Balsamic Vinegar & 1/4 cup of chopped Broccoli
Meal 4: 3 oz. Chicken Breast, 1 slice Ezekiel Bread
1/3 slice Cucumber & 2 thin slices of Tomato soaked in Balsamic Vinegar
Meal 5: 3 oz. Chicken & ¼ Grapefruit, 1/3 cup of Peas, 3 oz. Sweet Potato
Meal 6: 3 oz. Turkey Breast, 1/4 cup of Green Beans & 3 oz. Squash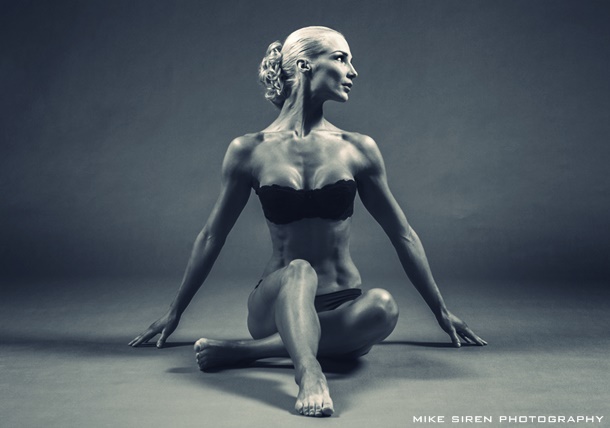 What supplements do you use?
I'm a Mass Nutrition sponsored athlete so I've used their products for the past year. I use the following products throughout the year:
Glutamine
Whey Protein
BCAA
Multivitamins
Omega 3
Probiotics
MSM Powder for my joints
CLA and Fat Burners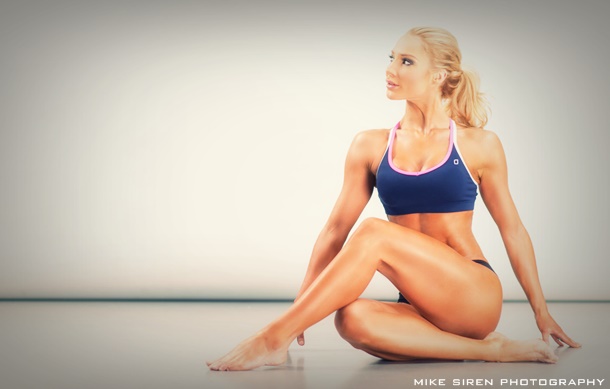 What is it like competing? How does it feel to win?
I love being on the stage! That is my moment to shine! Before I hit the stage I give myself a little pep talk, bring a huge smile to my face, take a deep breath and prepare myself to dazzle the judges. The feeling that I have before I hit the stage is almost euphoric.
I've won two huge international shows, 2012 European Championships and the 2012 World Championships. The moment they announce the second place and you know that you have won, it feels amazing. I never know whether I should cry or laugh from all the excitement. The best feeling must be when they play your national anthem!
It takes some time to really understand what you have accomplished. The whole experience is truly something special and something that I will never forget.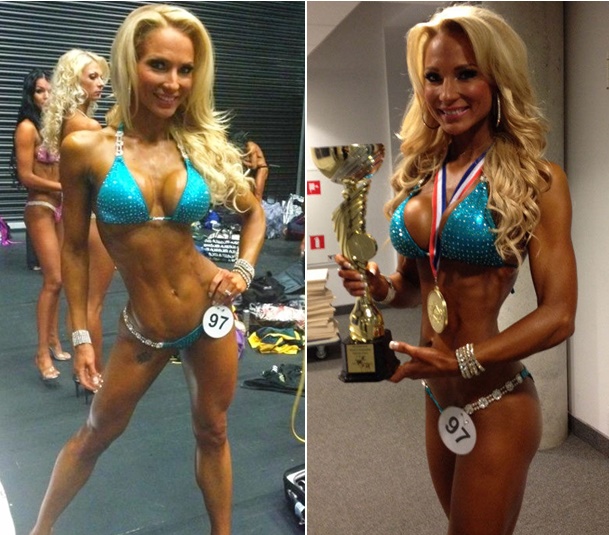 Favorite Quote
"I bust mine so I can kick yours"
Facebook: http://www.facebook.com/AnnaVirmajokiBikini
Blog: http://www.annablog.mass.fi