Quick stats:
Age: 28
Height: 5'4"
Contest Weight: 122 lbs.
Off-Season Weight: 129 lbs.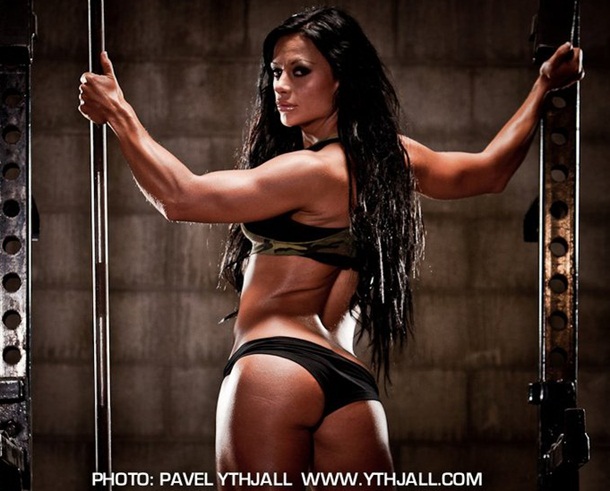 How did you get started with bodybuilding?
I started out on my journey of living a healthy life style long ago. In high school, I remember watching my mom in our home slowly changing her lifestyle and in return changing mine. She cut out soda, switched to skim milk and got a family membership at a local gym. Little did I know that those few changes she made indirectly would have such a direct impact on the person I would become years down the road. I had found a love for fitness, I was an athlete playing soccer, gymnastics – you name it, I did it or at least gave it a try.
After my son was born I had gained a total of 45 pounds throughout the pregnancy! Before I was pregnant, I had always said I would always stay in really good shape especially after I had a baby and wouldn't use that as an excuse to carry around an extra 10-20 pounds of baby weight.
Who was I kidding? I will never forget months after my son was born I stood in front of the mirror and was horrified by what I saw! I had not showered in days, getting sleep was something I only could imagine and I looked and felt absolutely disgusting. From that point on, I truly understood what it felt like to hit a brick wall and not know where to even start.
Even for someone like myself the savvy gym goer I had always been. Although I had never had to work this hard at something that was supposed to come so easy to me.
So that being said I made the commitment to myself to train and prepare for my first figure competition, held in Cape Cod, Mass. April 19, 2008. I randomly contacted someone in the area who supposedly knew the sport not realizing that, she would greatly and forever impact my life. Rhonda Finlayson. She taught me more than I even wanted to know – especially about diet and nutrition. So my body started to transform. I began to love my arms as they became tight and sculpted and I began to show off my legs and not hide them under baggy sweat pants (or lounge clothing). It was hard work – probably the hardest thing I had ever done in my life. The life style change that took place and the mental competitiveness you had to have.
All the hard work paid off and I won my very first competition. Since then, I've competed several times, enjoyed the challenge and all the hard work and dedication it takes to get there.
Where does your motivation come from?
My motivation comes from trying to be an example for others especially women, when they feel like they can't push themselves or that it's too hard. So many moms put themselves 5th on the list of taking care of themselves and they let themselves go and get depressed. They also have low energy and this directly affects them and their mood but indirectly affects their entire family. If they were to take care of themselves first, this would help them feel more confident and happier and would also have a more positive effect on those around them.
Living the fitness lifestyle can be very beneficial, not only for our bodies and health, but for our mind's as well. One life, one body, one choice!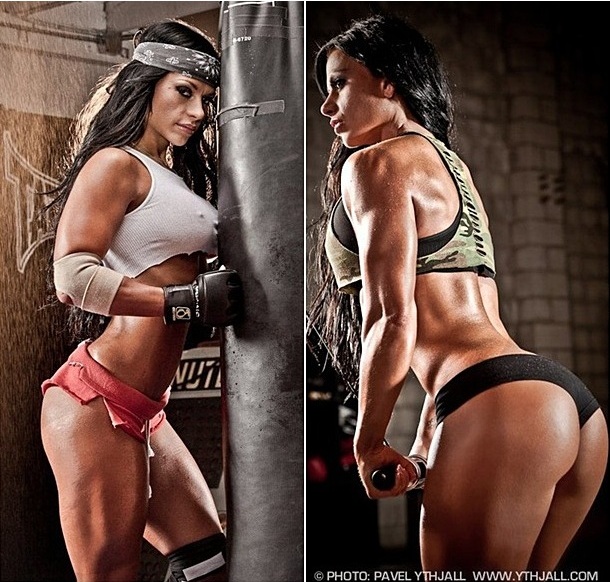 Photo Credit – Pavel Ythjall
What is your training like?
I am involved in so many activities from Crossfit daily, to swimming in the ocean and playing at a high level of soccer so my training techniques are always switching up. I would consider myself a Crossfit athlete and I am beginning to consider prepping for the 2013 Crossfit games. I never schedule myself an 'off day' or a 'rest day' I train every day of the week and I take off either when my entire body is sore and I know it needs to rest.
Full Routine:
Monday: Cardio/Back/Biceps
Morning:
50 minutes on the Step Mill (with leg weights)
Afternoon:
Lat Pull Down 4×12
Ez Bar Bicep Curls 4×15
Seated Compound Row 4×12
Incline Dumbbell Bicep Curls 4×15
Bent Over Rows 4×12
Assisted Pull Ups 3×10
Cable Bicep Curls 4×15
Evening:
Tuesday: Cardio/Shoulders
Morning:
50 minutes on the Step Mill (with leg weights)
Afternoon:
Seated Dumbbell Shoulder Press 4×10
Seated Lateral Raise 4×10
Standing Front Raise 4×10
Cable Pulley Side Raise 4×10
Standing Dumbbell Lateral Raise 4×10
Evening:
Wednesday: Cardio/Legs
Morning
Ocean Swim 1000 meters Free Style (2 minute break)
2 Mile Run
Evening:
Walking Lunges 3×100
Deadlifts (150 lbs.) 4×12
Overhead Barbell Squat 4×14
Barbell Back Squats 4×20
Plie Squats 4×15
Reverse Lunges 4×10 (weighted)
Leg Extensions 4×20
Pronate Hamstring Curls 4×20
Thursday: Cardio/Chest
Morning:
Afternoon:
Dumbbell Chest Press Flat Bench 4×15
Incline Dumbbell Chest Press 4×15
Decline Dumbbell Chest Press 4×15
Dumbbell Flat Bench Flys 4×15
Weighted Push Ups
Evening:
Friday: Cardio/Biceps/Triceps
Morning:
50 minutes on the Step Mill (with leg weights)
Afternoon:
Bodyweight Dips (warm up) no weight
Cable Press Downs 4×20
Barbell Biceps Curls 4×20
Triceps Press downs 4×20
Overhead Dumbbell Triceps Extensions 4×20
Standing Dumbbell Bicep Curls 4×20
Saturday: Yoga/Core Training
Yoga
Core Training 30mins
Sunday: Active Rest
Typically Jogging, Hiking or Swimming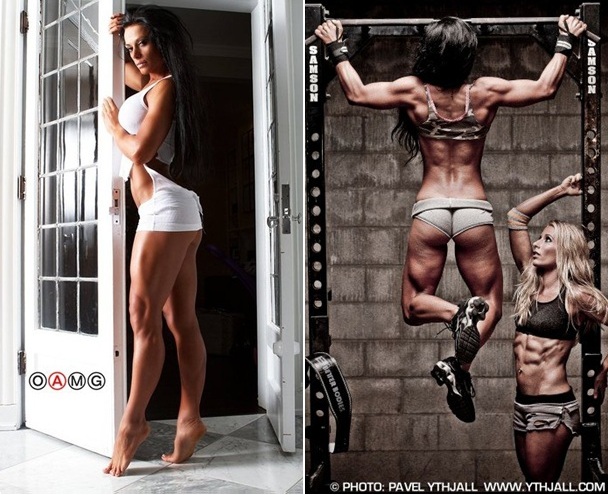 What is your diet like?
I always eat clean all year round. The term 'OFF SEASON DIET' is non-existent in my world. I follow the rules of the Paleo standards for the most part, however I do put Creamer in my coffee in the mornings, Whey Protein during the day and I will eat Cottage Cheese on occasion because it's convenient. I love all kinds of Fish, including raw Tuna, Squid and Muscles. I also like Nuts, Fresh Berries and all Meat proteins (the only red meat I eat is Lean Bison Steak). I enjoy Egg Whites most mornings making Coconut Pancakes out of Coconut Flour. My meals are spaced out all throughout the day to keep my energy levels and blood sugar levels high and my body well fed.
Daily Diet:
Meal 1: Coconut Pancakes made with ¼ Cup Coconut Flour, 4 Egg Whites, 2 tbsp. Coconut Extract, 1 tsp. Baking Powder and 2 tbsp. Splenda
Meal 2: Protein Shake, Celery and Nuts-N-More Peanut Butter (2 tbsp.)
Meal 3: 4 oz. Chicken Breast, Mixed Veggies, ½ Avocado and 1 Whole Sweet Potato
Meal 4: ½ a cup of Cottage Cheese, Raw Almonds and a Small Apple
Meal 5: Fish and 1 cup of Steamed Veggies
Meal 6: Protein Shake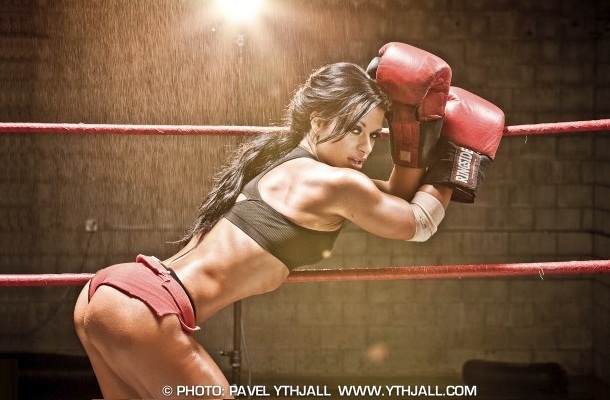 What are your favorite cheat meals and foods?
My favorite cheat meal at the moment is a great pizza from my favorite pizza shop with a big Cobb Salad and lots of bad Creamy Dressing.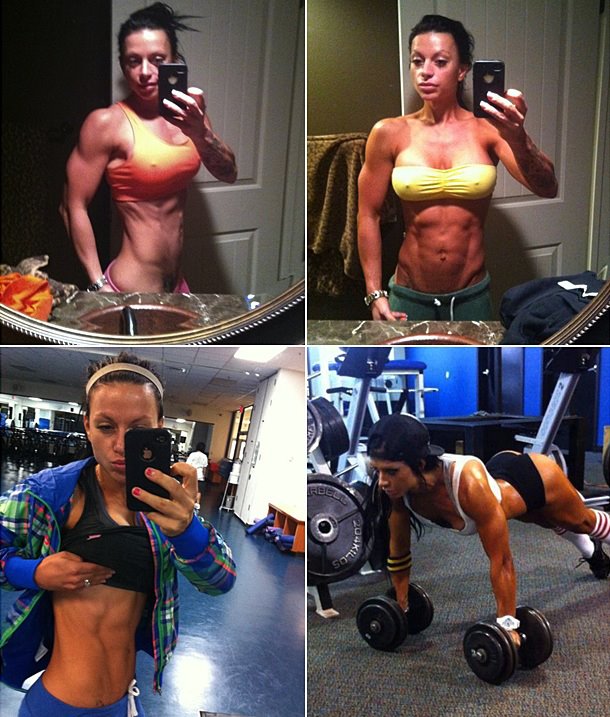 What has been your biggest accomplishment in the fitness field?
This is a hard one, so I am going to give 2 answers. The first one is being able to hold charity events to raise money for the Wounded Warrior Project and American Cancer Society. People donating money for an autographed picture at these events has helped raise thousands of dollars for a good cause. I never thought anyone would ever be wanting my autograph and especially donating $5-10 and showing up to these charities to help me raise money for a great cause. The second accomplishment was signing with Bodybuilding.com and becoming a sponsored athlete for them. One of the first interviews that I ever did over a year ago asked the question along the lines of, "In the next few years what is your ultimate goal for yourself in the fitness industry?" My Answer stated, to be in the same league as Jamie Eason, as far as recognition and fame as one of the top female fitness models or icons and now I am working right alongside her.
I have come so far in just a year although I still have a long way to go but I'm digging deep and working harder every day. Anything is possible!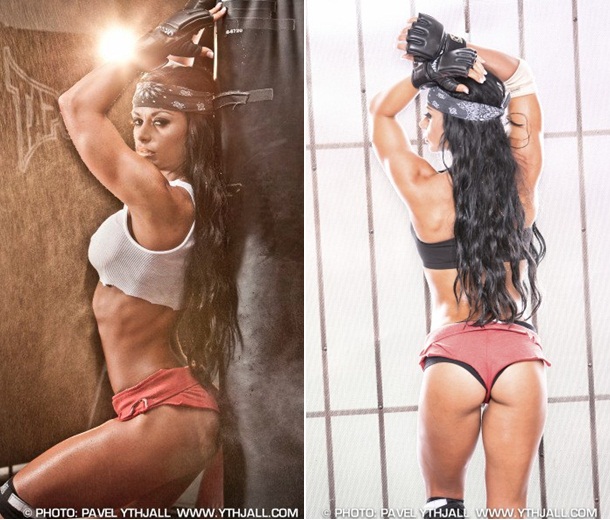 Your own physical feature you are most proud of?
I have worked so hard on getting a big butt, let me tell ya! I have spent my time at the squat rack, the sweat and the pain of pushing through a few more reps even when my body has said stop.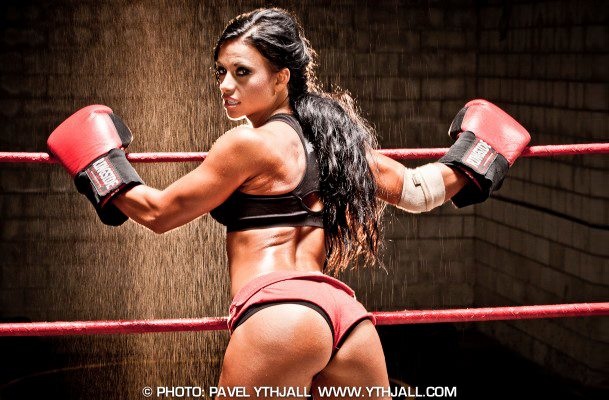 What are some of the most common mistakes made when someone is trying to reach their goal physique?
They quit before they give themselves enough time to reach a goal. I see it every day, people give up because they won't stay dedicated or committed to a program long enough to see the outcome! Transforming takes time so make sure that you set small goals for yourself all along the way.
For example, if your goal is weight loss then set a reasonable goal of reducing your weight by 1-2 pounds by the end of the week.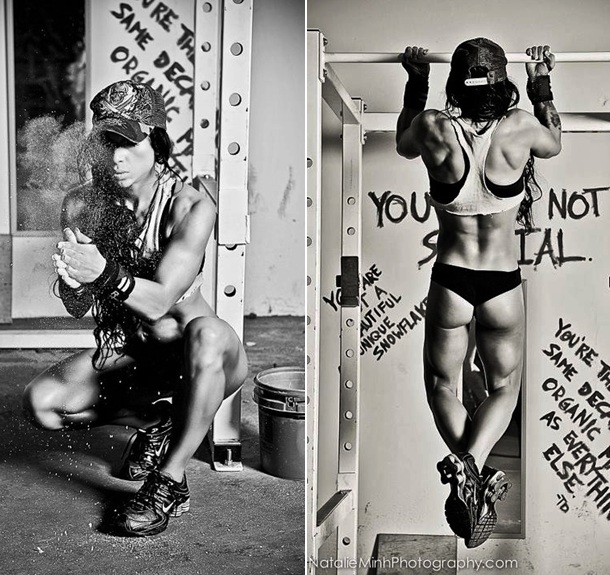 What is your supplementation like?
MusclePharm CLA
MusclePharm BCAA's
Cellucor Super HD (I don't take the all the time, just closer to show time)
Cellucor R3 Recovery
Cellucor C4 Watermelon (I don't take this preworkout every time I go to the gym either, because I do not want my body to rely on it every time I step into the gym)
MusclePharm Orange Creamsicle Whey Protein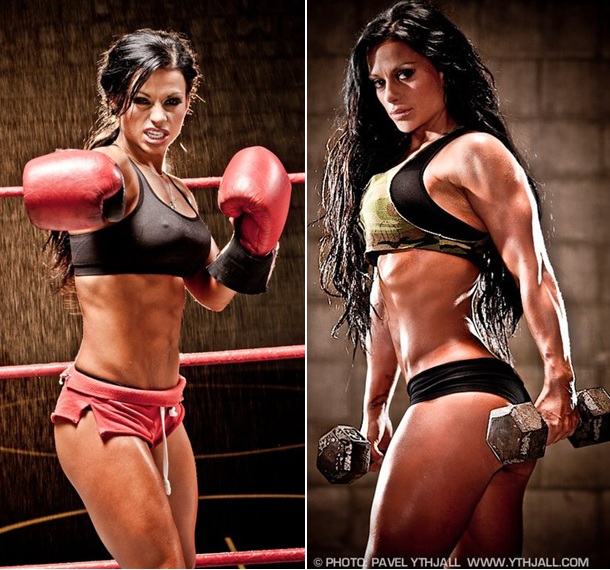 Favorite Quote?
"I am building a fire, and every day I train, I add more fuel. At just the right moment, I light the match." – Mia Hamm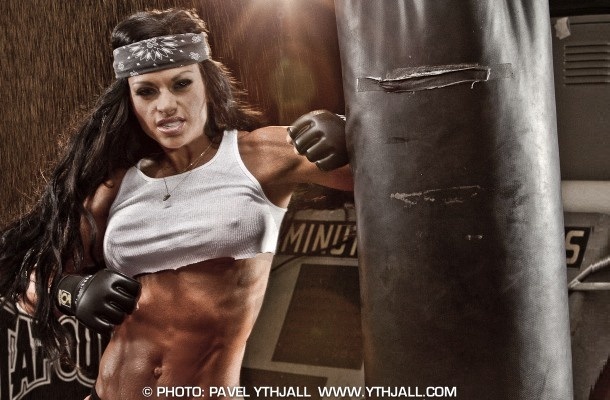 Bodyspace: http://bodyspace.bodybuilding.com/ashleyhorner/
Website: www.ashleyhorner.co
Facebook: www.facebook.com/ashleyhornerfitness