Quick stats:
Age: 26
Height: 5'2" – 160cm
Weight: 121lb – 55kg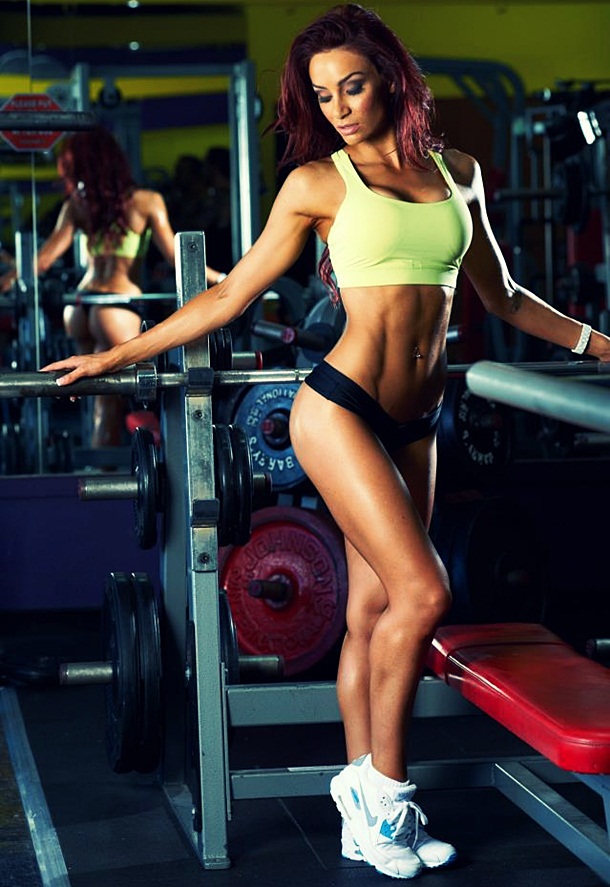 How did you get started with bodybuilding?
It started out as just a curiosity, I thought 'I wonder what my body would look like if I trained and dieted like the bikini athletes do', and decided to give it a crack just for twelve weeks. I'd never really lifted weights before and I had no expectation of placing in the comp at all! I found myself the best coach-trainer team there is, Mike and Daniela O'Mara, and took on board every single piece of advice they had for me. I came second overall in my local IFBB competition in Western Australia, placed first at the Australasian Championships two weeks later, and qualified to compete in the Worlds.
I never thought I would come so far in this sport, it's become a way of life for me and now I can't imagine living any other way!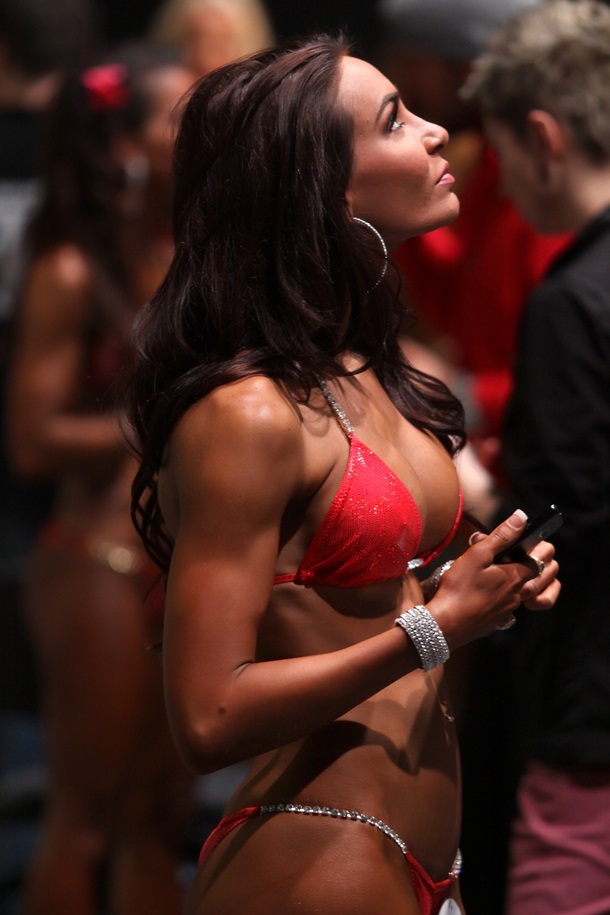 Where does your motivation come from?
Like everyone does I admire the other IFBB Pro's, but honestly the motivation comes from my peers; those directly around me every day and the other incredible athletes on the Australian IFBB Team who I train with and they keep me positive and focused.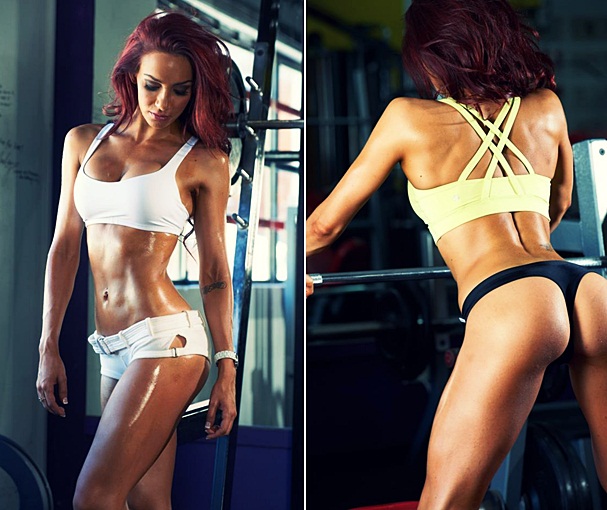 What workout routine has worked best for you?
Keeping it simple. Keeping the weight low and reps high for lower body training and staying in check of my overall body proportions with my coach. It's so important in this sport not to lose the balance by over-enhancing a body part. I feel a lot of my progress and improvement comes from what I do in my morning fasted cardio; I do steady-state, stairs, then intervals with lots of plyometric's.
Full Routine:
Monday: Cardio/Legs
45-60mins Steady State cardio mixed with High-Intensity Intervals
4x 12-20 Squats (15kg)
4x 12-20 Lunges (15kg)
4x 12-20 Plyometric Lunges
4x 20 Lying Hamstring Curls, supersetted with Straight-Leg Deadlifts (light weight)
4x 20 Seated Leg Extensions
4x 12-20 Hip Extensions on machine
Tuesday: Cardio/Yoga
45-60mins Steady State cardio mixed with High-Intensity Intervals
Bikram Yoga
Wednesday: Plyos/Back/Biceps
4x 50 Ski's
4x 20 Lunge-jumps
4x 20 Squat-jumps
Skipping Intervals 3 minutes long
4x 15 Lat Pull Downs (Wide Grip)
4x 15 Seated Cable Row
4x 15 Seated Supported Row
3x 15 Supported Back Extensions with weight
4x 15 Dumbbell Curls
4x 15 Barbell Curls
4x 15 Hammer Curls
4x 15 Cable Curls
Thursday: Cardio/Plyos
Morning Cardio
Plyometrics
Bikram Yoga
Friday: Cardio/Shoulders/Triceps
Steady-state cardio with intervals and stairs (60 mins+)
15x 4 Lateral Raises
15x 4 Front Raises
15x 4 Shoulder Press Machine
15x 4 Close-Grip Barbell Raises
4x 15 Dips
4x 15 Dumbbell Kickbacks
4x 15 Overhead Tricep Extensions
4x 15 Downward Cable Rows
Saturday: Chest/Abs
3x 15 Chest Press
4x 50 Jack-knives with a 5kg weight
4x 50 Crunches
Sunday: Day Off
Active rest day (Bikram Yoga or a walk on the beach)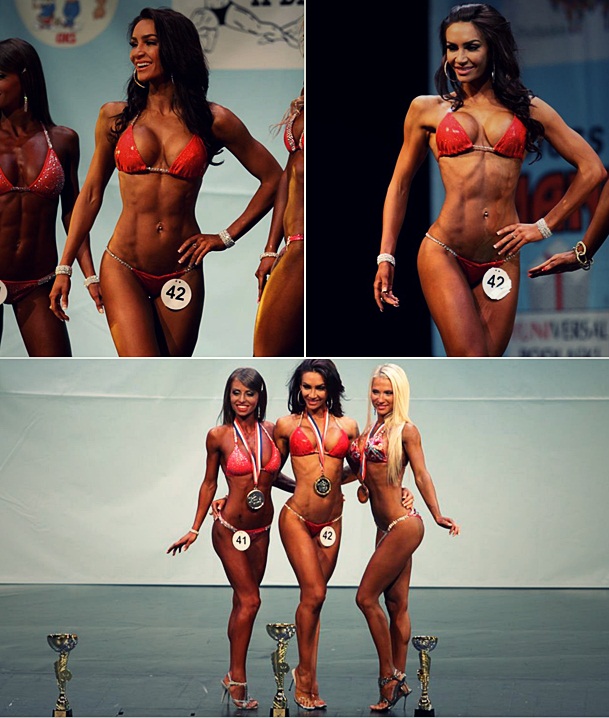 If you had to pick only 3 exercises, what would they be and why?
Plyometric Lunges: Because it's defined my legs without enhancing their overall size too much
Squats: Every bikini athlete is addicted to these! The classic way to enhance the booty!
Seated Cable Rows: They feel so good! I love training my back, it's my strongest group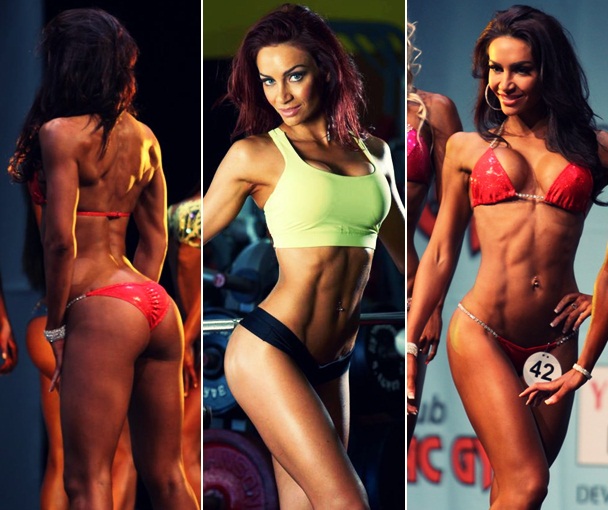 What is your diet like?
Simple, effective, basic, old-school bodybuilding style, my coach wouldn't have it any other way!
Meal 1: 100g Chicken, Brown Rice & Greens
Meal 2: 100g White Fish, Roasted Sweet Potato & Vegetables
Meal 3: 100g Chicken Or Fish, Greens & An Apple
Meal 4: 100g Chicken, Brown Rice & Vegetables
Meal 5: 100g Chicken & Greens
Meal 6: Egg-White Omelette with Vegetables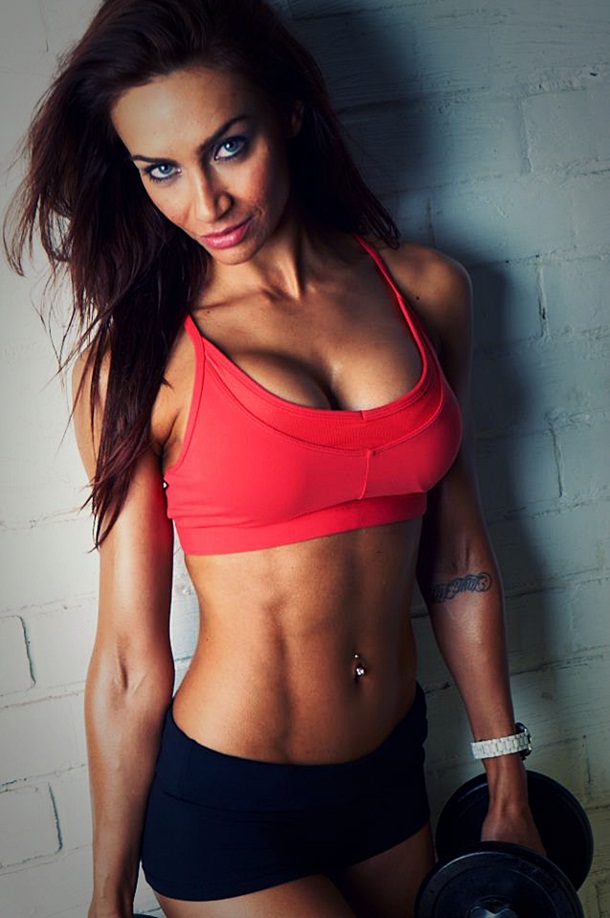 When trying to cut down do you prefer to use HIIT or just normal cardio?
High-intensity definitely makes it happen faster! But I find normal, steady state cardio so therapeutic, and kinder on sore muscles. I work full-time as a nurse so I relish my headphone time on my own every day to chill out.
Favorite Quote?
"Do what you can, with what you have, where you are."