How did you get started?
I started to compete 4 years ago as a figure competitor. I was a track and field athlete, on the national team, ready to go to the Olympics when suddenly my dreams were crushed due to a knee injury. My first encounter with the weight room was, ironically, because of my knee injury. I started to do weights for rehabilitation and found my new obsession. After years of tireless training I decided to enter my first figure contest. I was extremely nervous beforehand, but these fears were not met since I won the overall. After my first win I was addicted and loved the thrill of these figure competitions. Fortunately, I kept winning and that is how I got into the fitness modeling industry.
Over the past 2 years I have dedicated myself to fitness modeling and I have also managed to land some pretty big magazine covers such as: Musclemag, Oxygen, Fitness RX and American Curves.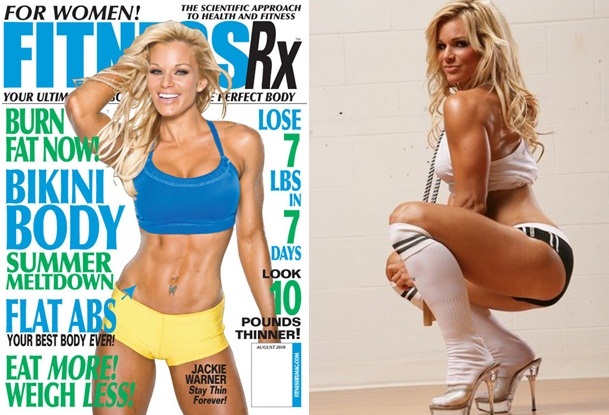 What gets you motivated?
My motivation comes from my younger years as a teenager. I was always involved in sports, looking for a new goal and a new challenge. I have the same mindset with fitness/bodybuilding. When I compete or get ready for a photo shoot it gives me a reason to push myself harder and get my body in shape to look my absolute best.
Motivation is what gets you started. Habit is what keeps you going.

What is your diet like?
I try to keep it simple and make sure it includes lean protein and lots of veggies! I also try to train harder and more often so I can bump up my total calorie intake. I recently got into Muay Thai and Kick-boxing. These two sports have stimulated my appetite so much! Right now I have to eat a little bit more as I can't go low calorie if I'm going to be doing this type of intense training. So this is a typical day for me. Of course, it is subject to change.
Sometimes I'll go through a "carb" phase where I crave carbs more than anything else but this is part of being a fitness model.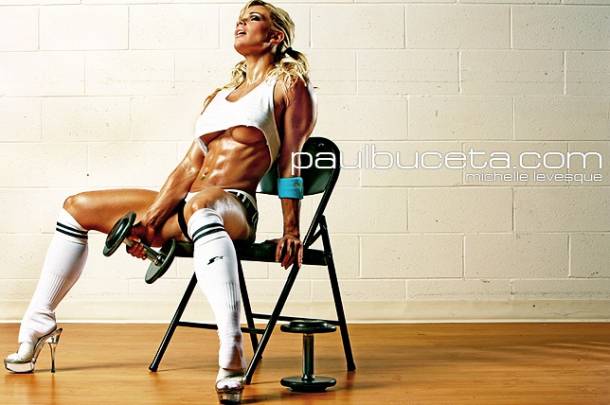 Sample Diet:
Meal 1: 1/4 cup of Oatmeal & 3 Egg Whites
Meal 2: Protein Shake (Prolein)
Meal 3: 3-4 ounces of Chicken with Spinach, various Veggies, Broccoli & Cauliflower
Meal 4: Mixed Berries with Protein Shake (Prolein) or Tuna or Cottage Cheese
Meal 5: Extra lean ground Beef or Chicken, Fish, Sweet Potatoes or 1/2 cup of Rice
During the weekends I'll have a "cheat" meal like Sushi or something unusual which helps me keep my diet on track.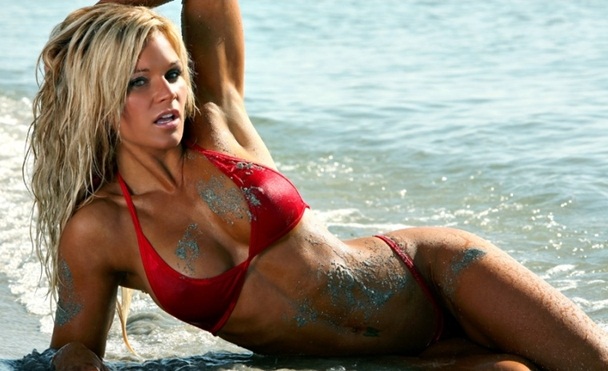 What workout routine has worked best for you?
Sample Routine:
During the past few months my workout routines have consisted mostly of Circuit Training or Tabata type of workouts with conditioning exercises and HIIT cardio training right after my workout. I mix my workouts with both lower and upper body training and try to focus on really stimulating the muscles. My goal is to not gain more muscle but to have a slender and aesthetic physique. I also incorporate longer cardio session like a 45 minutes run or a 1h30-2h speed bike ride to help keep me lean year round. This is the type of routine that works well for me. I also love to know I am working hard at the gym and not wasting any time! That's why I like to get my workouts into circuit trainings as they are quick and effective.
Workout Routine:
Monday: Circuit Training
Walking Lunges: 4 x 40
High Jumps Jumping Squats: 4 x 15
Kettlebell Squats + Dumbell Presses: 4 x 15
Sumo Squats: 4 x 30
Kettle Bell Swings: 4 x 30
Tabata Treadmill: 3 minutes
Deadlift Wide Grip: 4 x 20
Lying Leg Curl: 4 x 30
Glute Machine: 4 x 30 each leg
Tuesday: Cardio
Wednesday: Circuit Training
Lateral Raise: 4 x 12
Barbell Military Press Standing: 4 x 15
Military Press Wide Grip Standing: 4 x 10
Front Raise: 4 x 15
Bent Over Raise: 4 x 15
Straight Arm Pulldowns: 4 x 15
Pull-ups: 4 x 10
Seated Wide Grip Rowing: 4 x 15
T-Bar Row: 4 x 10T-RX Knee Pull-ins: 4 x 30
T-RX Jack Knife: 4 x 30
Cardio: Treadmill Incline 30 minutes
Thursday: Kickboxing
Kickboxing Training 30-60 minutes
Friday: Circuit Training
Barbell Curls: 4 x 20
External Curls: 4 x 10
Tricep Cable Push Down: 4 x 20
Dips: 4 x 10
Power clean and Jerk: 4 x 12
Pushups + Dumbell Row: 4 x 12
Hanging Twist Leg Raise: 4 x 20
Declined Hip Thrust: 4 x 20
Cardio: 30 minutes
Saturday: Cardio
Cycling Speed Bike: 90 mins
Stepmill Sprints: 10 intervals
Sunday: Off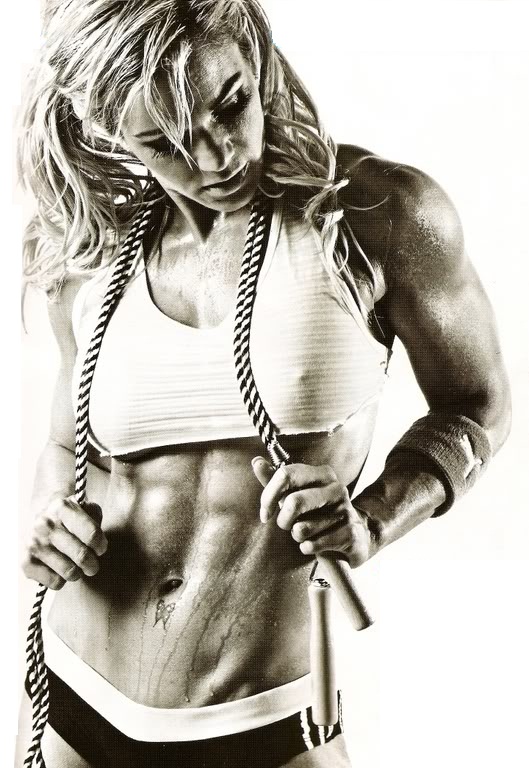 If you have to pick only 3 exercises, what would they be and why?
Side Raises. Boring for some of you but I love to train shoulders and I feel that side raises have really helped sculpt my delts.
T-RX Ab Workout. I love to do my ab workout on the T-RX. I've built my core so much with this suspension fitness piece of equipment. You just can't cheat when you do it, it's amazing.
Stepmill Sprints: It's like climbing stairs. I like to train my legs this way and I feel my quads are going to explode when I do this!
The way I do it is I sprint for 30 – 45secs on maximum level then have a 1 minute break and repeat this for about 10 intervals. It's amazing for fat loss but very intense.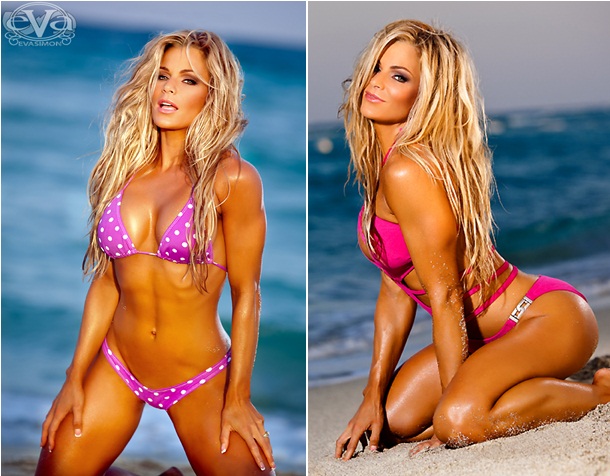 How do you keep yourself motivated and on-track through the grueling dieting in the last few weeks?
It's hard. I don't know anybody who enjoys doing it. We all do it for one reason: To taste glory. I stick to a very strict diet, not for pleasure but for its nutritional value. I eat because I want to see results, not because I enjoy the food. If you think you're strong mentally, try dieting for a figure or bodybuilding show. I keep in mind, that there are hundreds of people that are going to see me on stage and each and every one are judging my physique. I don't want to look like a loser, I want to look my best!
That's what I focus on and that is what helps get me through the last few weeks of a show.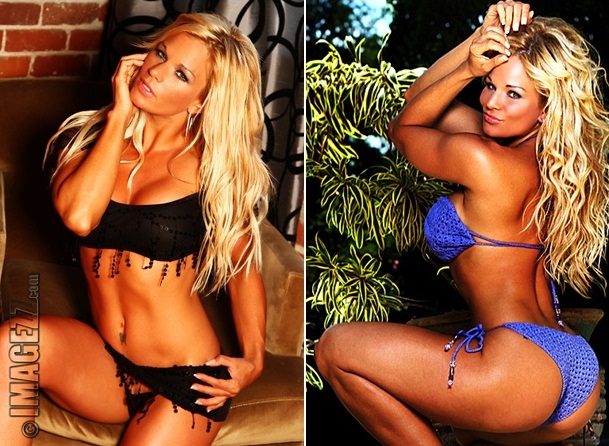 What is the one key piece of advice you could pass on to our readers?
One step at a time, whatever your goal is. You can't expect to run if you don't know how to walk. Learn from your mistakes and ask for advice/help if needed. Whether you're somebody who is trying to lose weight or if you're an aspiring model who wants to be on a cover of a magazine set up small goals and stick to it. The biggest mistake is that people set themselves huge goals and they get discouraged because they don't see the end. Baby steps… Just remember that and hard work plus consistency = results. Here is another great quote that I will share with you to keep in mind throughout your fitness journey.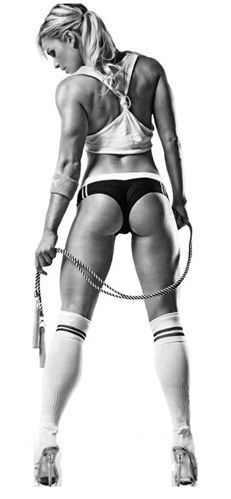 "Our goals can only be reached through a vehicle of a plan, in which we must fervently believe, and upon which we must vigorously act. There is no other route to success." Stephen A. Brennan
Final advice for the readers?
No matter what you want to accomplish in the fitness industry, you have to believe in yourself! If you don't believe in yourself, then who will believe in you? You drive and mental toughness is the determining factor if you are successful or not. Don't take "no" for an answer and make things happen!
Planning is important if you want to set yourself up for success. Nobody said it was going to be easy, but what I can tell you is that it will be worth it.
Favorite quote?
When I'm not hungry I eat. When I'm tired I train. When I feel like giving up I push harder.
Bodyspace: http://bodyspace.com/michele333/
Sponsors: http://www.teamgat.com/