How did you get started with bodybuilding?
Where do I begin?! Well… I was born and raised in Virginia Beach, VA and currently live in Bossier City, LA with my wonderful husband and three dogs. People always ask how I got into competing and how I became an IFBB Pro athlete… Was I an athlete in high school and college? Nope… but I tried! I played field hockey a few years in middle and high school… and I'm not going to lie, I did dance in middle school but quickly gave up after two years because I despised the pink tights! They were SO itchy!!!
I was always the chubby girl so I hated dancing anyways…
I have just about zero hand-eye coordination so field hockey didn't go down so well either. Oh, and did I mention I tried out for the volleyball team? Didn't make that either, HA! Now, weight lifting, dieting and cardio I can do… figure competing was made for people like me! After getting tired of being the fat girl, I lost a bunch of weight the end of my sophomore year of high school. All I did was cardio morning and night and ate one meal a day. A trainer at the local YMCA approached me and said something that I will always remember and tell my girls; "It's better to look strong and fit than frail and weak".
We talked about how the girls on the cover of Oxygen looked so healthy and in shape- I wanted to look just like them! He convinced me to take up his weight training program and to change my eating habits… That's where it all began!
I got even more serious about clean eating and weight lifting my freshman year of college. I had my own mini fridge in my dorm room stocked with all types of healthy goodies. Each morning I would wake up at 5am and walk half a mile to the gym, even during the winter of Northern Virginia! If I waited until after classes, all the benches would be taken over by the fraternity boys and I would get crazy looks by everyone- since most girls just did cardio. I moved to Florida my sophomore year to be closer to my husband (boyfriend at the time) and started working with my wonderful trainer, Mike Davies, a year later.
I went on to graduate with a BS in Health Sciences from University of Central Florida and a MS in Exercise Science & Health Promotion from University of California at PA.
Where does your motivation come from?
My clients, family and friends have always been huge motivators for me. I love leading by example and showing my clients how to lead a balanced and healthy life.
I keep myself motivated by continually pushing myself to be my own personal best. We all have areas of improvement to work on ;) !
What workout routine has worked best for you?
I like lifting 5 days a week; Legs, Shoulders, Back, Arms and Chest/Shoulders, and here is my sample routine:
Monday: Legs
4×15 Leg Extensions
3 x 15 Leg curls – superset
3 x 10 Deadlifts
4 x 30 Pop Squats
4 x 15 Leg press
4 x 10 Walking weighted lunges
Tuesday: Shoulders
4 x 15,12,10,6 Shoulder press
4 x 10 Lateral raises
3 x 15 Front raises
4 x 12 Bent Over Laterals
4 x 10 Full range lateral raises
4 x 10 Reverse peck deck
Wednesday: Cardio & Abs
Thursday: Back
4 x 15 Wide Grip Pull downs – superset
4 x 10 Seated Rows
4 x 15 Dumbbell Dead Lifts
4 x 15 Reverse Grip Pull Downs – superset
4 x 10 One arm Dumbbell Rows
Friday: Arms & Abs
4×20 Bench Dips
3×15 Overhead Tricep Extension
4×12 Tricep Press Downs
4×15, 12,10,6 Preacher Curl Machine
3×6 Hammer Curls
4×12 Incline Bench bicep curls
Saturday: Chest/Shoulders
3×15 Incline Bench Chest Press – superset
3×12 Incline Bench Flies
3×10 Dumbbell Pull Overs
3×10 Walkout/Pushups – superset
3×12 Lateral Raises
3×15 Shoulder Press – superset
3×12 Front Raises
Sunday: Cardio & Abs
If you have to pick only 3 exercises, what would they be and why?
Lunges: Great for the booty and overall leg shaping
Lat Pull Downs: One of the best exercises to get that V-tapered look
Lateral Raises: One of my favorite exercises to round off the lateral delt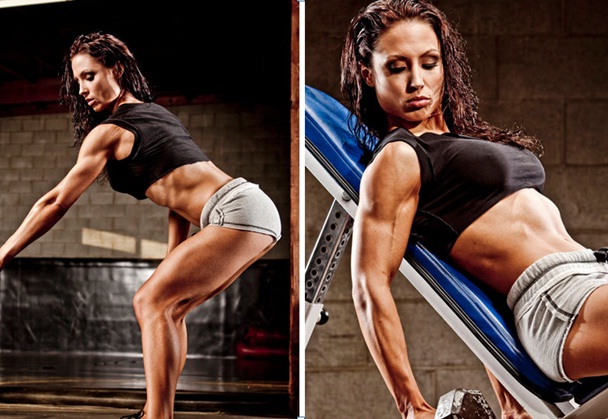 What is your diet like?
Meal 1: 2 pieces of Ezekiel Bread with 1 whole egg and 3 egg whites
Meal 2: 4-5 oz. chicken with 1 cup Broccoli
Meal 3: One grapefruit (pre-workout)
Meal 4: 4 oz. of red meat, chicken or fish with 5-6 oz. sweet potato
Meal 5: 5 oz. orange roughly with 1 cup asparagus
Meal 6: 1 scoop Whey protein powder (sometimes I will add 1 cup Fat Free Greek yogurt)
My diet changes every few weeks; it just depends on where my body is at with training and my goals at the time. I always incorporate lean proteins, green veggies and complex carbohydrates at all times.
They say that the pre and post-workout meals are the most vital meals for the day, what do yours consist of?
I always have protein and carbs right after I train. I eat oatmeal, potatoes, cream of rice, brown rice or Ezekiel bread for my carb source and fish, protein powder, chicken, buffalo or flank steak for my protein. My favorite meal is cinnamon raisin Ezekiel bread and eggs for breakfast…yummm!
When trying to cut down do you prefer to use HIIT or just normal cardio?
I incorporate a lot of bootcamp style workouts, sprints, track workouts and also steady state cardio on the stair mill, elliptical or treadmill.
What is your supplementation like?
I take Juice Plus, Flaxseed, Vitamin C, B-Complex and GNC's B-Beautiful for hair, skin and nails.
Favorite Quote?
"Success doesn't come to you…you go get it"
Website: territurnerfitness.com
Photography: Pavel Ythjall