How did you get started with bodybuilding?
I started lifting for fun after running track in college. I still compete in the high jump, and entered my first figure competition in 2008 after missing the Olympic Qualifying standard by 3cm. At the time, I was just looking for something else to compete in and set goals for! I earned my IFBB Pro Card by winning the Figure Overall at the 2008 NPC Nationals, my third figure competition.
I'm also a USATF competitor, having jumped 5'11" and just missed qualifying for the Olympic Trials.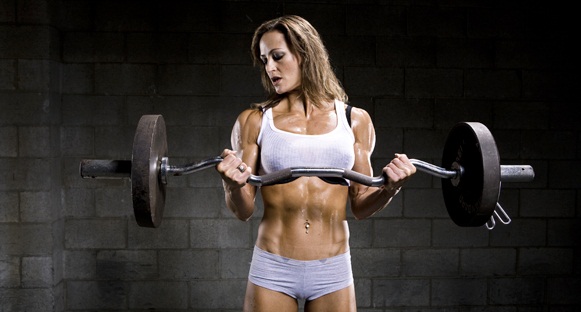 Where does your motivation come from?
I want to be better than my previous best, each time I step out on stage. "Moving a large amount of weight always gives me satisfaction. It can be intimidating, but at the same time, it motivates you because you don't want to give in to fear. That's how you become better."
"It's neat to look down and see your muscles working. That's one of the advantages of wearing clothes that show off your muscles. You can see it all happening."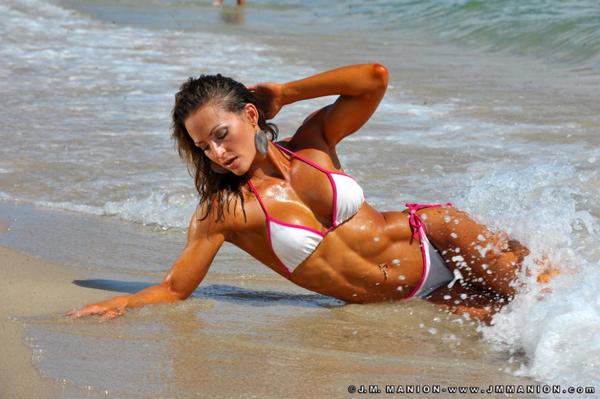 What workout routine has worked best for you?
It's my own "hybrid" routine – I train like a sprinter/jumper (plyos, powerlifting, and sprints) and like a bodybuilder to add aesthetic shape to my physique.
I love training as heavy as I can.
Sample Training Split:
M – Legs
T – Chest
W – Back
TH- Legs
F – Shoulders
S – Arms
What bigger thrill is there than taking on a challenge and coming out on top? I'm addicted to the feeling of being exhausted after a really hard workout. It tells me that I pushed myself all the way. It keeps me coming back for more.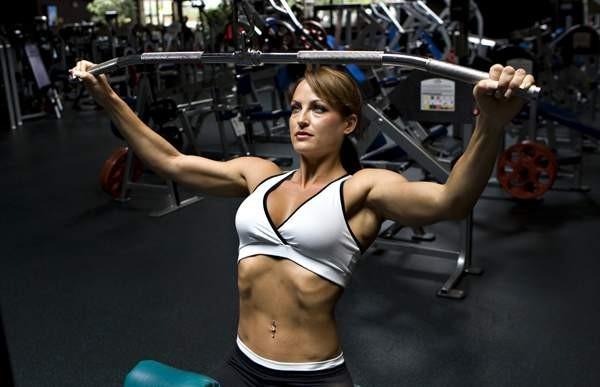 If you have to pick only 3 exercises, what would they be and why?
Squats
Deadlifts
Cleans
I love the compound movements, these are functional exercises that help tie the physique together. I must admit though squats are my favorite exercise. I've gone as heavy as 315 pounds for four reps.
They work a lot of different muscles and are great for shaping the legs.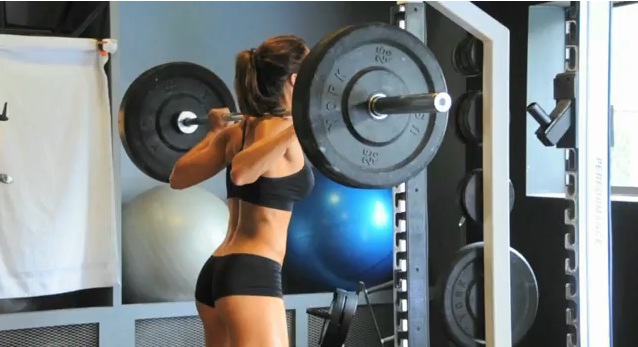 What is your diet like?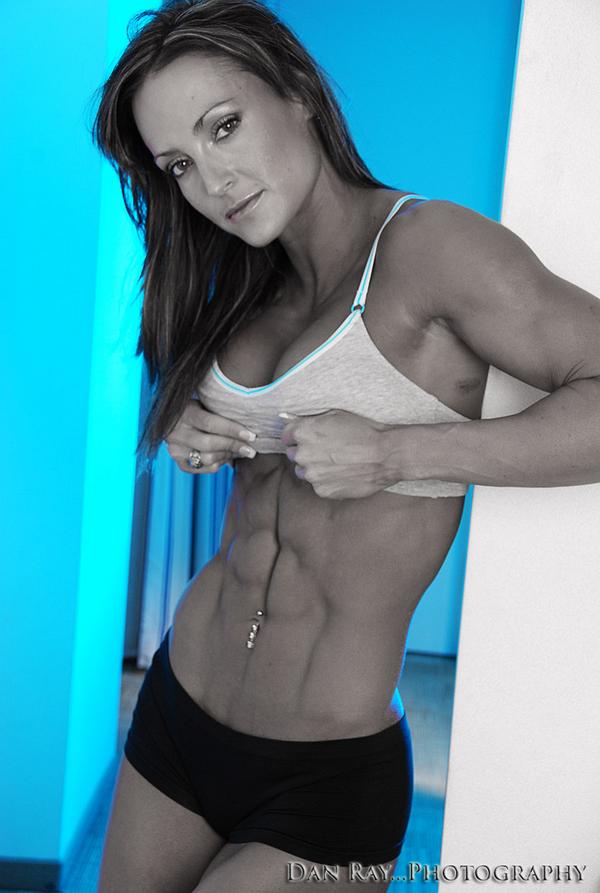 It's pretty clean year-round. I follow the "if it wasn't around 10,000 years ago, don't eat it" rule. My diet contains lots of whole foods, veggies, lean meats, and fruit. I try to avoid wheat and some dairy (unless its low-fat). I still do a lot of sport-specific training, and I've found that a low-fat, higher carb, and higher protein diet work really well for me. Seriously, if I want an apple at 10pm, I will eat it. I know on the big scheme of things, it won't affect my efforts and it keeps me happy!
Sample Diet (every 3 hours):
Meal 1: 5 egg whites, oatmeal
Meal 2: Apple & plain greek yogurt
Meal 3: Steamed veg, 4-6 oz chicken, brown rice
Meal 4: Protein shake, rice cakes
Meal 5: 4-6 oz grilled fish, salad
Meal 6: A casein shake before bed
They say that the pre and post-workout meals are the most vital meals for the day, what do yours consist of?
My pre-workout meal is usually something light with moderate carbs and a lean meat. Even though protein powder wasn't around 10,000 years ago, I will have a whey protein isolate shake with an apple after my workout.
When trying to cut down do you prefer to use HIIT or just normal cardio?
What is normal cardio? Is that where you chain yourself to the treadmill for hours? No thanks! :)
I will walk more when cutting, but prefer sprints, supersets, stadiums, and even aqua sprints at the beach to machines.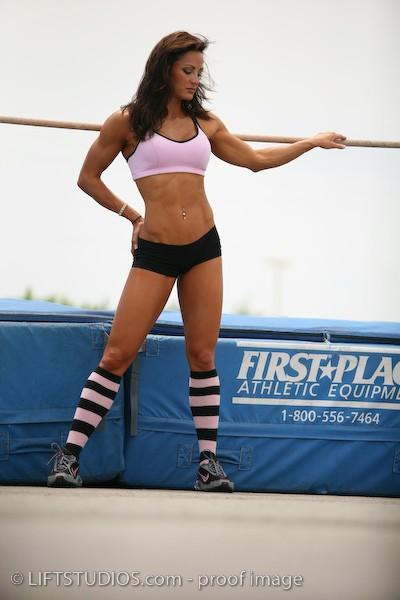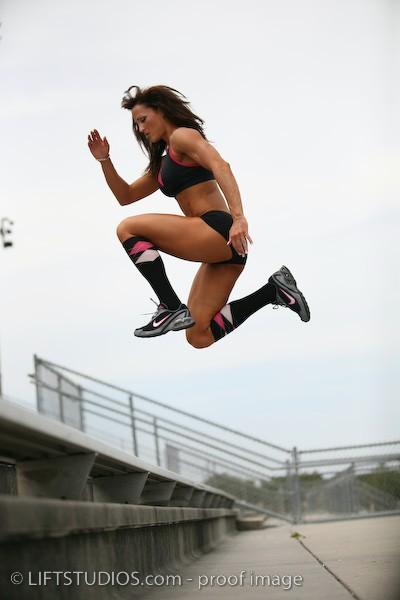 What is your supplementation like?
Right now its very simple and I'm just taking:
CLA
L-Carnitine
BCAA's
Whey Protein
IFBB Figure Pro & Fitness Model Erin Stern
Favorite Bodybuilders?
Arnold, of course! As far as aesthetically pleasing physiques – Sergio Oliva. I don't think anyone has come close to his proportions!
Favorite Quote?
There is beauty in the battle, poetry in the perseverance… if it came easy, what'd be the worth? So, fight, unwavering.. and pull your dreams to Earth.. — me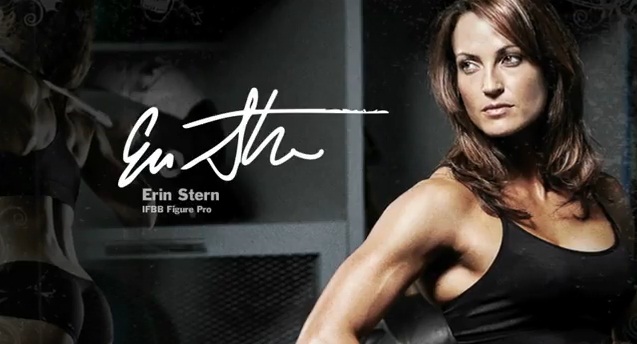 Bodyspace: http://bodyspace.bodybuilding.com/trackfiend/

Website: www.erinstern.com