Quick Stats:
Height: 5'5″ – 165 cm
Weight: 123 lbs – 56 kgs
Location: Ohio, United States
How did you get started with bodybuilding?
I was the typical college student, staying out late, eating pizza and drinking beer. I was a student at Kent State University studying Fashion. I always wanted to be a model but never thought I had the ability or height, so I thought I would work behind the scenes. I hardly ever worked out and weighed about 105 pounds. I got my start in bodybuilding in 2007, when I first met my boyfriend, John Foster. At the time I was a fashion design major and had not been in a gym since high school. Once we stepped foot in the gym and he got me lifting heavy I knew I was hooked! That same year he took me to the Arnold Classic where I was chased down by a major supplement company and was asked to sign with them.
From that day on I knew this was my path in life!
I have the most amazing life. Yes there are hardships but that's what makes you stronger. I have been extremely blessed with so many amazing opportunities and the love and support from so many people. Prosupps has believed in me since day one and they have been such a good support system.
I can honestly say that I am living my dream.
Where does your motivation come from?
My motivation comes from within. I always aim to be better and progress in life. I've never been the type to settle for less than I deserve.
But when I wake up in the morning and open my inbox and read emails from people I inspire that's what really motivates me!
What is your next goal?
I am the type of person that makes a list. I have so many goals and aspirations they're endless. So one of my goals is to be an IFBB pro. I caught the bug for competing and I really want that card. This time next year I hope to be an IFBB pro and have a few fitness covers under my belt.
Modeling is my passion and I really hope to pursue it on another level.
What is your current training philosophy?
I don't do cookie cutter workouts anymore. Some days I really like to go heavy and rep out. My favorite training days are when I am taking my pre workout supplements and really concentrate on exhausting my muscles. I train hard every day and I won't stop until my body tells me. Like they say, "Train insane or remain the same!"
Full Routine:
Monday: Legs
Leg Extensions 7×12
Squats 4×12
Leg Press 4×12
Walking Lunges with Barbell 4x failure
Jefferson's (Split Squats) 3×12
Tuesday: Arms
Standing Barbell Curls 3×20 (10 each arm)
Hammer Curls 5×12
Seated Incline Bench Curls 3×20 (10 each arm)
Preacher Curls 3×12
Standing Barbell Curls 5×10
Rope Pushdowns 5×12
Overhead Dumbbell Press 3×12
Skull Crushers 3×12
Wednesday: Glutes/Plyometrics
Leg Curls 7×12
Straight Leg Deadlift with Dumbbell 5×10
Cable Kickbacks 7×15
Sumo Squats 3×12
Barbell Hip Thrusts 4×15
Box Jumps 3 rounds 1 min
Paratroops 3 rounds 1 min
30 Burpees
Jump Squats 3 rounds 1 min
Thursday: Shoulders/Abs
Barbell Shoulder Press 3×15
Arnold Press 4×12
Lateral Raises 3×12
Incline Bench Lateral Raises 3×10 (each arm)
Front Raises 3×12
2 min Plank
20 V-ups
100 Crunches
Friday: Back
Wide Grip Pulldowns 5×12
Close Grip Pulldowns 5×12
One Arm Dumbbell Rows 3×12
Bent Over Cable Rows 3×15
Deadlifts 3×10
Saturday: Glutes/Plyometrics
Leg Curls 7×12
Straight Leg Deadlifts with dumbbell 5 x 10
Cable Kickbacks 7 x 15
Sumo Squats 3 x 12
Barbell Hip Thrust 4 x 15
Box Jumps 3 rounds 1 min
Paratroops 3 rounds 1 min
30 Burpees
Jump Squats 3 rounds 1 min
Sunday: Rest Day
Describe your cardio routine:
My cardio consist of lots of tire flips, box jumps and burpees. Really anything I can do high reps until failure is considered cardio for me. If I need to drop a few pounds I'll do intervals on a treadmill or stair mill as well. It works wonders!
What is your diet like?
I tried to bulk but I have such a fast metabolism that it isn't easy for me to gain weight. I usually stay 5-7 lbs within my photoshoot weight. It's hard for me to go above that anyways.
Daily Diet:
Meal 1: Egg Whites & 1/4 cup of Oats with Cinnamon
Meal 2: 4 oz. Chicken & 3 oz. Sweet Potato
Meal 3: 4 oz. Chicken & 1 cup of Spinach
Meal 4: 5 oz. Tilapia & 1/4 Avocado
Meal 5: Prosupps Isolate Protein & 1 tbs of Almond Butter
What are your 3 best tips for someone looking to reach their goal physique?
Consistency is key!
Believe in yourself
Remember that, "Hard work ALWAYS pays off!"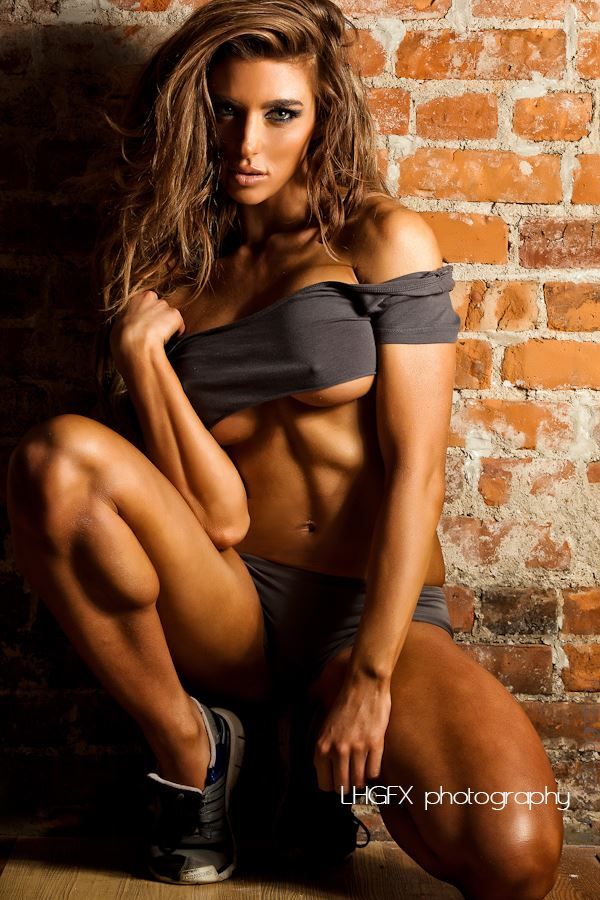 Favorite Quote:
"Just do it" – Nike