Quick Stats:
Age: 31
Height: 5'11" – 175 cm
Weight: 235 lbs – 107 kg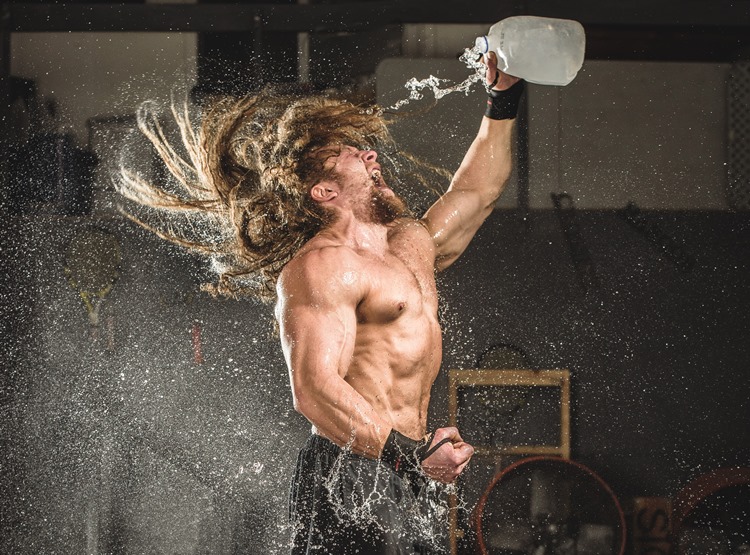 How did you become involved in the Fitness industry?
When I was thirteen years old, I had no friends because the neighborhood kids had all dumped me. I ended up spending all of my time at home alone playing video games, which led to self-esteem issues.
I ended up making a new friend who invited me to a Taekwondo class, and Martial Arts was my first introduction into the world of fitness, and the rest is history!
How did you feel when you first started training?
When I first started training, I started seeing results rapidly, and I started to feel great. Over time, I lost weight; I gained amazing flexibility, and I learned to jump kick and kick.
And one year later, I had a six pack!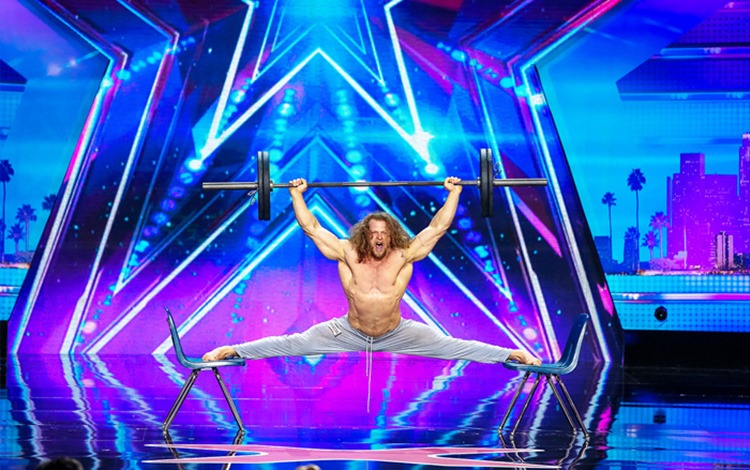 What is your life like now?
As of December 2016, I became self-employed, and social media has become such a blessing to me. Social media has allowed me to connect with people, and people seem to like to connect with me! So my life is as fun or adventurous as I make it, and I like it a lot.
But sometimes, I prefer to spend time at home organizing my thoughts by writing, cleaning or just spending time with my wife.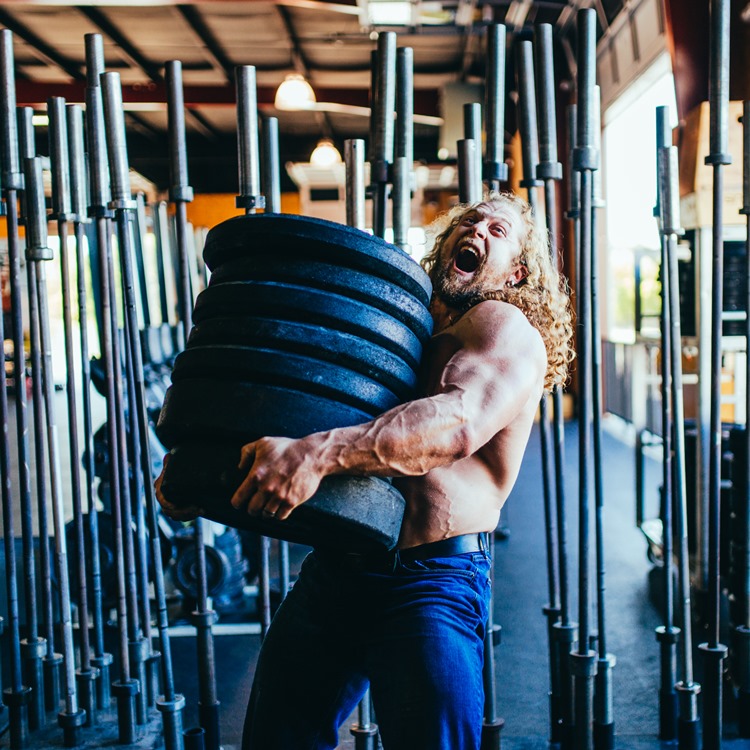 What motivates you to keep going and push harder?
I push myself harder each day because now technically it's my job. Other than that, when I feel a lot of pressure or stress, I ask myself what would things be like if I didn't do this?
This makes me continue to push myself harder, but I always push at a comfortable yet effective pace.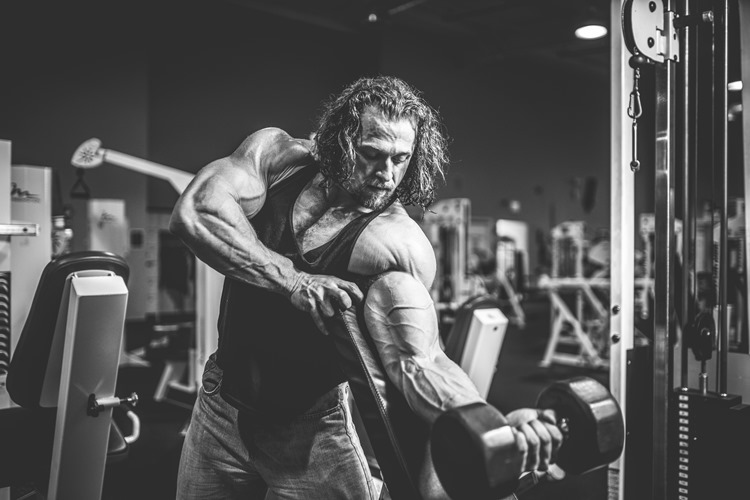 What has been your most memorable video shoot?
I remember driving down the highway when I imagined creating this video below. I laughed my head off when the whole thing played in my mind. When it comes to making up videos like this one, my brain is pretty cool like that. (Laughs) I thought this video was funny, but it had a lot of real challenges. One of the biggest challenges was that it was super hot and humid outside which made it very hard to breathe in the mask that I wore. I also couldn't see out of the mask, and it was hard to get my footing on the rocks in the barren waste land; it was definitely a unique experience.
This was the video below.
What is your next goal? Where do you see yourself this time next year?
My goal is to continue doing what I do, and seek out new challenges and opportunities, and make people happy. I think it's what most people want, to have continued growth and make people happy.
To me, I'm happy with that, and it's a good enough mission.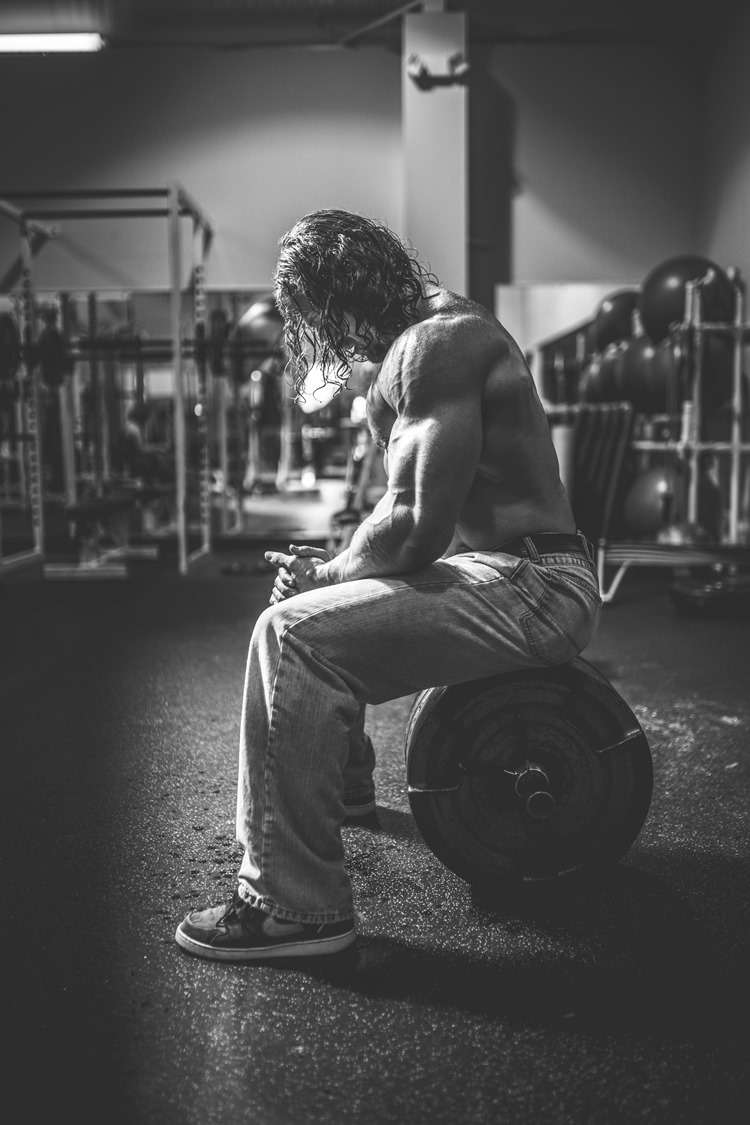 What is your current training philosophy?
For the past year and a half, I have been traveling a lot, usually five to fifteen days per month for the industry. I travel for weird performances and fitness events, and there is nothing 'expected' or 'usual' about the type of physical demands that these trips can place on my body. So I really need to recover and rest up between trips. I feel there's a big difference between training to do something and doing it. And doing it, like performing on a stage or in front of an audience or for a video shoot can actually be much more physically demanding than an actual training session. Most people tend to think that they're good at recovering, but in reality, they're really not. When you get into a situation like mine, every week is a peak performance situation and high stakes are involved; it's my job, and my wife depends on me. Below is a sample of what I do; it is hard for me to create an exact replica of my training because as I mentioned, I rarely have a set routine. But I combine a fairly high level of acrobatics training with a decent amount of powerlifting and bodybuilding.
Full Routine:
Monday: Quads/Acrobatics
Front Squats 3 x 8
2 Hours Tricking (acrobatics practice with explosiveness/flexibility)
Tuesday: Quads/Cardio/Arms
Front Squats 3 x 8
1 hour Jump Rope
Evening: Arms
Preacher Curls 2 x 10-16 (Super Set)
Banded Preacher Curls 2 x 10-16
Pushdowns 2 x 10-16 (Super Set)
Banded Pushdowns 2 x 10-16
Lying Cable Curls 2 x 10-16
Pushdowns 2 x 10-16 (Super Set)
Standing Tricep Stretches 2 x 10-16
Dips or Close Grip Bench Press 3 x 10
Wednesday: Back/Glutes/Strongman Training
Deadlifts 3 x 8
Strongman Style Training (Movements like Bench Press, Log, Turkish Get Ups) 1 Hour, I do not count my reps or sets
Thursday: Delts
Double Overhanded Deadlifts 9-12 x 4-6
Military Press 5 x 8-12
Friday: Legs/Chest
Back Squats 3 x 10
Bench Press 3 x 6
Bench Press (Using Slingshot) 3 x 6
Cable Fly's (3 Variations) 3 x 10
Hex Press 3 x 10
Saturday: Tricking/Flexibility
1 Hour Tricking
30 Minutes Flexibility/ Stretching
Sunday: Recovery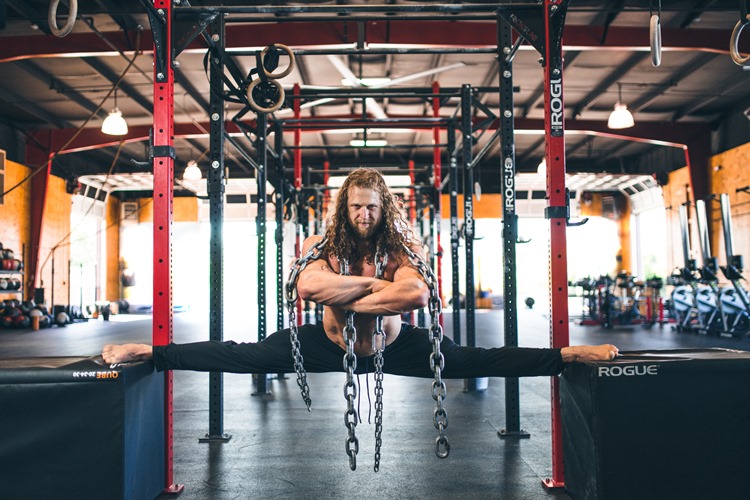 What is your approach to nutrition?
I tend to keep my nutritional approach very simple. I focus on the quality of my food, rather than concerning myself with the caloric content or macronutrient value. I focus on what I need to be eating rather than on what I shouldn't be eating, and I don't dwell on the fact that I ate that cookie and had a beer. I always allow for adjustments to be made, and I make improvements as I go. I also eat foods that no one can argue about, and no one can argue that sardines are unhealthy. (Laughs) At the moment, I have been incorporating 16 ounces of freshly juiced vegetables into my daily diet. My favorite vegetables are beet and carrot mixed with a greens powder.
Daily Diet:
Meal 1: 6 ounces Steak, 6 Whole Eggs, 1 medium Avocado, 1 English Muffin, ½ Raw Onion and 16 ounces Freshly Juiced Vegetables with Greens Powder
Meal 2: (Pre Workout) ½ cup Cream of Rice, 1 tablespoon Sunflower Seed Butter and 1 scoop Protein
Meal 3: (Post Workout) 1 Large Baked Chicken Breast, 2 cups White Rice, and 1 cup Broccoli
Meal 4: 12 ounces Ground Beef, 2 cups Quinoa, 1 cup Steamed Vegetables and 16 ounces Freshly Juiced Vegetables with Greens Powder
Meal 5: 3 cans Sardines, 4 servings Crackers, 1 ounce Hummus, 2 Cucumbers and 16 ounces Freshly Juiced Vegetables with Greens Powder
Jujimufu throwing people into flips
What does your supplementation look like?
Literally, I take everything from A to Z! (Laughs) It would honestly be easier to tell you what I don't take, rather than what I do take. I believe it was Jack LaLanne who said the same thing; he took "everything from A to Z."
And I truly believe in that because he had an incredible body, and he lived to be almost one hundred years old.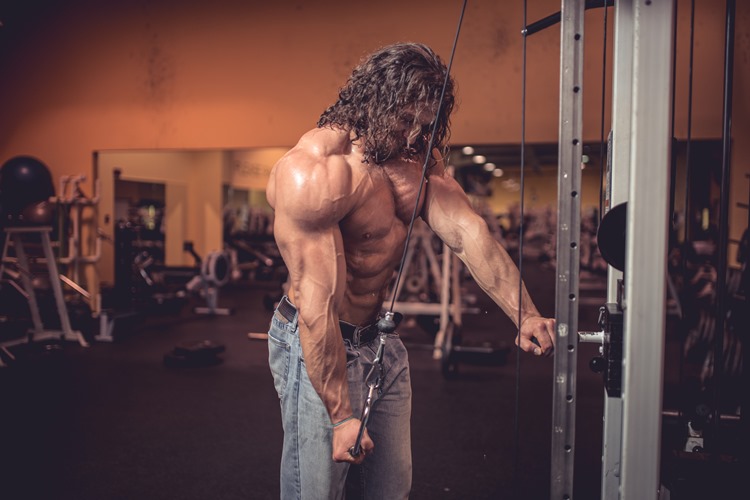 What has been your biggest accomplishment in the fitness field?
I think the highest profile opportunity I had was competing on America's Got Talent, season eleven. I made it to the final cuts from eighty people down to almost twenty, and in my book that wasn't too bad! (Laughs) My personal biggest accomplishment has been finishing my eBook on flexibility; the book is called, Legendary Flexibility. I would have to admit that was actually the hardest thing I've ever done. The subject was so broad and in depth, and I felt I had to cover it like no one had; that was a real challenge, but I succeeded!
People have told me the book has changed the way that they view flexibility, and that the book was done really well; that's something that I'm really proud of!
What are your best 3 tips for someone looking to reach their goal physique?
Ask yourself why you want your goal physique. And then figure out the best and easiest way to obtain your goal physique, and learn how to keep it.
Imagine that you have obtained your goal physique; now ask yourself what are you going to do with it?
Finally, don't take fitness or yourself too seriously; it's all for fun, and I consider fitness a luxury. To me, having the opportunity to train and having my health is wonderful. When you can be grateful, you can be lighter, and when you can be lighter, you can laugh. When you can laugh, you put yourself above things, and you can actually get on with it, and get shit done. Just don't laugh while bench pressing haha!
What's something not many people know about you?
I'm actually an introvert, and I would rather spend ninety percent of my time alone, with maybe a little bit of internet socializing. I know most people would think from my crazy, energetic and insane videos that I have ADHD or that I'm super extroverted, but nothing could be farther from the truth. I'm actually really quite calm, and I usually spend most of my time in my own head.
I only come out of my shell because it's my job, and let's face it, socializing tends to lead to a much better life.
Favorite Quote:
"People don't care how much you know until they know how much you care."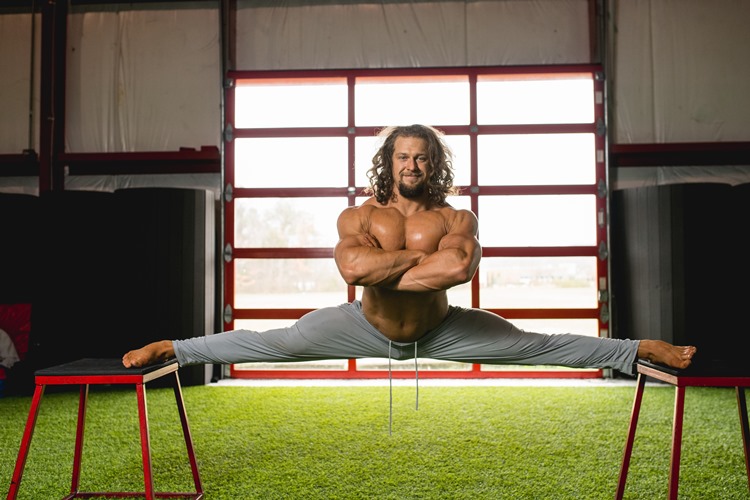 Social Media:
Website: www.acrobolix.com
Youtube: @acrobolix
Instagram: @jujimufu