How did you get started with bodybuilding?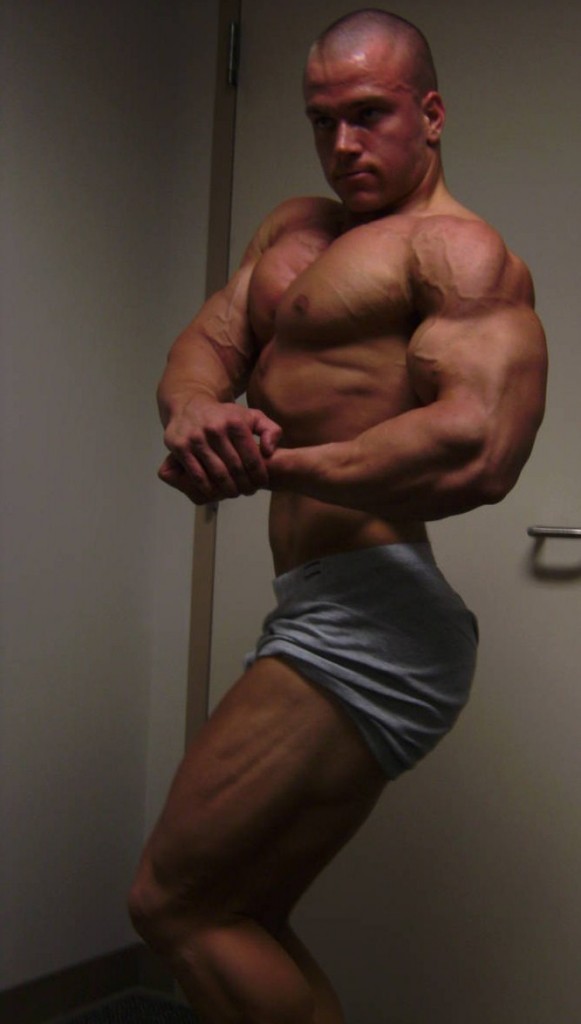 I was first attracted to lifting because my friends around the neighborhood were doing it and getting good results.  Before I could afford a weight set I would do push-ups and sit-ups in my room.  I first began lifting at 13 years old when I finally saved up enough money to buy a standard weight set.  I lifted everyday and did the same routine.  My friends and I would have competitions in my basement on who could curl and bench a specific weight for the most reps.  I eventually started to lift at my high school gym afterschool.  While lifting there, I met the trainer, John O'Day, who gave me a quick glimpse of the bodybuilding world and took me under his guidance.  John competed in dozens of natural shows and was once a professional natural bodybuilder.  John even talked me into competing in my high school's power meet which consisted of the bench press, squat, dead lift and power clean.  For my age group (16-17 year olds) and weight class (181lbs) I broke several high school records.
I broke the squat record (380lbs), the dead lift record (440lbs) and the power clean record (225lbs) and I also won my overall age group. With the help of John, I graduated high school around 180lbs.
When I got to college one of my goals was to get bigger and by the end of my freshman year I weighed 203lbs.  In 2007 (1 year later), I met 2 people who were major influences in my life. At this time I was 220lbs but was not training even close to my full potential. Derek Ciocca and Joey Salorino took me under their guidance and taught me how to truly lift like a hardcore bodybuilder.  By the end of the school year I was up to 235lbs and was stronger than ever imagined.  Eventually, I topped out at 251lbs before I was finally convinced by John, Derek and Joey to compete.  John and Joey were both there to help me through my intense diet and Derek was there to be an amazing training partner to push me past my limits.  Without the help of any of them I would not be where I am today.
(Posing 3 days out 2009)
What made you decide to start competing?
I loved gaining size and getting bigger and wanted to see what I looked like in contest shape.  My university had a bodybuilding competition every year that was very competitive.  The winners would have their picture placed on the "wall of fame" in the gym.  Some of the past winners have won overall bodybuilding titles in bigger amateur shows and one was even a natural pro.  I used the encouragement from John, Derek and Joey as well as the pictures on the wall of fame to help motivate me to be the best that I possibly could without regret.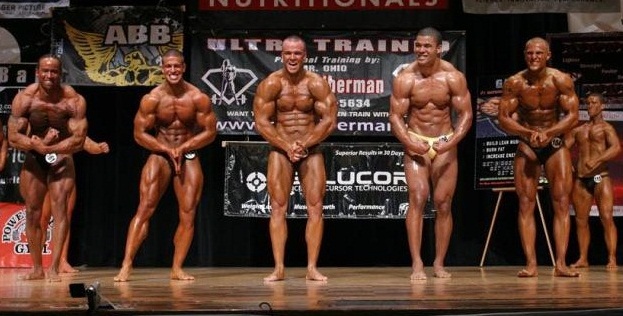 Did you have a bodybuilding coach help you get started?
John, Derek and Joey were all very important influences that have guided me with bodybuilding.  John has been a mentor and father figure that I have always looked up to and still keep in contact with. John and Joey helped me through my first diet when I went from 251lbs down to 183lbs.  Derek took me under his guidance and taught me how to properly train on each and every exercise.  He has also been there to train with me throughout all of my competitions and is truly an inspirational and amazing training partner and friend.  Joey has been like a brother to me and has helped me in so many ways that I cannot thank him enough.  Joey has put in hours and hours of his time to teach me how to diet for competitions/offseason and how to correctly pose the best way to show off my physique.  He has also been there for ever competition to help coach me in my final week with training/dieting and fully prep me for the competition with all of the final touches right before I step onto stage.  When I compete, Joey takes the competition just as serious, if not more serious than I do because he wants me to be the best I can without regret.  Joey, Derek and John have all played vital roles in helping me to win my NGA Natural Pro card.  Joey was my coach during my very successful 2009 season and has been my coach during my current offseason.  He has been helping me with my diet and training to improve my weak areas to help me be the most complete bodybuilder, no matter what show I enter.
Competition History:
2008 Mr. SRU Bodybuilding Show:
1st place Heavyweight class
Best posing award
2nd place Overall
2009 Mr. SRU Bodybuilding Show:
1st place Open and Closed Heavyweight Class Champion
1st place Open and Closed Overall Champion
2009 NPC Natural Ohio Drug Tested Bodybuilding, Figure & Bikini Championships:
1st place Junior Men Bodybuilding Champion
2nd place Open Light-Heavyweight Class (Lost by 1 point to Open Men's Overall Winner)
2009 NGA Natural Pittsburgh Bodybuilding and Figure Championships:
Men's Open Best posing award
1st place Men's Open Heavyweight Champion
1st place Men's Open Overall Champion **(Earned NGA Pro Card 21 years old)**
So what is the bodybuilding training routine that you use to have that killer physique?
Each and every training session is approached with a high level of intensity.  I believe in putting 110% effort into each time I train to ensure that there is no time being wasted.  I have a very dedicated and strong work ethic that I live by and couldn't imagine training any other way.  I follow a routine where I go 2 weeks with higher reps (8-12 reps) and 1 week lower reps (4-8 reps).  Doing this routine not only ensures that I am doing an adequate amount of reps to promote muscle growth but I am also using heavy weight to ensure strength gain which will lead to muscle growth.  I am also a firm believer in progressive overload and that is why I consistently push myself to new personal records every time I enter the gym.  I pride myself on my hardcore work ethic, consistency, dedication and love for training and bodybuilding.  The longest that I have ever taken off during my 9 years of training was 3 weeks and it was because I didn't have any transportation to the gym.
(20 week diet progression)
When trying to cut down do you prefer to use HIIT or just normal cardio?
I believe in performing both HIIT and "slow" cardio.  I usually do HIIT on my non-training days to burn extra calories.  I perform HIIT cardio on an elliptical and "slow" cardio usually on a treadmill by speed walking.
What is your Diet like?
My competition diet is very basic: My protein is high, my carbohydrates are mid to low and my fat is low.  During my competition diet, I consistently decrease carbohydrates while I increase protein. During my offseason diet, I follow a set plan with my protein around 1-1.5 grams per pound of bodyweight.  I consistently increase my carbohydrates and fat to continuously gain mass.  I think the problem with a lot of natural bodybuilders is that they eat too clean or eat too little because they want to stay lean.  Personally, I am actually afraid of holding myself back by not making increases to my diet or using cheat meals on my "improvement" days (legs, back and shoulders).  In the offseason, I am not worried about gaining fat necessarily.  I eat clean all day but the best time for a "cheat" meal or dirty meal is PWO and that is when I utilize them!  When it's time for a competition diet then I will worry about getting rid of the fat!  Just my personal opinion, I know that I get very heavy in the offseason but then again I weighed in for the NGA Natural Pittsburgh at 196lbs at 5'9".
Posing With IFBB Pro Darrem Charles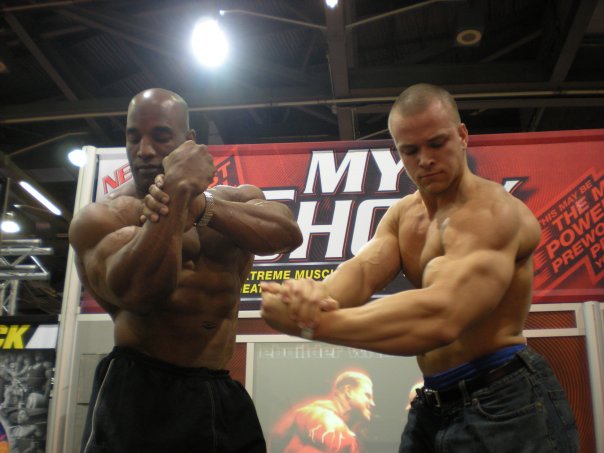 Plans for the future?
My immediate plan is to step on stage after a productive 2 year offseason with my accomplished improvements and to win my first natural pro show.
Favorite Quote?
"The Iron never lies to you. You can walk outside and listen to all kinds of talk, get told that you're a god or a total bastard. The Iron will always kick you the real deal. The Iron is the great reference point, the all-knowing perspective giver. Always there like a beacon in the pitch black. I have found the Iron to be my greatest friend. It never freaks out on me, never runs. Friends may come and go, but two hundred pounds is always two hundred pounds."- Henry Rollins