How did you get started with bodybuilding?
I'm still fairly new, I started training just over a year ago. A girl I met who is a fitness model told me I should consider REALLY working out and putting on muscle, so I did! I wasn't fit by any means, I think she just saw potential for my frame I guess. So, I sought guidance from Winnipeg based trainers contestprep.ca, I told them I wanted to do a show and they recommended doing a WBFF show, so I did!
I've continued to grow on my own along with some guidance and advice from my wonderful trainer Paul Anthony Neil.
Where does your motivation come from?
Dieting and getting up early are the hardest parts, but I think most of my motivation comes from the sense of accomplishment and daily rewards and changes you see in your physique every day. Also, I have really close friends who compete as well, and we keep each other motivated and on track. Last but not least, my trainer…. He's an amazing person, genuinely cares about you and your success and so very motivating.
He's bad ass–he will kick your BUTT!
What's your workout routine?
It changes all the time, my body responds well to changes. I really like functional training too! Right now I just finished a show, so with the extra carbs I have way more energy and strength, so I'm trying to do as many active things as possible.
It kind of looks like this right now:
Monday: Fullbody
HIIT
Various upper body exercises
Spin class
Tuesday: Chest, Abs/Obs
Routine – skills practice (I'm learning for next year!!)
Various chest exercises
Hot yoga
1 hour walk incline
Wednesday: Cardio
Running intervals
1 hour of activity of choice usually running or rollerblading
Thursday: Legs
Various leg exercises
Half hour cardio of choice
Friday: Shoulders/Cardio
Various shoulder exercises
Half hour cardio of choice
Saturday: Glutes/Hams
Various hamstring exercises
45 mins stairmaster
Sunday: Chest/Back
Various chest exercises
Various back exercises
Intervals or Spin Class
If you have to pick only 3 exercises, what would they be and why?
Straight Legged Deadlift – Because I like the looks I get in the gym. Jk!! I just really feel that those target the glute-ham area that I so desperately want to tighten!!
Empty Cans – My trainer showed me these, I love what they've done for my shoulders.
Bicycles – I always try to increase the amount of time I can do this for. It makes my abs burn like no other ab exercise.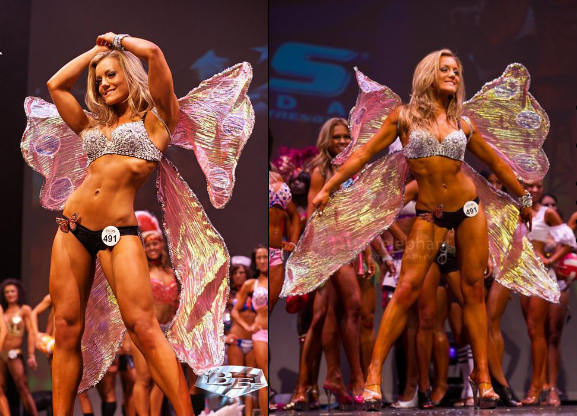 What is your diet like?
Right now I'm just focusing on eating clean, with 3-4 carb meals per day.
Meal 1: 1 scoop Cygen ISO90 vanilla protein with half cup unsweetened almond milk, one cup water, ice and half a cup of berries.
Meal 2: Quarter cup oatmeal, 5 eggwhites and some veggies I need be (I like spinach with my egg whites)
Meal 3: Chicken and veggies and yam fries! Baked of course
Meal 4: Turkey chili, (turkey and vegetables)
Meal 5: Fish and veggies
Meal 6: I've been eating half a cup of dry cottage cheese with some choco protein powder. Yummm
Favourite cheat meals?
I try to make clean versions of everything – like pizza, lasagna etc. But my one weakness is chicken wings!
If someone has a really good tasting clean version of those- let me know!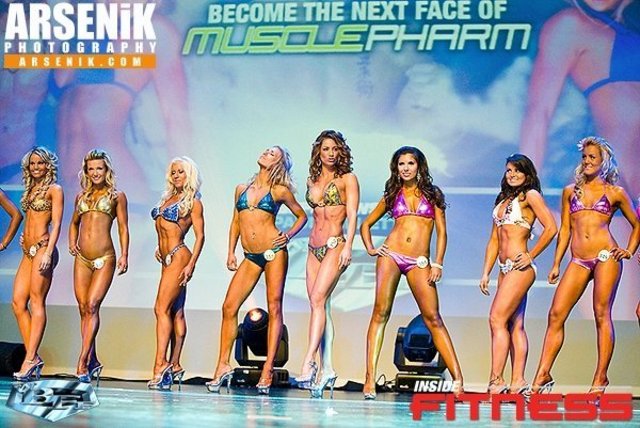 They say that the pre and post-workout meals are the most vital meals for the day, what do yours consist of?
My preworkout meal I eat every two hours, religiously, so really it depends where my workout falls in the day. But for pre workout I will take Cygen's decimate. Usually I workout before lunch so I've had my protein and carbs before and I'll then eat my lunch with yams after or if I'm on the go and don't have lunch on me I'll have a protein shake and an apple.
For my post workout meal I usually have a protein shake and a piece of fruit, or my regular meal which is usually chicken, a source of carbs and vegetables.
When trying to cut down do you prefer to use HIIT or just normal cardio?
I use both actually. Paul (forces!) me to do 5-6-7-8 intervals for 30-40 minutes on the treadmill, plus stairmaster and walking on incline.
I love running, though, and HIIT is more fun! :).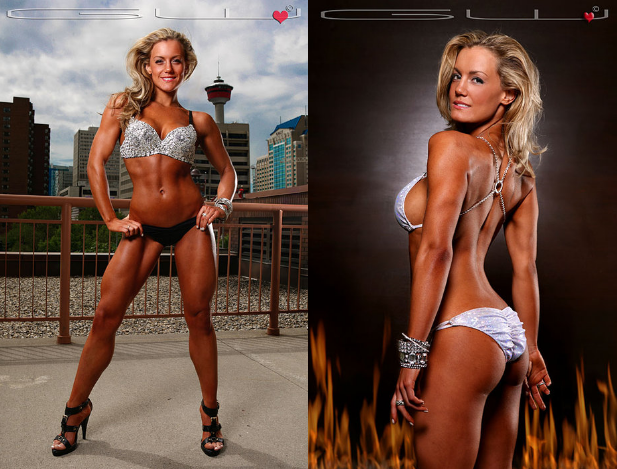 What is your supplementation like?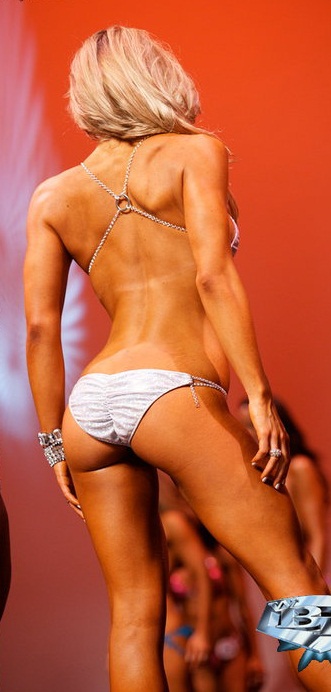 Nutrition excellence Oh Yeah!! – best mini shakes, cookies n cream is the best! And the best protein bars too.
Cygen iso90 protein
Fish oil, vitamins, etc the necessities!
Cygen's Toragen
Amino vital- endurance, rtd's
Other BCAA supps
Cygen powergreens 21
Favorite Fitness Athletes?
Well I admire bodybuilders and their physiques but my absolute most favorite bodies/models/competitors on the planet are:
Monica Brant- whom, may I add, is now a WBFF Pro!
Annette Milbers
Amber Elizabeth
Miryah Jade Scott
Favorite Quote?
"There's a difference between interest and commitment. When you're interested in doing something you do it only when circumstance permits. When you're committed to something you accept no excuses, only results.
Bodyspace: bodyspace.bodybuilding.com/kutealwayz99/